There are many ways to give for sustainable solutions. Give the way that's right for you!
Right Away
Planned Giving
Event Sponsorship
Give by Mail
If you prefer, you can give to EESI by mail. Our address is:
Environmental and Energy Study Institute
1020 19th Street NW - Suite 650
Washington, DC 20036
Donate Through a Donor-Advised Fund or Giving Account
If you have a Donor Advised Fund at Fidelity Charitable, Schwab Charitable, BNY Mellon, or the Greater Kansas City Community Foundation, recommending a grant for EESI is now easier than ever! With this Donor Advised Fund widget, you can recommend a grant while you are on EESI's website. Moreover, neither you nor EESI will incur any transaction fees. If you have any questions, please feel free to contact us at development@eesi.org or 202-662-1887.
Give in Honor or Memory of Someone
A gift to EESI for birthdays, weddings, holidays, or other special occasions helps you share your commitment to sustainable energy with someone special in your life—and doesn't clutter your home! It's easy to do with an online gift.
Workplace Giving
| | | | |
| --- | --- | --- | --- |
| EESI is a member of Earth Share, a workplace giving federation. Ask your human resources department if you can contribute to EESI through EarthShare and convenient, budget-friendly payroll deductions. If you are a federal employee or member of the military, you can designate EESI for a contribution through the Combined Federal Campaign (CFC). Our CFC number is 10627. | | | |
Matching Gifts
Company matching gifts are an easy way to double your donation.
Ask your employer if it matches charitable donations. You may be able to easily double the impact of your gift. Today, over 65% of Fortune 500 companies (and many others!) offer matching programs to employees, including:
| | |
| --- | --- |
| Apple | Google |
| AT&T | IBM |
| Bank of America | Microsoft |
| Coca Cola | PepsiCo |
| Dell | Target Corp |
| Ford | Verizon |
| General Electric | Wells Fargo |
Advance Clean Energy while Shopping on Amazon

Do you shop on Amazon.com? Thanks to EESI's new partnership with the Amazon Smile program, you can donate for sustainable solutions with every purchase. When you start your shopping at smile.amazon.com and choose the Environmental and Energy Study Institute as your preferred nonprofit, a portion of your purchase will help further climate change and clean energy solutions! With one click, you can help advocate for sustainable energy. Learn more at smile.amazon.com/about.
Donate Appreciated Stock or Mutual Funds at Their Current Value
If you hold appreciated stocks or securities that have been in your portfolio at least a year, rather than selling them, you can transfer those shares at full value to EESI (a 501c3 charity). Your donation still means a charitable giving tax deduction for you (if you itemize), AND you would avoid the capital gains tax you would otherwise pay by selling the shares yourself. EESI sells donated securities upon receipt to generate funds for our mission. As a nonprofit, EESI won't owe capital gains tax either. To transfer your securities to EESI, please contact us at (202) 662-1887 or development@eesi.org for our brokerage information so you can provide it to your financial institution to initiate the transfer/donation. As always, check with your tax adviser about your particular situation.
Donate Your IRA Required Minimum Distributions to EESI
If you are at least 70 1/2 years of age, you can get a charitable giving tax deduction (if you itemize) AND avoid paying taxes on all or part of your Required Minimum Distribution (RMD) from your traditional IRA, by having your IRA trustee transfer all or part of the RMD directly to EESI (a 501c3 charity) as a donation (up to $100,000). This is your required minimum distribution but it doesn't increase your adjusted gross income. This may have tax advantages for you if you do not itemize your deductions. Please contact EESI (development@eesi.org or 202-662-1887) for our brokerage information so you can provide it to your financial institution (IRA trustee) to initiate the transfer and reap the additional tax benefits of donating in this manner.
Remember EESI in your Will, Insurance Policy, Estate Plan, or IRA
There are many creative ways to support solutions to climate issues and take care of you and your loved ones at the same time. Including EESI as a beneficiary in your estate means that sustainable energy will be part of your legacy.
Planned giving can be as simple as naming EESI as a beneficiary of your life insurance policy or Individual Retirement Account. You can also include EESI in your will or estate plan.
EESI is a nonprofit 501(c)(3) organization. Your gifts are fully tax-deductible to the extent allowable by law. Click here for more information on planned giving and for helpful language to share with your attorney.
Tax ID Number: 52-1268030
Environmental and Energy Study Institute
1020 19th Street NW, Suite 650
Washington, D.C. 20036
Sponsor a Live-Streamed Congressional Briefing or Briefing Series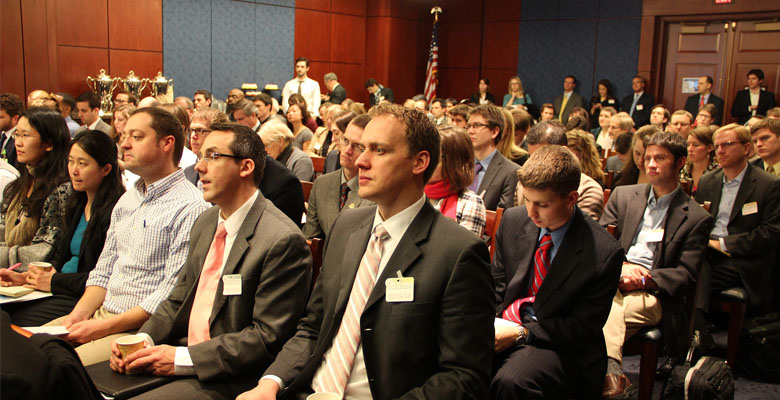 Policymakers appreciate EESI for bringing together diverse panels of respected experts on key policy topics on Capitol Hill. Congressional staff and other members of the policy community—including nonprofits and the media—attend the 20+ Congressional briefings we organize every year. A few years ago, due to popular request, we began to livecast our briefings on the web, extending our audience to interested people across the country. EESI receives no Congressional support for organizing such timely, important panels—you can help us continue this critical public service by sponsoring a briefing or a series of briefings today! Please contact Amaury Laporte at communications@eesi.org or 202-662-1884 for more information about briefing sponsorship.
To discuss your interest in giving to support clean energy and climate solutions, please contact:
Susan Williams at (202) 662-1887 or development@eesi.org.
---