You Can Help Advance Sustainable Solutions on #GivingTuesday, November 28!
Thank you!
November 22, 2017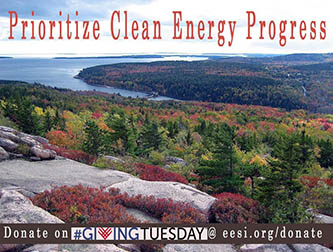 Each year we are so thankful for all of you, but especially this year! Despite a time of tumult and uncertainty, you've seen governors, mayors, businesses, and universities commit to climate action—because it makes sense for their communities and their businesses.
You've likely seen our standing-room-only briefings, online or in person, on Capitol Hill. You've seen Members of Congress stand up to stop some of the worst budget cuts on the environment. And you have seen a growing number of Members of Congress stand up and say that we must address the impacts of climate change! The growing number of Members of Congress in the bipartisan Climate Solutions Caucus is but one example of this!
Members of Congress need solid assistance in making these decisions—and they need fact-based materials and compelling stories to highlight why clean energy, sustainable transportation choices, and climate action are good for our economy and our nation.
You can help EESI deliver on all of that with a gift on #GivingTuesday!
Please take a look at our briefings, factsheets, and web articles on this site. See the difference these resources make—advancing common-sense, sustainable solutions! Please share them with family, friends, and colleagues.
This week is all about giving thanks—as we should, each and every day.
Next week is the start of the giving season. We hope that you'll take a few moments on Tuesday to give back. Your gift on Tuesday will help EESI compete for financial prizes on the Global Giving platform. The more you help us raise, the more award funds we get... and the more work we can do for clean energy!
So thank you—in advance!
And most important of all, have a wonderful Thanksgiving!
We are proud to have received a perfect rating and designation as a Four Star Charity on Charity Navigator, America's largest rater of nonprofits--so you should feel great about giving!

The Environmental and Energy Study Institute is also also proud to participate in the

Combined Federal Campaign

as part of the EarthShare federation. Federal and military employees and retirees can give on Giving Tuesday, or any time during the CFC, by searching for Environmental and Energy Study Institute (not "EESI") or using our CFC number: 10627.