Examples to Inspire the Congressional Climate Solutions Caucus
November 7, 2017
Climate Risk
Greenhouse gas emissions pose a major climate risk. CO2, methane and other emissions from fossil fuel production, agriculture and other sources are warming oceans and air temperature around the globe, which is increasing unpredictable weather and storm intensity. Using energy more efficiently and transitioning to renewable energy sources are the key to mitigating climate risk and also happen to be economically viable. Energy efficiency reduces energy costs. Market forces have driven down the cost of wind and solar dramatically. Policies that apply the same metrics to all energy resources will provide transparency and enable accurate assessments and comparisons of the economic, environmental and social costs and benefits of each energy resource.
Climate Protection
The CSC's mission to protect the nation requires adaptive solutions to the already changing environment. Strengthening infrastructure to withstand extreme weather; empowering communities with local renewable energy generation, energy storage technologies and microgrids that can operate independently during a power outage; and improving emergency planning and rescue efforts will ensure resiliency is integrated into daily life.
The U.S. House of Representatives' Climate Solutions Caucus (CSC) now has 60 members: 30 Republicans and 30 Democrats. Reps. Carlos Curbelo (R-FL) and Ted Deutch (D-FL) created the Caucus in February 2016 as an intentionally bipartisan effort to discuss climate change, a subject that has become a political bone of contention. Their concern about climate impacts in Florida and encouragement from the Citizens Climate Lobby (CCL) inspired them to step up and confront a serious issue.
Since its beginning, the group's membership has maintained an equal number of Republicans and Democrats. Thanks to the CSC and CCL, climate change is now a topic of discussion among thoughtful problem-solvers in the House and the Senate, even as it continues to be a divisive issue in partisan politics. Recently, the Caucus hosted a public briefing on the economic impacts of a changing climate on winter sports and recreation. Small business owners and Olympic athletes whose livelihoods depend on snow urged the Caucus to champion policies that will help industries and communities reduce greenhouse gas emissions while building economic resilience.
Unlike Congressional committees, caucuses are not tasked or funded to hold hearings and pass legislation. They are voluntary "Congressional Membership Organizations" formed by Members of Congress who share an interest in a particular subject and want to educate their other Congressional colleagues about it. As a source of expertise on that subject, caucuses may also help to call attention to a policy issue, or help drive legislation. Some are more active and influential than others. Typically, a caucus works closely with a like-minded NGO that helps organize meetings and other initiatives. For the Climate Solutions Caucus, Citizens Climate Lobby provides that support. A House Caucus must register with the House Administration Committee and submit its purpose or mission.
Mission of the Climate Solutions Caucus (CSC)
The Climate Solutions Caucus states that its mission is "to educate members on economically-viable options to reduce climate risk and protect our nation's economy, security, infrastructure, agriculture, water supply and public safety." With so many good projects and policies the Caucus could review, we thought we'd offer a few here for inspiration.
Communities, businesses and local governments have begun designing and implementing their own solutions to climate change—both mitigation and adaptation strategies. Their actions have enabled resilient and economically beneficial development. For some communities, disasters have necessitated infrastructure improvements. For others, the possibility of a clean-energy future inspired innovation. Below are several examples of climate solutions—projects that are creating resilient communities and policy proposals that could help create a resilient nation.
Solar Power in Puerto Rico
Even before Hurricanes Irma and Maria destroyed most of Puerto Rico's electric power grid, several solar and wind energy projects in operation were "greening the grid" by adding renewable energy to the generation mix. (Most reportedly received only minimal damage from the hurricanes.) Even so, Puerto Rico generates most of its electricity from fossil fuel imports and only a small amount from its abundant renewable energy resources. Reversing that mix will help mitigate climate change but that alone will not make the island resilient. The other part of the solution is upgrading the aging electricity infrastructure, now severely damaged by two major hurricanes. Several solar companies have traveled to Puerto Rico to assist in the rebuilding. Some would like to replace the existing centralized power grid with a distributed network of microgrids supplied with renewable energy and storage technologies. Their hope is for the island to become more resilient as it rebuilds.
Hector Santiago, a flower grower and greenhouse owner in Puerto Rico, invested in solar panels in 2011. At the time the investment was expensive, but Santiago wanted to ensure his plants would have consistent light throughout the growing season. When Hurricane Maria hit Puerto Rico on September 20 (on top of Hurricane Irma three weeks prior), Santiago was more than thankful for his choice six years ago. The solar panels suffered some minimal damage, but were able to continue to charge his business. Extremely essential were the water pumps, which Santiago attached to his solar grid and used to water his plants. Santiago was one of the lucky ones with access to electricity after the hurricanes destroyed the grid and left most people on the island without power. The use of clean energy and microgrids with storage will enable residents of Puerto Rico to bounce back from future storms and "bounce forward" with new economic opportunities. This "energy assurance" both reduces climate risk and protects from current climate impacts.
Energy-Efficient Affordable Housing in Vermont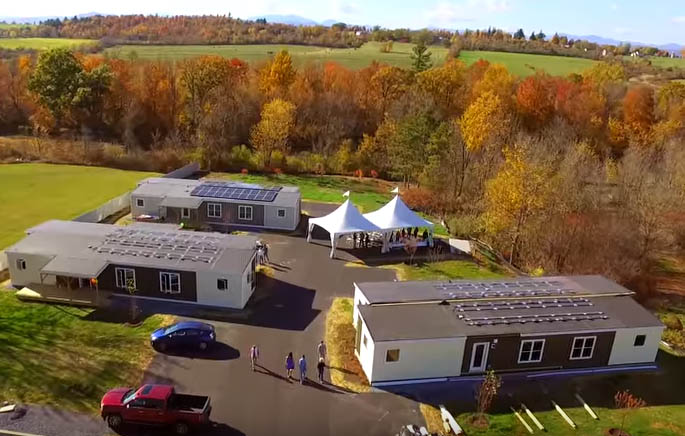 The McKnight Lane net-zero housing development in Waltham, Vermont. Courtesy of Abbott Films
The rural community of Waltham, Vermont, welcomed 14 new resilient and net-zero energy homes in May of 2016. The housing development known as McKnight Lane was spearheaded by the Addison County Community Trust and Cathedral Square Corp, a Vermont-based nonprofit, to restore and reuse an abandoned mobile home park. With design and technical assistance from the Vermont Energy Investment Corporation (VEIC), the team pursued net-zero energy consumption1 for the new homes, with the complementary goals of reducing greenhouse gas emissions from conventional residential energy use and providing affordable housing options. Along with several other NGOs and the help of state clean-energy incentives, the groups raised $3.6 million for initial development of the project. Another $130K was raised for battery storage to be included. Local housing developer VERMOD went to work building the new modular homes. Eligible occupants are families receiving income below 60 percent of the area's median income.
The project has allowed low-income families to rent houses that have very low energy costs, which further reduces the residents' monthly expenses. Each house is powered by 6 KW solar panels with battery storage capable of running for six hours without recharging. These systems are networked in a community microgrid that can sell excess solar energy to the utility company or purchase energy from the utility, if needed, at a discounted price. In order to make this possible, the community microgrid is "grid-tied" but can be disconnected from the larger grid during a power outage and act as a stand-alone network, providing power from the PV panels and storage. The renewable and resilient solar energy produces zero greenhouse gas emissions and provides McKnight Lane residents with a reliable source of power as Vermont prepares for a future of stronger storms and likely power outages.
"Pollution Transparency Act"
The H.R. 3981 Bill, also known as the Pollution Transparency Act, was introduced in the 115th Congress by Rep. Donald McEachin (D-VA) on October 5, 2017. The bill would require federal agencies to fully consider the impact their proposed policies will have on greenhouse gas emissions by implementing consistent and scientifically-based cost-benefit analyses. This bill aims to put a price on the negative externalities such emissions cause with the intention of influencing decision-making.
There are many more examples of sustainable, resilient climate actions communities and policymakers can take. Do you have a story to share with the Climate Solutions Caucus?
Authors: Kiara Ryan and Ellen Vaughan
_____________
1. A net-zero energy home's energy needs are met by energy efficiency and renewable energy—i.e., the amount of energy it uses over a year is offset by on-site renewable energy generation.