EESI Once Again Earns Four Star Rating from Charity Navigator for 2016!
Highest rating from Charity Navigator and Top-Rated Award from GreatNonprofits mean supporters can count on EESI
June 16, 2016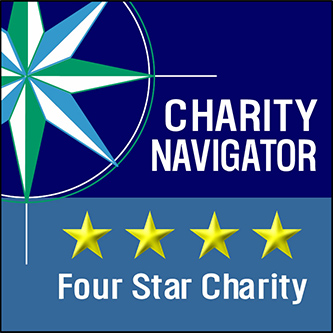 EESI has once again earned a Four Star rating from Charity Navigator! The nonprofit rating organization has awarded EESI its highest honor for the eighth time. Charity Navigator is America's leading nonprofit evaluator, analyzing nonprofits based on their financial health as well as on several governance, transparency, and ethical measures.
Recently, Charity Navigator revised its rating system, adding new criteria (such as a new measure of financial capacity and solvency) and changing several others. However, it still only awards its top rating to the most fiscally responsible and transparent organizations. Charity Navigator developed its new methodology, called Charity Navigator 2.1, by consulting with academics, nonprofit representatives, donors, academics and others in order to develop financial ratings that meet the needs of both donors and nonprofits. Among the changes it implemented, Charity Navigator now uses a three-year average (rather than just the most recent fiscal year) for certain financial metrics, so that nonprofits are not unduly affected by revenue swings from one-year to the next—a potential result of multi-year grants.
Under the new method, EESI retained Four Stars and its overall score increased slightly, to 94.24 out of 100. Indeed, EESI received a perfect 100 out of 100 score for accountability and transparency. Of the more than 8,000 rated nonprofits on the site, 8 percent recently lost a star; EESI is proud to have retained its Four Star status under the new methodology.
Claudine Schneider, an EESI board member and former U.S. Representative from Rhode Island, praised EESI's latest distinction. "One of EESI's strengths is using frames that appeal to a broad constituency, frames that include national security considerations, development as a tool for enhancing American business opportunities, and the moral imperative to alleviate suffering. These frames have bipartisan appeal, as I can attest as a former Republican member of Congress. Charity Navigator's award of a Four Star rating to EESI yet again means that supporters and funders know they can depend on EESI as an unbiased, efficient, and responsible organization—EESI is needed more than ever today!"
Additionally, EESI recently earned a 2016 Top-Rated GreatNonprofits Award for the sixth year in a row. GreatNonprofits—known as the Yelp of the nonprofit world—awarded this designation to EESI because of the countless amazing reviews that volunteers, board members, collaborators, stakeholders, donors, and more have written about EESI's impact. Almost all of them gave EESI Five Stars, the highest possible rating.
For instance, former EESI intern Sharmen Hettipola gave us Five Stars in her GreatNonprofits review. She wrote, "EESI staff specialize in several different topic areas allowing the organization to address topics that are of interest to all members of the community, addressing both policymakers and the general public with briefings, fact sheets, and other publications. EESI's newsletters are noteworthy as they provide the most up-to-date information on environmental and energy issues. EESI's briefings are always exciting as the organization brings in many different perspectives, allowing for a lively discussion during the Q&A. The organization, with its small size, continues to impress me with all that it does."
With our highly regarded Capitol Hill briefings and livecasts, fact sheets, policy papers, newsletters, and more, we have been a trusted source of credible environmental information for more than 30 years. EESI welcomes more reviews on GreatNonprofits so we can learn what value our information has to you and/or your organization—especially during such a dynamic time for energy legislation, with the Clean Power Plan being contested and the global community calling for climate action. Thank you to those who have already given feedback and support to EESI, as we continue to help Congress and the country develop substantive, pragmatic policy solutions that advance clean energy and address climate change.
Authors: Susan Williams and Christianna Johnson