Congressional Renewable Energy and Energy Efficiency EXPO and Policy Forum
Congressional Renewable Energy and Energy Efficiency EXPO and Policy Forum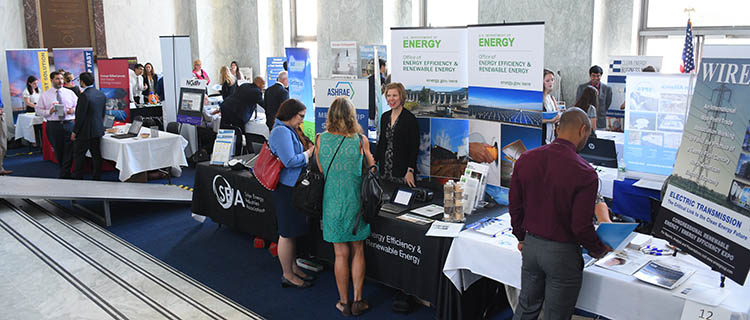 EESI has played a lead role in organizing every annual Congressional Renewable Energy and Energy Efficiency EXPO (also known as the Clean Energy EXPO) since 1997, alongside the Sustainable Energy Coalition, of which EESI is a founding member. The bipartisan House and/or Senate Renewable Energy & Energy Efficiency Caucuses serve as the EXPO's honorary co-hosts. Every year, several Members of Congress attend the EXPO to give remarks.
The EXPO, which usually takes place on Capitol Hill in June or July, brings together the latest, smartest and most dynamic clean energy-based organizations and demonstrates the impact they're having on the economy, jobs, and the nation's infrastructure.
Much has changed since the EXPO's scrappy beginnings. Back in 1997, most renewables were still viewed with skepticism verging on derision. Now, the EXPO is a much anticipated and appreciated event, reflecting the economic heft of today's clean energy industry. Our country's energy revolution is in full swing!
Every year, the EXPO creates more impetus for federal action on renewable energy and energy efficiency. A strong presence by private companies shows that the industry values the role of Congress and the opportunity to share its innovations and stories with the policy community.
A policy forum, featuring speakers from the exhibiting organizations, runs alongide the EXPO. The panels, which are livecast and available on our website, cover a wide range of topics, ranging from the electricity grid to ultra-low energy, passive buildings.
The EXPO is always open to the public and free for attendees.
Learn more about the EXPO at www.eesi.org/expo or check out past EXPOs: