Global Warming / Climate Change Frequently Asked Questions (FAQ)
Global Warming / Climate Change Frequently Asked Questions (FAQ)
1. What is global warming?
2. What causes global warming?
3. What is climate change? Is it different than global warming?
4. What does global warming have to do with severe weather, like droughts and hurricanes?
5. If global warming is real, why is it so cold and snowy this winter?
6. What does global warming have to do with rising sea levels?
7. What is ocean acidification?
8. What does eating meat and dairy have to do with climate change?
9. What does climate change have to do with spreading disease?
10. How does climate change affect the food supply?
11. What is a carbon footprint and how can I reduce my carbon footprint?
12. What are renewable sources of energy?
13. What is the United States doing to combat global warming?
14. What are corporations doing to combat global warming?
15. What is the United Nations doing to combat climate change?
16. Is there hope that we will be able to do something before it is too late?
Other recommended climate change FAQs elsewhere on the web
1. What is global warming?
Global warming refers to the increasing average global temperature since the Industrial Revolution. The average global temperature has increased by about 0.8 degrees Celsius (1.4 degrees Fahrenheit) since 1880. Global warming is an ongoing process; scientists expect the average global temperature to rise an additional 0.3 to 0.7 degrees Celsius through 2035.
Sources:
"Climate Change: Global Temperature," National Oceanic and Atmospheric Administration (NOAA)
"Near-term Climate Change: Projections and Predictability (2014)," Intergovernmental Panel on Climate Change (IPCC)
"Global Temperatures," National Aeronautics and Space Administration (NASA)
2. What causes global warming?
Certain gases, such as carbon dioxide and methane, help trap the sun's heat in the atmosphere. Known as greenhouse gases, they exist naturally in the atmosphere and help keep the Earth's surface warm enough to sustain life (without greenhouse gases, the average temperature on Earth would be a mere zero degrees Fahrenheit, instead of today's roughly 58.3 degrees Fahrenheit).
Human activities, notably the burning of fossil fuels (coal, natural gas, and oil) to power vehicles, factories, and homes, release additional carbon dioxide into the atmosphere. Other activities, such as raising livestock, increase methane levels. Higher concentrations of these greenhouse gases in the atmosphere trap more heat on Earth, causing a manmade rise in global temperatures. According to multiple reviews of the scientific literature, an overwhelming 97 percent of climate scientists agree that human activity is the main driver behind the global warming we are experiencing.
Sources:
"Climate Change: Global Temperature," National Oceanic and Atmospheric Administration (NOAA)
"Inventory of U.S. Greenhouse Gas Emissions and Sinks: 1990 – 2014," Environmental Protection Agency (EPA)
"Scientific consensus: Earth's climate is warming," National Aeronautics and Space Administration (NASA)
"NASA Finds 2013 Sustained Long-Term Climate Warming Trend," National Aeronautics and Space Administration (NASA)
3. What is climate change? Is it different than global warming?
The terms climate change and global warming are often used interchangeably, but climate change refers to both the rise in global temperatures because of human activities and the many impacts this rise has on the planet—such as more intense and frequent droughts and storms, melting glaciers and ice sheets, rising sea levels, warming seas (which can cause coral reef bleaching and disrupt the marine food chain), and ocean acidification (see question 7). Climate change can also refer to natural fluctuations in the Earth's average temperature between cold periods (ice ages) and warm periods.
The climate change we are currently experiencing is almost certainly manmade in origin (see question 2). Scientists have concluded that, over the last 50 years, the Earth's surface should have been cooling slightly based on natural factors, like solar intensity and volcano activity; instead, the increased burning of fossil fuels has led to global warming—and at a significantly faster rate than at any time over the last 800,000 years.
People around the world are already feeling the impact of climate change on the environment. A hotter atmosphere means extreme weather is more likely and potentially more devastating: droughts, flooding, and more severe storms have all become more common. Changing weather patterns can ruin crops and cause serious water shortages. Rising sea levels are threatening low-lying islands and coastal cities. Tropical and insect-borne diseases are spreading as their hosts colonize new habitats that were previously too cold for them to survive.
Climate change represents a significant threat to the health and well-being of human societies, especially in vulnerable areas of the developing world where people are ill-equipped to deal with the side effects of a warmer climate.
Sources:
"What's the difference between global warming and climate change?" National Oceanic and Atmospheric Administration (NOAA)
"How is Today's Warming Different from the Past?" National Aeronautics and Space Administration (NASA)
4. What does global warming have to do with severe weather, like droughts and hurricanes?
A rise in global temperatures increases the severity and likelihood of storms, floods, wildfires, droughts and heat waves. In a warmer climate, the atmosphere can collect, retain and drop more water, making wet areas wetter and dry areas drier. Increased precipitation can help support agriculture, but more frequent and intense storms damage property, infrastructure, and lead to loss of life in vulnerable areas. Over the past few decades, the United States has experienced more heat waves and fewer cold waves.
Global warming also results in warmer oceans, making it easier for hurricanes to form; over the past 20 years, tropical storm activity in the Atlantic Ocean, Caribbean, and Gulf of Mexico has increased in intensity, frequency, and duration.
It is very difficult for researchers to attribute a specific weather event to global warming. Nevertheless, climate scientists are confident that the higher temperatures we are experiencing are making extreme weather more likely, with all the costs that entails. From 2004 to 2014, the United States experienced 88 $1 billion weather events, for a total loss of $630.8 billion and 3,988 lives.
Sources:
"Understanding the Link Between Climate Change and Extreme Weather," Environmental Protection Agency (EPA) Archives
"Climate Change Indicators: Weather and Climate," Environmental Protection Agency (EPA)
"National Climate Assessment Report Findings: Extreme Weather," 2014 National Climate Assessment, U.S. Global Change Research Program
"Attribution of Extreme Weather Events in the Context of Climate Change," National Academies of Sciences, Engineering, and Medicine
"Billion-Dollar Weather and Climate Disasters: Overview," National Oceanic and Atmospheric Administration (NOAA)
5. If global warming is real, why is it so cold and snowy this winter?
Global warming is an ongoing, gradual process that does not prevent cold, snowy weather from occurring. Instead, global warming makes colder-than-average winters less likely, and warmer-than-average winters more likely. Local weather patterns can be misleading: a cold winter in the Northeast United States can be the exception to an abnormally warm winter in the rest of the northern hemisphere. Over time, scientists expect winters to become shorter as global temperatures continue to rise. We have already seen shifts in growing seasons.
Some studies actually suggest that colder-than-average winters can be attributed to climate change. As the climate warms, more water vapor enters the atmosphere, intensifying rain and snowstorms and creating a more humid—and thereby colder and snowier—winter.
Sources:
"Are record snowstorms proof that global warming isn't happening?" National Oceanic and Atmospheric Administration (NOAA)
"Climate Change and Extreme Snow in the U.S.," National Centers for Environmental Information
6. What does global warming have to do with rising sea levels?
Global warming contributes to rising sea levels in two ways. First, the Earth's polar regions are especially vulnerable to global warming because temperatures in the Arctic and Antarctic are rising at twice the rate of the world average. Hotter summers, warmer winters, and earlier springs are causing glaciers and ice sheets to gradually melt. The increased runoff from polar lands (particularly Greenland and the Antarctic) is causing sea levels to rise. Second, thermal expansion, the natural expansion of water as it heats up, is causing the ocean to take up more space, which also leads to rising sea levels.
Sea levels are currently rising by about one foot per century and scientists estimate that by 2100, the Earth's oceans will have risen one to four feet. This will increase the risk of coastal flooding and endanger millions of people living in low-lying coastal areas like New York, Los Angeles, and Miami. In fact, the sea level along the Atlantic Coast is rising faster than anywhere else on the planet.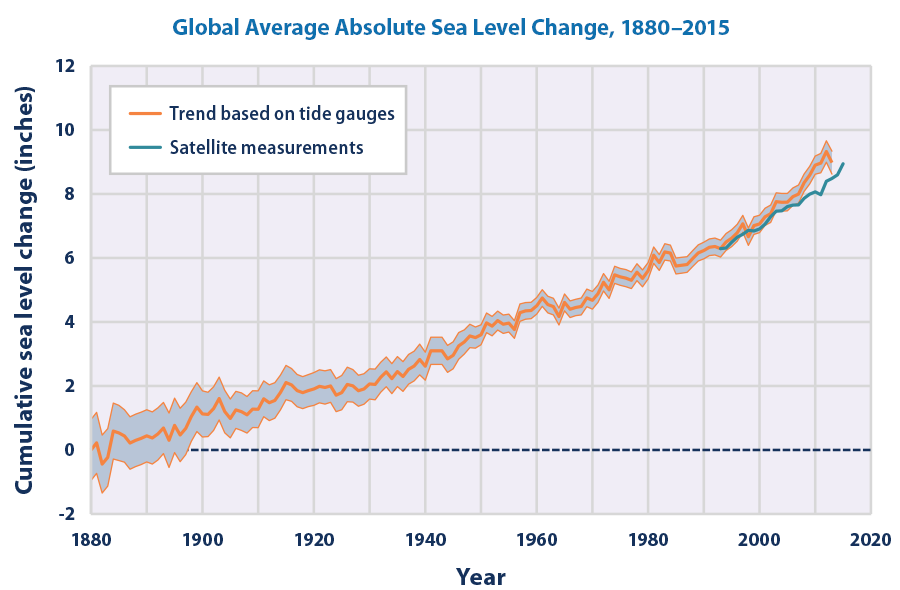 Figure 2: Cumulative changes in sea level for the world's oceans since 1880, based on a combination of long-term tide gauge measurements and recent satellite measurements.
Source: Environmental Protection Agency (EPA). Data sources: Commonwealth Scientific and Industrial Research Organisation (CSIRO), National Oceanic and Atmospheric Administration (NOAA)
Sources:
"Vital Signs of the Planet: Sea Level Rise," National Aeronautics and Space Administration (NASA)
"Climate Change Indicators: Sea Level," Environmental Protection Agency (EPA)
"The fingerprints of sea level rise," National Aeronautics and Space Administration (NASA)
7. What is ocean acidification?
Sea water absorbs 30 to 40 percent of the carbon dioxide released by humans, which changes the ocean's chemical composition and disrupts marine ecosystems. This change in chemical composition is referred to as ocean acidification, although the ocean will not actually become acid-like. Rather, its pH value is changing from slightly basic to more neutral. But such a seemingly small change is enough to affect many creatures. For example, acidification prevents the shells of shellfish form forming.
Sources:
"What is Ocean Acidification?" Pacific Marine Environmental Laboratory, National Oceanic and Atmospheric Administration (NOAA)
8. What does eating meat and dairy have to do with climate change?
Raising livestock for food is a major source of greenhouse gas emissions that contribute to manmade climate change. Forests have often been cut down and burned to obtain land for livestock production, which releases carbon dioxide into the atmosphere and destroys a natural absorber of carbon. Livestock, especially cattle, produce methane through their digestion; this methane makes up one third of greenhouse gas emissions from the U.S. agricultural sector. Livestock manure also emits methane, in addition to nitrous oxide (another greenhouse gas); together, these make up another 14 percent of greenhouse gas emissions from the U.S. agricultural sector.
Economic development and population growth is leading to greater meat and dairy consumption worldwide, making livestock a rising contributor to climate change. Fortunately, there are ways to reduce greenhouse gas emissions from livestock operations, by capturing methane from manure and by changing animal feeding practices. Some experts also advocate consuming less meat and dairy.
Sources:
"The importance of reduced meat and dairy consumption for meeting stringent climate change targets," Climatic Change.
"Agriculture Sector Emissions," Environmental Protection Agency (EPA)
"AgSTAR: Biogas Recovery in the Agriculture Sector," Environmental Protection Agency (EPA)
9. What does climate change have to do with spreading disease?
Rising global temperatures exacerbate heat-related diseases such as heat exhaustion, heatstroke, and cardiovascular, respiratory, and kidney diseases. On average, extreme heat kills more Americans every year than floods, hurricanes, lightning, and tornadoes taken together.
Climate change also has a strong impact on food-borne and water-borne diseases, which thrive in warmer, wetter conditions, as well as diseases carried by insects, snails, and other cold-blooded animals, whose ranges are extended by climactic shifts. As the world becomes warmer and wetter due to climate change, diseases that thrive in these conditions (such as malaria) will spread, sickening and killing more people each year.
Sources:
"Heat-Related Deaths After an Extreme Heat Event — Four States, 2012, and United States, 1999–2009," Morbidity and Mortality Weekly Report, Centers for Disease Control and Prevention
"Climate change and health," World Health Organization (WHO)
10. How does climate change affect the food supply?
Climate change is already exacerbating food insecurity, and represents a real threat to the world's growing population and to the stability of local communities and nations. By increasing the frequency and intensity of droughts, floods, and storms, climate change can destroy crops and the infrastructure necessary to transport and store food supplies. Increased rainfall and warmer temperatures will change the weather patterns that farmers are accustomed to, making it more difficult for them to plan their plantings and harvests.
Though plants need carbon dioxide to grow, higher levels of carbon dioxide in the atmosphere are not necessarily beneficial for agriculture. Researchers have found that higher levels of CO2 result in crops with lower nutritional value.
Sources:
"Climate Impacts on Food Security," World Food Programme
"Climate Impacts on Agriculture and Food Supply," Environmental Protection Agency (EPA) Archives
"Increasing CO2 threatens human nutrition," Nature
11. What is a carbon footprint and how can I reduce my carbon footprint?
A carbon footprint is the amount of carbon emitted by a person, group, household, organization, or activity over a given time period, usually due to the consumption of fossil fuels. The more fossil fuels are consumed during an activity, the larger the carbon footprint (for example, flying results in a larger carbon footprint than taking a train to cover the same distance). Activities that are part of the natural carbon cycle, such as breathing, are not counted. A carbon footprint can also encompass emissions of other greenhouse gases, such as methane.
Reducing or offsetting greenhouse gas emissions by improving energy efficiency, using renewable energy, and adopting sustainable practices is the best way to reduce one's carbon footprint. Simple things like carpooling, using LED light bulbs, and recycling are just a few of the many ways you can reduce your carbon footprint and fight climate change. For more easy ways to reduce your carbon footprint click here.
Sources:
"Glossary of Climate Change Terms: Carbon Footprint," Environmental Protection Agency (EPA).
"Carbon Footprint Calculator," Environmental Protection Agency (EPA).
12. What are renewable sources of energy?
Renewable sources of energy come from natural resources, like sunlight, plant matter (biomass), geothermal activity, water, and wind, that are not depleted when used (or can be regrown, in the case of plant matter). In contrast, nonrenewable sources of energy—like fossil fuels—are finite resources that cannot be easily replenished when consumed. Renewable energy is also a low- or zero-carbon source of energy. And, of course, energy efficiency is a very important "renewable" source of energy: the cleanest form of energy is energy that is not used.
Common sources of renewable energy are solar, wind, geothermal, and hydro power as well as certain forms of biomass. Renewable technologies like wind turbines and solar panels have become increasingly competitive in the energy market as their production costs continue to fall. Increasing world investment in renewable energy technologies has been acknowledged by the overwhelming majority of climate change experts and world leaders to be an essential strategy in addressing global warming.
Sources:
"Learning About Renewable Energy," National Renewable Energy Laboratory (NREL)
"FAQ - Renewable energy," International Energy Agency (IEA)
"Sustainable Energy in America Factbook," Business Council for Sustainable Energy (BCSE) and Bloomberg New Energy Finance
13. What is the United States doing to combat global warming?
In recent years, the United States has taken significant steps (both at the federal and state levels) to combat global warming by increasing the nation's use of renewable energy and curbing greenhouse gas emissions through energy efficiency initiatives and carbon pollution standards. When signing the Paris Climate Agreement in 2016, the United States committed to making further cuts to carbon emissions with the aim of limiting global warming to well below 2 degrees Celsius in the 21st century.
In 2015, President Barack Obama proposed the Clean Power Plan, which would have reduced carbon emissions from existing power plants by at least 32 percent below 2005 levels by 2030. Substantial gains have already been made, with U.S. emissions from the power sector being at the lowest point since 1991. The power sector had been the nation's largest source of carbon pollution, at 31 percent of the total; at present, the transportation sector is the largest source of greenhouse gas emissions.
The Trump Administration has rolled back several of the previous administration's climate actions, including the Clean Power Plan. But states, including California and New York, are moving forward with policies to curb carbon emissions and favor renewable energy and energy efficiency. As of September 2016, 20 states and the District of Columbia have set their own greenhouse gas reduction targets.
Sources:
"Clean Power Plan for Existing Power Plants," Environmental Protection Agency (EPA)
"Greenhouse Gas Emissions Targets," Center for Climate and Energy Solutions (C2ES)
"The Obama Administration and Climate Change," Obama White House Archives
"FACT SHEET: President Obama's Climate Action Plan," Obama White House Archives
"Energy-related CO2 emissions for first six months of 2016 are lowest since 1991," U.S. Energy Information Administration
14. What are corporations doing to combat global warming?
Investors and companies across the globe are embracing the shift from fossil fuels to cleaner energy. Large corporations like Google, Amazon, Apple, and Microsoft have all stepped up to show their public support for U.S. carbon cutting efforts and have invested in projects combating climate change. More than 1,000 companies, including Hilton World Holdings, HP, Johnson and Johnson, and L'Oréal, signed a letter that endorsed the Paris Climate Agreement and the EPA's Clean Power Plan. In a similar move of support, 400 institutional investors, which collectively manage over $24 trillion in assets, encouraged governments to expand low-carbon fuel sources, establish carbon prices, and eliminate fossil fuel subsidies. And, Moody's now includes climate risk in its corporate ratings.
Sources:
"Business Backs Low Carbon USA," Business Backs Low-Carbon USA
Letter from 400 Institutional Investors in Support of Paris Climate Goals, Investor Platform
"Moody's to Use Paris Pledges to Assess Corporate Risk," United Nations Framework Convention on Climate Change (UNFCCC) press release
15. What is the United Nations doing to combat climate change?
The United Nations has been instrumental in facilitating international negotiations on efforts to combat climate change through the United Nations Framework Convention on Climate Change (UNFCCC) and the Intergovernmental Panel on Climate Change (IPCC). The UNFCCC brings together 197 members for an annual meeting during which nations share information on emissions, policies, and practices related to global warming and attempt to develop strategies for addressing climate change. The IPCC consults experts to assess climate change science and presents policy-relevant information outlining how nations can adapt and mitigate the impact and risks of this global threat.
In 1997, the members of the UNFCCC negotiated the Kyoto Protocol, a legally binding agreement that compelled developed nations to reduce greenhouse emissions by 2012. The 2015 climate convention was responsible for the Paris Climate Agreement, with 194 countries* agreeing to limit global warming to significantly less than 2 degrees Celsius this century. The Paris Climate Agreement came into force in October 2016; 143 countries have ratified it as of April 2017.
* Nicaragua, Syria, and Uzbekistan are part of the UNFCCC but have not signed the Paris Climate Agreement (as of April 2017).
Sources:
"United Nations Sustainable Development Goal 13: Take urgent action to combat climate change and its impacts," United Nations
"Essential Background – The United Nations Framework Convention on Climate Change," United Nations Framework Convention on Climate Change
"IPCC Factsheet: What is the IPCC?" Intergovernmental Panel on Climate Change
"Paris Agreement - Status of Ratification," United Nations Framework Convention on Climate Change
16. Is there hope that we will be able to do something before it is too late?
Even though climate change is a pressing threat that isn't going away, we can have a significant impact on how it affects us in the near future. By investing in renewable energy and energy efficiency, people, communities, businesses, and governments can reduce the amount of greenhouse gas emissions reaching the atmosphere and slow global warming. This will help minimize the consequences of climate change in the present and for future generations.
In addition, through adaptation and resiliency efforts, we can and must prepare an infrastructure built to withstand the impacts of global warming, protecting the lives of millions of people currently living in vulnerable areas. Such investments will also greatly reduce the costs of extreme weather events and other disasters. We know what needs to be done, and that's a critical step in the right direction!
Author: Ethan Anabel
Editors: Carol Werner, Amaury Laporte, Brian La Shier
MORE CLIMATE CHANGE FAQS