You've Been Achieving Great Results!
EESI's 2017 Annual Report Shows the Sustainable Solutions You Made Possible
July 23, 2018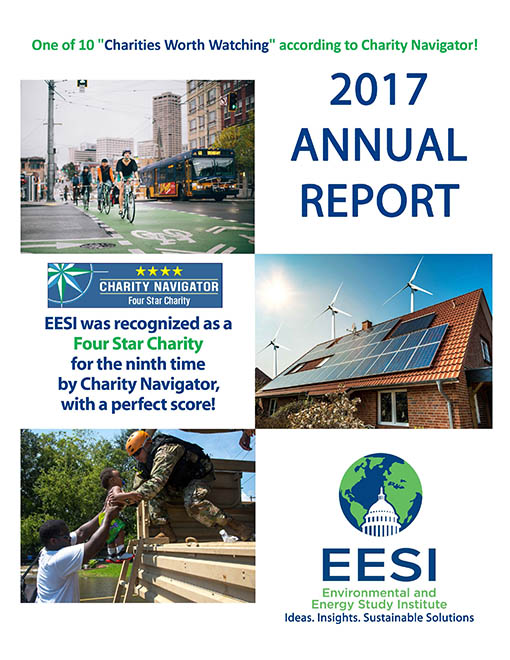 2017 was a year of uncertainty on the policy front. A new Administration brought with it many challenges for the passing of commonsense climate solutions. Dramatic budget cuts and relentless regulatory rollbacks proposed by the Trump Administration on energy and environmental issues have brought more attention to federal action, the role of Congress, and, by extension, to EESI's work. The need for objective education and advocacy is more important than ever, and EESI has played a vital role in educating Congress.
Members of Congress rely heavily on EESI's work to give them important information they can trust. In 2017, EESI hosted 15 briefings on issues ranging from the National Security Implications of Climate Change to Powering Businesses, Homes and Vehicles with Waste. A total of 3,342 people attended EESI briefings, including individuals from 180 Congressional offices. EESI also collaborated with many allied organizations on group letters, and talked to Congressional staffers to help inform Congress. Congress took note of EESI's work and pushed back against the Administration's budget proposals, proving that our work is more important than ever.
In addition to our work at the federal level, EESI is focused on providing technical assistance to local communities. With our on-bill financing initiative, we are working with rural electric co-ops and municipal utilities to help foster affordable energy efficiency retrofits, community renewables, and low-carbon electrification, thereby lowering emissions and saving households money.
EESI's work has not gone unnoticed, and we are pleased to announce that in 2017, we were named a Top-Rated organization by GreatNonprofits, earned a perfect score from Charity Navigator, and were even ranked #1 on Charity Navigator's "Charities Worth Watching" Top Ten list! EESI also gained valuable media coverage from networks like ABC, BBC, and C-Span, and publications like Bloomberg's Bureau of National Affairs and The Atlantic!
You can access EESI's Annual Report here to learn more about our many accomplishments in 2017!
Authors: Carol Werner and Lauren Taylor