Show Your Support with a Gift During 'Do More 24' on June 2
May 26, 2016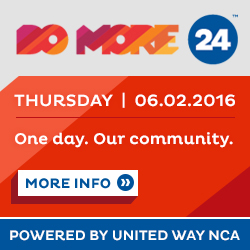 Do you want to advance sustainable energy and sensible climate solutions? EESI invites you to make a gift to show your commitment during Do More 24, a 24-hour fundraiser on June 2, 2016. During the Do More 24 contest for nonprofits in the DC area, your gifts will help EESI compete for thousands of dollars in prizes in contests such as most dollars raised and largest number of donors during the day.
You can help advance clean energy by making an online donation between 12:00 AM and 11:59 PM on Thursday, June 2. This is a fun day of community giving—organized by United Way of the National Capital Area—and a day to show your support for sustainable energy!
A donation of any size will help us keep up the important progress made through the landmark Paris agreement on climate. You can help showcase the power of community-based energy, and how a healthy economy and a healthy environment go hand-in-hand. To donate during Do More 24, please go to EESI's Do More 24 page anytime on June 2, 2016. And help spread the message on Facebook and Twitter! Thank you for your continued support!