Defend Clean Energy through Workplace Giving!
September 5, 2018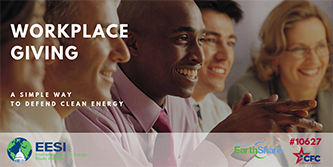 Credit: Richard Masoner / Cyclelicious
Congress plays a key role in making environmental and energy decisions. Given the President's plan to withdraw from the Paris Climate Agreement, it is especially important to engage with Congress more effectively. To make a difference, you can support EESI's work to promote climate-conscious policies and advance clean energy by participating in simple, budget-friendly pay-roll-based contributions. You'll feel great knowing you are protecting clean air and defending clean energy with every paycheck.
A few companies that offer this opportunity include the World Bank, Dell, American Express, Amazon.com and Accenture. Fortunately, an increasing number of workplaces are making it easier for their employees to contribute to sustainability efforts through workplace-giving federations such as EarthShare. Check with your human resources department to see if EESI is listed. If we are not, you may have the ability to designate a nonprofit of your choice and write us in as your donation recipient.
If you are an employee or retiree of the military or federal government, you can designate donations to EESI with our Combined Federal Campaign (CFC) number, #10627.
EESI sympathizes with all the federal workers who are not receiving their paychecks during the shutdown and realizes you are not in a position to pledge. We thank you for your service and are hoping for a speedy resolution for affected agencies.
Please make your pledge to EESI now and relish in the fact that, with every paycheck, you are protecting what you believe in!
Author: Carley Carter