Sustainable Bioenergy, Farms, and Forests - April 7, 2017
April 7, 2017
Understanding Land Use Change – Are New Tools Needed?
Are we using the right tools to understand land use change, particularly at the local level, and how can understanding of land use change be improved?
The Renewable Fuel Standard (RFS) has been around for 10 years, yet the policy continues to be dogged by concerns over its impact to U.S. and foreign land use. In the United States, the USDA tracks aggregate land use conversion. However, the impact of growing biofuels feedstocks (primarily corn and soy) on land use change at a local level has been difficult to ascertain. Understanding of the issue is primarily hampered by the use of databases and tools that were not developed specifically for this task. The result is policy makers and stakeholders have insufficient and perhaps inaccurate information regarding the impacts of the statute on land conversions.
Headlines:
1. White House Wants USDA—Not EPA—to Reduce Agricultural Runoff
2. Gasoline Stations Team Up to Fight Ethanol Mandate Change
3. Groups Take Predictable Sides as US Biodiesel Trade War Develops
4. U.S. Agriculture Bets the Farm on Chinese Soy Demand
5. A Concrete Way To See How Climate Change Will Affect Farming
Upcoming Event:
How Foreign Climate Aid Benefits the United States
Tuesday, April 11
3:00 pm - 4:30 pm
485 Russell Senate Office Building
Constitution Avenue and 1st Street, NE
Please RSVP to expedite check-in
The Environmental and Energy Study Institute (EESI) invites you to a briefing discussing benefits to the United States from deploying foreign aid to vulnerable regions to help them become more resilient to climate change impacts. The briefing will also explore the inner workings of the Green Climate Fund (GCF), a multi-lateral effort to mobilize $100 billion in public and private financing for adaptation and mitigation projects in developing nations.
Do you like receiving Sustainable Bioenergy, Farms, and Forests? If so, please consider taking 2 minutes to say why SBFF is useful to you! Your review on the Yelp of nonprofits, GreatNonprofits, will help us continue to put out this newsletter every week. We just need ten reviews to be named a "2017 Top-Rated Nonprofit!" Review EESI at www.eesi.org/rate.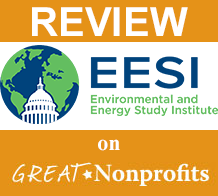 To Contact the Editor: Jessie Stolark at bioenergy@eesi.org
Please distribute Sustainable Bioenergy, Farms, and Forests to your colleagues. Reproduction of this newsletter is permitted provided that the Environmental and Energy Study Institute is properly acknowledged as the source. Past issues are available here. Free email subscriptions are available here.
Do you like receiving this newsletter? If so, please consider taking 2 minutes to tell us why SBFF is useful to you! Your review of EESI's services on GreatNonprofits will help us keep bringing you more of what you like. EESI has been named a "Top-Rated Nonprofit" three years in a row, and with your help we want to make it four! Click here to Review EESI.
The Environmental and Energy Study Institute (EESI) is a non-profit organization founded in 1984 by a bipartisan Congressional caucus dedicated to finding innovative environmental and energy solutions. EESI's work, including this free newsletter, is made possible by financial support from people like you. Please help us continue to make it available by making a secure, online donation today or mailing a check to the Environmental and Energy Study Institute at 1112 16th St NW, Suite 300, Washington, DC 20036. You can also learn more about why you should give to EESI for clean energy. If you have any questions, please contact Susan Williams by email at swilliams [at] eesi.org or by phone at 202-662-1887. Thank you for your support!