Sustainable Bioenergy, Farms, and Forests - April 14, 2017
April 14, 2017
ADM Deploys Carbon Capture and Sequestration Project at Illinois Ethanol Plant
On April 7, Archer Daniels Midland Company (ADM) announced that it had moved from demonstration to deployment of carbon capture and sequestration (CCS) at its Decatur, Illinois ethanol plant. Carbon Capture and Storage (CCS) collects carbon dioxide that would otherwise be emitted into the atmosphere by industrial and power generating sources, and pumps it deep underground for long term storage. The Illinois Industrial Carbon Capture and Storage (ICCS) project will store over 1 million tons of carbon dioxide (CO2) per year.
Headlines:
1. When Climate Change Was Part of the Farm Bill
2. POET'S Cellulosic Ethanol Production On Track, Plans Expansion
3. Within 10 Years, Renewables Could be Cheaper Than Fossil Fuels All Over the World
4. Ethanol Future Murky in Trump Era
5. Reebok Introduces Biobased Cotton + Corn Shoe
Upcoming Event:
Saturday, April 22 2017
Start: Washington D.C., North of Washington Monument, Constitution Avenue NW between 15th and 17th street.
8:00am: Grounds open, 9:00am: Teach-ins start, 10:00am: Main stage rally program begins, 2:00pm: March begins!
EESI is pleased to announce it is an official partner of the March for Science, a nonpartisan event in Washington D.C. and around the world. The March for Science is calling out the vital role science plays in our health, safety, economies, and governments.
If you are interested in participating, please RSVP. In addition to the Washington, D.C. march, there are more than 400 satellite marches.
Do you like receiving Sustainable Bioenergy, Farms, and Forests? If so, please consider taking 2 minutes to say why SBFF is useful to you! Your review on the Yelp of nonprofits, GreatNonprofits, will help us continue to put out this newsletter every week. We just need ten reviews to be named a "2017 Top-Rated Nonprofit!" Review EESI at www.eesi.org/rate.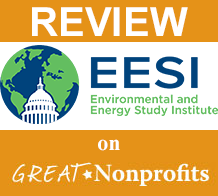 To Contact the Editor: Jessie Stolark at bioenergy@eesi.org
Please distribute Sustainable Bioenergy, Farms, and Forests to your colleagues. Reproduction of this newsletter is permitted provided that the Environmental and Energy Study Institute is properly acknowledged as the source. Past issues are available here. Free email subscriptions are available here.
Do you like receiving this newsletter? If so, please consider taking 2 minutes to tell us why SBFF is useful to you! Your review of EESI's services on GreatNonprofits will help us keep bringing you more of what you like. EESI has been named a "Top-Rated Nonprofit" three years in a row, and with your help we want to make it four! Click here to Review EESI.
The Environmental and Energy Study Institute (EESI) is a non-profit organization founded in 1984 by a bipartisan Congressional caucus dedicated to finding innovative environmental and energy solutions. EESI's work, including this free newsletter, is made possible by financial support from people like you. Please help us continue to make it available by making a secure, online donation today or mailing a check to the Environmental and Energy Study Institute at 1112 16th St NW, Suite 300, Washington, DC 20036. You can also learn more about why you should give to EESI for clean energy. If you have any questions, please contact Susan Williams by email at swilliams [at] eesi.org or by phone at 202-662-1887. Thank you for your support!