Climate Change News - September 4, 2017
September 4, 2017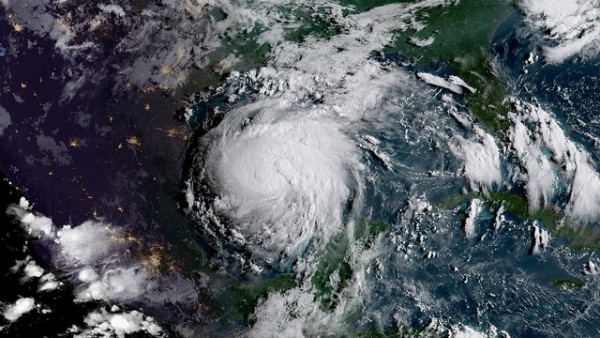 Hurricane Harvey brought record-breaking rainfall and widespread flooding to Texas's coastal communities. Photo courtesy of NASA via flickr.com.
State Department Eliminates Its Special Envoy for Climate Change
Secretary of State Rex Tillerson notified members of Congress via a letter that the Trump administration would be eliminating 36 of the 66 special envoy positions that currently reside at the State Department. Tillerson claims that many of the envoy's missions are either redundant or address issues that have been previously resolved. Some envoys would be moved into related bureaus within the State Department. The special envoy for climate change, which has led the U.S. delegation at international climate negotiations since 2009, would be eliminated. The seven employees currently assigned to the climate envoy's office, as well as the special representative for the Arctic region, will be shifted to the Bureau of Oceans and International and Scientific Affairs. The moves reflect the Trump administration's desire to withdraw from the Paris Climate Accord. Tillerson has sought to eliminate programs following the 32 percent reduction in funding the White House has proposed for the State Department.
For more information see:
Most Homeowners Impacted by Hurricane Harvey Lack Flood Insurance
Analysis of Federal Emergency Management Agency (FEMA) data finds that only 17 percent of homeowners in counties most affected by Hurricane Harvey have flood insurance. Those without insurance will have to seek help from private charities or FEMA grants. The FEMA grants are capped at $33,300, a fraction of the compensation available with insurance. Many Houston homeowners avoided purchasing flood insurance because they lived outside of "high-risk" areas and didn't think they needed it, or because it was too expensive. The average cost of flood insurance in Texas is $500 per year, but can be as high as $2,000 per year for homes located in floodplains. Private insurers typically do not offer flood insurance because it is too risky, but the federal government's National Flood Insurance Program, is set to expire September 30 if Congress does not pass a bill to reauthorize it. The damages caused by Harvey are projected at $40 billion, making it the fourth-most expensive hurricane after Katrina, Sandy, and Andrew.
For more information see:
City Planning Choices in Houston Contribute to Flood Vulnerability
Inadequate storm management systems were a significant factor in Houston's inability to cope with extreme flooding brought on by Hurricane Harvey. The metropolitan area of Houston exemplifies urban sprawl, spanning over 600 square miles, with much of that area paved or covered by other impervious surfaces conducive to flooding. The tremendous downpour inundated the city's existing drainage system and flooded roads and freeways, making evacuation by car too dangerous for many residents. To become more flood resistant, Houston could redevelop areas to reduce impervious surfaces, either by implementing natural ground cover or by using permeable paving materials. However, Georgia Tech professor Thomas Debo warned, "We focus too much on impervious surface and not enough on the conveyance of water." He recommends stormwater collection systems and site-specific designs to slow the flow of water and reduce the risk of a sudden deluge. Debo also says that part of Houston's problem with stormwater management is perception. Flooding is not a problem that people deal with daily - like traffic - so policymakers tend to neglect it.
For more information see:
Popular Coastal Enclaves Repeatedly Rebuilt with Taxpayer Dollars
Communities like Dauphin Island, Alabama have been rebuilt numerous times after major storms, largely using federal tax dollars. The 14-mile long island is home to just 1,300 people, but has one of the highest concentrations of homes labeled as "severe repetitive loss" by the Federal Emergency Management Agency (FEMA), meaning they flood the most often. A lawsuit revealed 30,000 homes nationwide with that designation have cost the government $5.5 billion since 1978. The National Flood Insurance Program (NFIP) covers five million homes and pays for most of the residential flood insurance claims filed in the United States. However, heavy development in flood-prone areas over the past few decades has left the NFIP $25 billion in debt. As climate change makes coastal storms more frequent and severe, a debate has resurfaced over whether the riskiest properties should be rebuilt at all. Following multi-billion payouts from the NFIP for Hurricanes Katrina and Sandy, Congress passed a law in 2012 to make it more expensive to insure a home under the program. However, these reforms were rolled back two years later after complaints of high premiums. Two weeks before Hurricane Harvey struck, President Trump rolled back federal rules designed to encourage the installation of flood-resilient infrastructure and tighten restrictions for building on flood plains.
For more information see:
Boston Investigating Projects to Protect Itself Against Future Storms
The city of Boston is considering the installation of a hurricane barrier to defend itself against future storms and rising sea levels. In a commissioned report, the Boston Research Advisory Group found that Boston will likely experience between 2.5 and 7.4 feet of sea level rise by 2100. Estimates from a Green Ribbon Commission project that by 2030, a "100-year storm" event could flood 2,000 buildings, affect 18,000 people, and cause $20 billion in damage for the city. Kerry Emanuel of MIT explained, "We've actually gotten reasonably good at quantifying how [extreme weather risks] will change over the next century, and unfortunately, that does not look good for Boston. It looks like both the intensity of hurricanes and the amount of rain they produce will go up over the century." There are three different scales proposed for the $10 billion hurricane barrier, each encompassing a greater share of Boston Harbor. The city is currently pursuing "shovel-ready" projects to buffer parts of the city against storm surges.
For more information see:
Agencies Strive to Help Farmers in Africa Stave Off Desertification
Africa is highly vulnerable to land degradation, with 45 percent of its land area affected by desertification. Sub-Saharan Africa's vast stretches of arid and semi-arid land are particularly at risk of degradation, potentially impacting the livelihoods of 400 million people. Ermias Betemariam, a scientist at the World Agroforestry Centre, said, "Africa, in particular, faces the critical challenge of its population continuing to grow at a rapid rate while natural resources, arable, grazing, forest lands, and water resources become increasingly scarce and degraded." He added that adverse conditions have pushed small-scale farmers (who produce much of the region's food) onto lands that are risky for agriculture, leading to degradation issues. The United Nations has been helping countries adopt land degradation neutrality (LDN) measures to help close crop yield gaps, preserve productive farm land, and address ecological, economic, and social challenges. Land degradation costs Africa roughly $65 billion annually, five percent of its gross domestic product.
For more information see:
Political and Industry Opposition to New Building Codes Leaves Homes Vulnerable
Hurricane Harvey has reignited a debate over whether building codes should be changed to better adapt to extreme weather. The insurance industry has advocated for stricter building codes and the placement of fewer homes in locations vulnerable to natural disasters. However, the construction and development industry opposes such restrictions in order to keep housing costs down. Some federal officials are calling for local policies that help avoid disaster damages, but state and local officials are concerned restrictions on development will lead to a loss of tax revenue. Texas is one of only four states on the Gulf and Atlantic coast without any mandatory statewide building codes. The state's home builder industry has successfully lobbied legislators to ensure building codes remain loose. Some of the rules that the industry has defeated were proposed by the Federal Emergency Management Agency, which incurs heavy costs when homes along the coast are damaged. Former Texas state insurance commissioner Eleanor Kitzman said, "Disasters don't have to be devastating. We can't prevent the event, but we can mitigate the damage."
For more information see:
Hurricane Harvey Underscores Vulnerability of Gulf's Petroleum Infrastructure
Following the arrival of Hurricane Harvey, nearly every major petroleum refinery in Texas and Louisiana has been partly or completely shut down due to damage incurred, or as a safety precaution. The closure of ports in Houston and Corpus Christi have also hindered energy imports and exports. Energy experts have previously pointed out the economic and environmental risks in concentrating so many petroleum and chemical plants along the Gulf's vulnerable coastline. Michael E. Webber, deputy director of the Energy Institute at the University of Texas, said, "The energy sector will have to consider the costs of additional hardening of the infrastructure on the Gulf Coast versus moving to a different location like the Eastern Seaboard." The reported environmental fallout from Harvey has been significant, with gasoline leaking from damaged storage tanks and hazardous gases escaping from facilities. At least a dozen facilities have begun flaring excess gas, releasing nitrous oxides, due to a lack of available processing infrastructure. Harvey also raises concerns about how transparent oil companies have been regarding their preparedness for climate impacts.
For more information see:
Studies Show Wind and Solar Energy Have Been Consistently Underestimated
Two new reports show that the growth of renewable energy capacity has been regularly underestimated, an oversight that has also influenced climate mitigation models. Analysis from the Mercator Research Institute found three factors led to the underwhelming projection for solar energy: 1) most models do not account for national and state-level policies that promote solar adoption; 2) solar has a steep "learning curve," meaning the technology has gotten cheaper in a hurry; and 3) models are often bullish on nuclear power and carbon capture-equipped power plants, despite their high costs versus solar. The researchers cited challenges in maintaining financing for renewables in the developing world, along with the successful integration of high levels of wind and solar energy into the grid. Revised projections show solar has the capacity to provide 30-50 percent of the world's electricity in the future, vastly outperforming current projections. The second paper, by the National Renewable Energy Laboratory, identified four areas of innovation for wind energy that could lead to a 50 percent reduction in costs by 2030. The measures included better wind predictions, improved turbine and facility design and control, and advanced grid integration.
For more information see:
Southern Pine Beetles Attack Northern Forests as Winter Temperatures Rise
A new study by climatologists from Columbia University and published in the journal Nature Climate Change found that southern pine beetles, common to the southern United States, are spreading north in response to warmer winter temperatures. Southern pine beetles attack evergreen forests, killing the trees they feed on. Now, forests in New York, New Jersey, and parts of New England are threatened. The study predicts the species could spread as far as Nova Scotia by 2020. The research team focused on the change in average annual temperatures for the coldest winter nights, which have warmed up to seven degrees Fahrenheit over the past 50 years. The severity of these cold nights determine the beetles' survival and ultimately limit the geographic range the species can inhabit. Dartmouth biologist Matthew P. Ayres said the analysis could predict other ecological changes for the region, stating, "It's reasonable to assume that there are hundreds or thousands of other [insect and plant] species that may also be affected."
For more information see:
Headlines
Trump Repeals Federal Rules Designed to Encourage Flood-Resilient Infrastructure
Public Health Concerns Abound in Hurricane Harvey's Aftermath
"100-Year Flood" Terminology Is Misunderstood and Ripe for an Update
U.S. Solar Industry Wary of Trump's Desire to Levy Trade Tariffs
Study: Tree Records Reveal Historical Relationship Between Global Warming and Wildfires
Writers: Beatrix Scolari and Brian La Shier
Editor: Brian La Shier