Climate Change News - September 25, 2017
September 25, 2017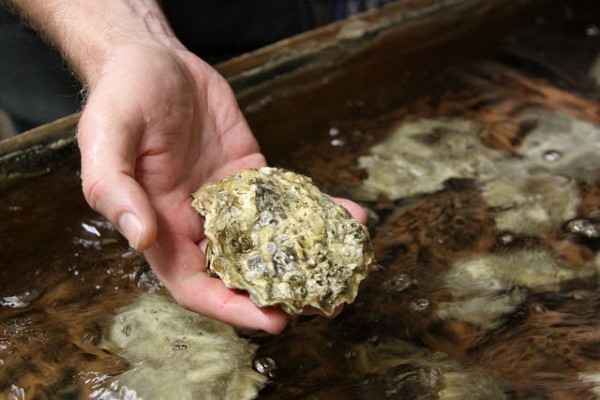 Ocean acidification is putting oceanic food webs and the American shellfish industry at risk. Photo courtesy of Oregon State University via flickr.com.
Island Nations Devastated by Recent Hurricanes Call for International Aid
A special session was convened prior to the 72nd United Nations General Assembly by UN Secretary General António Guterres to bring together Caribbean nation leaders and highlight the need for international aid following a series of devastating hurricanes in the region. The leaders called for improved solutions for defending vulnerable island nations from increasingly severe storms and the urgent need for financing to assist in recovery. President Rodney Williams of Barbuda said, "We ask the international community to help us, not because we want to outstretch a begging bowl, but because forces far beyond our control have pushed us to this dire situation." President Danilo Medina of the Dominican Republic added, "Climate change and its consequences should not be a subject of speculation or debate." Caribbean leaders have called for greater cooperation between rich and poor countries, as well as fiscal mechanisms (such as large-scale insurance) for vulnerable regions. Diplomats said they would raise these issues during a November UN session in Germany.
For more information see:
Candidates for EPA Science Advisory Board Include Climate Science Skeptics
The EPA has released a list of 132 potential candidates for the agency's Science Advisory Board. Fifteen of the board's 47 current members have terms ending in September 2017, which could create additional vacancies. The list includes around a dozen candidates that question the validity of climate science. Five candidates have challenged EPA's climate science findings in court. Several of these candidates are associated with the Heartland Institute, a conservative think tank with a history of challenging mainstream views on climate change. The skeptics tend to share the belief that the field of climate change is politically tainted, although their opposing views on the subject vary. The list of candidates is open to public comment until September 28 and was compiled from an open nomination process. However, EPA Administrator Scott Pruitt has the ultimate authority to appoint new members to the Science Advisory Board. Pruitt's EPA has previously endured criticism over its unexpected dismissal of several researchers from a separate agency body, the Board of Scientific Counselors.
For more information see:
Florida Continues to Build, Despite Greater Awareness of Environmental Risks
Florida's most appealing real estate locations are also among the most vulnerable to hurricanes and rising sea levels, but this is unlikely to deter future development. Florida has a history of building over sensitive coastal ecosystems such as marshes and mangroves. Half of the Everglades was lost in an effort initiated by the Army Corps of Engineers almost 100 years ago to reshape the natural water system. Now, Florida is the third-most populous state and the risks of maintaining the status quo keep adding up. New houses built right next to the water are dangerously exposed to storm surges and evacuation plans are increasingly challenging. Florida continues to prioritize real estate interests and oppose taxes that could help fund resilience measures, with Governor Rick Scott eliminating a state agency and a key law designed to manage rampant development. Regarding the political gridlock, Tampa Mayor Bob Buckhorn said, "If you keep refusing to acknowledge that climate change is real, if you keep promising an infrastructure bill that never appears, you're not much help to us."
For more information see:
Native American Tribes Take a Stand against Climate Change
While Native American populations possess a small carbon footprint relative to the rest of the United States, they are among the communities that would likely be most affected by climate change. Two days after President Trump announced that the United States would move to withdraw from the Paris Accord, several tribes, including the Swinomish Indian Tribal Community and the Standing Rock Sioux, issued a joint statement of support for upholding the treaty. A 2008 United Nations (UN) declaration opened the door for indigenous populations to participate in UN affairs, but both UN and US law would have to be changed to allow American tribes to sign on to Paris. Nevertheless, several tribes have developed international partnerships, as well as domestic actions to protect salmon, monitor ocean acidification levels, and observe algae blooms. The Trump administration has proposed cutting the federal Tribal Climate Resilience Program by $9.9 million, which would diminish the ability of tribal governments to pursue new climate change projects on their own.
For more information see:
Gov. Jerry Brown's Climate Coalition Continues to Add Members Heading into COP23
On September 17, California Gov. Jerry Brown's Under2 Coalition welcomed 10 new members, including Mozambique and the Marshall islands. The coalition pledges to greatly reduce carbon dioxide (CO2) emissions by the middle of the century and has been signed or endorsed by 187 national, state, and local governments. Signatories must submit a plan for reducing their CO2 emissions to 80-90 percent below 1990 levels by 2050, or they must reduce their annual emissions to two tonnes per capita. Orlando Mayor Buddy Dyer, a signatory of the coalition, explained, "The withdrawal from the Paris Climate Agreement puts us, as a nation, out of step with where the rest of the world is headed. That doesn't mean that the cities can't pick up the slack." In aggregate, the governments that have joined the coalition to date represent 1.2 billion people, or 16 percent of the world's population. In addition, the group accounts for a GDP of $28.8 trillion, representing 39 percent of the global economy.
For more information see:
Cities Hope to Pool Their Knowledge in Crafting Distinctive Climate Solutions
C40, a coalition of 90 global cities fighting climate change, convened in New York last week to exchange ideas. Coalition leaders, including New York, Paris, Durban, and Mexico City, are currently developing a set of climate action plans they hope to release and begin implementing by 2018, with the hope that they may serve as a model to other cities. Most cities don't have direct control over their electrical grid, so they must find other ways to achieve emissions reductions, such as writing energy efficiency into building codes and investing in sustainable transportation systems. All cities have different needs and every city's pledge on climate action must be specific to those needs in order to be effective. Riley Duren of the Megacities Carbon Project at NASA noted, "A general question you could pose is, what dominates the greenhouse gas footprint of a city? Is it normal activity like traffic and heating and local electrical generation, or is it malfunctions and leaks? The answer, almost certainly, is it varies by city."
For more information see:
U.S. Companies Display a Disconnect between Their Public Stance on Climate and the Groups They Fund
A recent report from the Center for Public Integrity contrasts the public support for climate action by 27 businesses with their financial donations to a group that has fought the Paris Agreement. The companies who defended Paris, including Walmart, Facebook, Coca-Cola, Google, and Microsoft, were also found to have donated to the Republican Attorneys General Association (RAGA), an active opponent of the accord. In the past three and a half years, these companies have donated more than $3 million to RAGA, which has consistently spoken out against initiatives designed to reduce greenhouse gas emissions and filed lawsuits to halt the implementation of federal policies like the Clean Power Plan. Companies defended their need to "engage with elected officials on both sides of the aisle to influence policy," but collectively, 23 of the 27 companies examined gave $1.4 million less to the Democratic counterpart of RAGA. Daniel Weiner of the Brennan Center for Justice said these types of monetary decisions by corporations "does lead one to wonder how strong their commitment to fight global warming actually is."
For more information see:
Companies Band Together to Boost Demand for Electric Vehicles
The EV100 coalition contains ten companies who plan to increase the use of electric vehicles in their company's transportation fleet. More than half of all cars on the road today belong to private companies. Meanwhile, gas and diesel-powered transportation contributes nearly a quarter of all global greenhouse gas emissions. Seven of the ten companies have fully committed to transitioning their fleets to hydrogen-powered or plug-in electric cars. Other companies have pledged to build charging stations for electric vehicles or research ways to alter employee and consumer transit practices. Overall, the group hopes to expand its membership to 100 companies. Sam Abuelsamid of Navigant Research expects the electrification trend to gain momentum, stating, "By 2020 I would expect that most fleets that can will probably commit to it." Supporters of fleet electrification are pinning their emission reduction predictions on the continued integration of renewable energy into the electric grid, thus leading to more vehicles powered by low-carbon electricity in the future.
For more information see:
Pacific Coast Shellfish Industry Seeks Resilience to Ocean Acidification
Ocean acidification has reduced the Pacific shellfish industry to 50-70 percent of historic production. Since the Industrial Revolution, the ocean has absorbed about one-third of humans' carbon emissions, making surface waters 30 percent more acidic. Ocean acidification threatens calcifiers, such as crabs and reef-forming corals, which struggle to take in vital calcium under these conditions. Shellfish, like oysters and clams, are also harmed by acidification. The Pacific Northwest is particularly prone to ocean acidification due to the seasonal coastal upwelling that delivers deep sea particles to the surface of the water. Following a mass die-off in shellfish farms between 2007 and 2008, the region has taken measures to protect its industry and the ecosystem that supports it. Acidification is a problem of global magnitude, so shellfish growers have approached the problem with a focus on resilience. "What we realize is that it's not going to change in our lifetime - the causes of acidification - so what we want is tools to manage around it," said Greg Dale, manager of a seafood company in Northern California.
For more information see:
Future Heat Waves Are a Source of Global Concern
Though international efforts to curb the use of fossil fuels have increased, scientists say the world is on a path to warming at least 3-4 degrees Celsius by 2100. There is concern about how the world will respond to a global temperature spike and the effects it may have on public health. For instance, Russia lost tens of thousands of people to a heat wave in 2010, and 35,000 Europeans died in the heatwave of 2003. Heat is considered a "silent killer," since few of the deaths it leads to are directly attributed to the heat waves themselves. The populations most vulnerable to extreme heat include the elderly, young, poor, and those with existing health conditions. Some governments have begun to prepare for this new threat with mitigative solutions, including white roofs, planting more trees, and sending water to needy areas. Gulrez Shah Azhar of the RAND Corporation observed, "The cost of setting up a heat preparedness plan is orders of magnitude cheaper than the cost of lives."
For more information see:
Headlines
Nicaragua to Join Paris Climate Agreement, Leaving U.S. and Syria as Lone Opponents
International Trade Commission Ruling Sets the Stage for Widely Opposed Solar Panel Tariffs
Sen. Lindsey Graham (R-SC) Endorses "Price on Carbon," Hints at Legislation
Richard Branson to Organize Fund to Assist Caribbean Nations with Storm Recovery and Clean Energy
Reformed Building Codes Could Allow More Cities to Achieve Emission Reduction Goals
Asphalt Roads Are Degrading More Quickly Due to Extreme Temperatures
Writers: Beatrix Scolari and Kiara Ryan
Editor: Brian La Shier