Climate Change News - September 18, 2017
September 18, 2017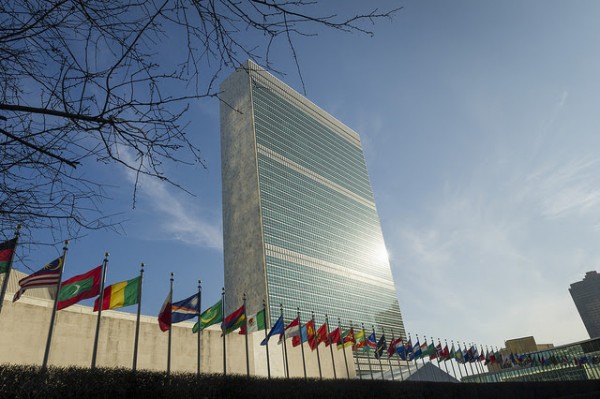 Amidst a gathering of the United Nations General Assembly, officials from the Trump administration will discuss the United States' latest views on climate and energy policy with foreign ministers. Photo courtesy of the United Nations via flickr.com.
United States Invites Other Nations to Discuss Climate Change at United Nations
Gary Cohn, the White House chief economic advisor, has organized a gathering of climate and energy officials from over a dozen countries. The session will take place on September 18 around the United Nations General Assembly meeting and will include representatives from some of the world's largest economies. The White House described the event as "an opportunity for key ministers with responsibility for these issues to engage in an informal exchange of views and discuss how we can move forward most productively." Although President Trump was explicit in his intent to withdraw from the Paris Climate Accord, his administration wants to maintain its stake in international climate negotiations. The United States cannot formally withdraw from the agreement until 2020 and may soften its opposition in the meantime, especially following the devastation of Hurricanes Harvey and Irma. The meeting may reveal the Trump administration's willingness to work on climate change, and the global community's willingness to accept the administration's stance.
For more information see:
Chemical Pollution Unleashed by Hurricane Irma Poses Public Health Threat
On August 31, explosions at an Arkema chemical plant in Crosby, TX foreshadowed the risk of chemical fallout in places affected by Hurricane Irma. At Arkema, Harvey's flood waters submerged the backup generators needed to cool 19.5 tons of volatile organic pesticides, which eventually exploded without the necessary cooling equipment. Organizations have also been evaluating the threat of different superfund sites in the storm's impact area, but monitoring has been a challenge due to a lack of transparency over what specific chemicals are stored at these facilities. Bill Hoyle, a former senior investigator with the U.S. Chemical Safety Board, said, "One of the best ways to better prepare for these emergencies is to know what you're dealing with. I am sure the people evacuated in Crosby had no idea they were in a vulnerability zone." EPA Administrator Scott Pruitt has instituted a two-year delay of regulations that would have required companies to disclose more information about the chemicals in their plants and what it would take to keep those materials secure.
For more information see:
Tampa Bay Remains Highly Vulnerable to Future Hurricanes
Hurricane Irma spared Tampa, FL from serious flooding, but the next major storm may not. The Tampa Bay region was developed right up to the shoreline, leading to construction on top of natural islands and coastal marshes. The World Bank named Tampa seventh in a ranking of cities around the world most vulnerable to storm damage. The property information firm CoreLogic estimated that 455,000 Tampa Bay homes are threatened by storm surges, representing about $80 billion in financial risk. These estimates place Tampa among Miami and New York as the most vulnerable metropolitan areas in the United States. Tampa Mayor Bob Buckhorn admitted the city is unlikely to "go another 90 years without a direct hit [from a storm.]" Buckhorn explained, "We're a low-lying area, a city on the water with 100-year-old infrastructure and 2017 growth patterns. We live in Florida where people want to live on the water. None of that I can change. I'm trying to be an advocate for investment in infrastructure."
For more information see:
Hurricane Irma Overflows Sewer Systems in Florida
As of September 12, nine million gallons of wastewater had been released into Florida waters as a result of Hurricane Irma. One Miami-area facility spilled six million gallons of sewage into Biscayne Bay, while a Middleburg site released 250,000 gallons of untreated liquid due to flooding. EPA has sent specialists to Florida to assist wastewater facilities impacted by flooding or power loss. Wastewater plants are commonly located near a body of water, where treated water is eventually released before it gets withdrawn as drinking water downstream. Industry analysts observe that South Florida's decades-old sewer systems are ill-equipped to handle the region's booming population, on top of severe weather events. EPA estimated that $271 billion would be needed to maintain and improve the country's wastewater pipes and associated infrastructure. Nathan Gardner-Andrews of the National Association of Clean Water Agencies said, "If these outlier events are now going to become the norm, then we really need to be looking significantly at how do we make these utilities more resilient."
For more information see:
Proposed NASA Cuts Could Mean a Loss of Vital Earth Observation Data
The White House and members of Congress are targeting multiple NASA satellite programs for budget cuts, endangering an unbroken record of crucial earth observation data. The House's proposed budget for Fiscal Year 2018 contains a $217 million cut to NASA's Earth-sciences budget, while the White House has proposed defunding four climate-related missions within the division. If federal funding for these programs dries up and their work is halted, it will create a "data gap," making it extremely difficult for climate researchers to develop scientific conclusions about environmental trends. One program under fire is Gravity Recovery and Climate Experiments (GRACE), which consists of a pair of synchronized satellites that "produce an unprecedentedly accurate reading of Earth's gravity field." GRACE has been instrumental in analyzing global aquifers, changes in ice sheets, and many other climate change trends. Recently, GRACE has gauged soil moisture, flood patterns, and power failures in Texas following Hurricane Harvey, which was beneficial to relief efforts and future planning. However, the satellites are in need of replacement after operating years beyond their planned lifespan. Scientists hope to launch follow-on satellites before the current set fails, but budget cuts could slow progress.
For more information see:
France to Lead Push for Legally-Binding Environmental Protections at United Nations
On September 19, French President Emmanuel Macron will be pitching an eight-page "Global Pact for the Environment" to the United Nations. The pact would draw from existing "soft laws" and attempt to give greater legal backing to global environmental protections, such as the right to an ecologically sound environment. The pact faces similar criticisms and resistance as other legally-binding international agreements, with climate change serving as a particularly contentious issue. Susan Biniaz, a senior fellow at the UN Foundation, said that while the goals of the pact were welcome, it may not be "the right vehicle for enhancing environmental protection" and "could create substantial legal confusion." Yann Aguila, part of the 30-member drafting committee, said, "It will be the task of diplomats to overcome [these hurdles] in a productive and clever way." Negotiations over the pact could potentially result in a diluted document full of caveats and exemptions. The overall goal of the pact is to create an international set of common rules and raise ambitions for environmental protection.
For more information see:
China Announces Plans to Sideline Fossil Fuel-Powered Vehicles in the Future
China, the world's largest auto market, has announced plans to ban the sale and production of cars fueled by gasoline and diesel. The government is currently researching a timeline for the ban and policies to support it. It is likely that the government will offer significant production subsidies to facilitate this transition. China's shift away from fossil fuel-powered vehicles follows similar bans by Britain, France, India, and Norway. The Chinese government's latest proposal would require that electric and plug-in hybrid vehicles make up at least 12 percent of domestic automakers' sales by 2020. The proposed ban coincides with automakers' existing plans to develop more electric vehicles for the Chinese market, but adds pressure to the industry to adapt. Although China bought 40 percent of the world's electric vehicles in 2016, these sales made up just one percent of the country's total auto sales. If implemented, the ban in China will have a significant impact on global emissions, given that China is the world's second-largest consumer of oil.
For more information see:
Climate Change Connected to a Decline in Crop Nutrition
An emerging field of scientific study is the intersection of climate change and nutrition. Agricultural research has shown a decline in the nutritional content of crops over the past 50-70 years. Crop selection practices are partly responsible for this trend, but a growing body of evidence supports the idea that climate change is another important factor. Since the Industrial Revolution, the concentration of carbon dioxide in the atmosphere has increased from 280 parts per million to over 400. Scientists believe that more carbon dioxide accelerates photosynthesis, which produces more glucose at the expense of other nutrients in plants. Mathematical biologist, Irakli Loladze, said, "We are witnessing the greatest injection of carbohydrates into the biosphere in human history - [an] injection that dilutes other nutrients in our food supply." In experiments, plants exposed to high levels of carbon dioxide contained lower concentrations of protein and essential micronutrients such as calcium, iron, zinc and potassium.
For more information see:
Wyoming's Wind River Range Is Quietly Losing Its Glaciers
Central Wyoming College research from 2006-2016 revealed that 1.3 meters of glacial ice coverage per year was melted on the Wind River Range in Wyoming. The range boasts more than 100 glaciers covering 100,000 acres and contributes around 23-54 percent of the flow for certain local watersheds. Compared to other glacier sites, Wind River is relatively under-researched, however, current efforts have sought to reverse this. The Interdisciplinary Climate Change Expedition, consisting of undergraduates and researchers from local schools, have worked to determine the characteristics and depth of ice coverage atop the 11,000 foot mountain. The team has used ingenuity and technology to construct a comprehensive map of the remote research area. The research has contributed to the argument for water management measures that arid Wyoming will most likely need. Glaciologist Neil Humphrey noted that the melting glaciers may have little impact on a national scale, but serve as a bellwether for other climate change-related issues.
For more information see:
Reef Damage Exposes Florida to More Forceful Storm Surges
Scientists believe the deterioration of Florida's barrier reef intensified the storm surges from Hurricane Irma. Reefs mitigate the impact of storm surges by breaking waves before they reach shore. Studies suggest that reefs may reduce the energy of waves by up to 97 percent and the height of waves by up to 70 percent. Warming water and a series of bleaching events have weakened Florida's 360 mile-long reef to the extent that, living coral covers less than 10 percent of the tract today. Living coral is much more resilient to incoming waves than dead coral, allowing it to act as a more effective breakwater. However, rising sea levels can make it increasingly difficult for reefs to break up the taller waves. Lead marine scientist for The Nature Conservancy, Michael Beck, explained, "I think it's incredibly important to recognize that these coral reefs are our first line of defense, and when we degrade them, we put ourselves at much greater risk."
For more information see:
Headlines
Trump Nominee for Powerful EPA Assistant Administrator Role Draws Ire of Democrats
Mayor of Miami on Hurricane Irma: "This is the time to talk about climate change"
China to Require Ten Percent Ethanol Blend in Gasoline by 2020
Federal Judge Rules NOAA Scientists' Emails and "Predecisional" Materials Ineligible for FOIA Request
Study: Asia's Mountain Glaciers Could Lose a Third of Their Mass by 2100, Threatening Water Supplies
Writers: Beatrix Scolari and Kiara Ryan
Editor: Brian La Shier