Climate Change News - September 11, 2017
September 11, 2017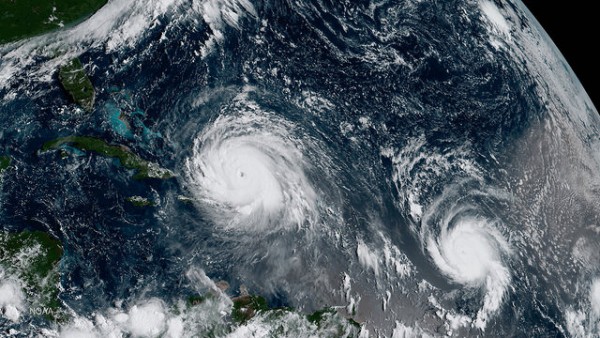 Hurricane Irma devastated island communities in the South Atlantic on its way to Florida. The storm is being followed close behind by Hurricane Jose. Photo courtesy of Cayobo via flickr.com.
EPA Consolidates Resources within Administrator's Office, Potentially Weakening Enforcement
Two additional EPA offices will be shifted into departments with close ties to the office of EPA Administrator Scott Pruitt. Effective October 1, 2017, the offices that oversee the National Environmental Policy Act (NEPA) and environmental justice issues will move into the Office of Policy. Given that the Trump administration has already declared its intention to defund the agency's environmental justice work, current and former EPA staff view the reorganization as a way for political appointees to exert greater influence over that office. The NEPA office is responsible for reviewing environmental impact statements submitted by other federal agencies. EPA staff have reportedly been instructed to limit their comments on NEPA reviews, stoking concerns that Congress could strip EPA's review authority altogether. Former EPA officer Cynthia Giles said, "The only reason I can think of to move the NEPA function [from where it is now to the policy office] is to inject politics." The Office of Policy is overseen by Pruitt-appointee Samantha Dravis, who previously worked with him at the Republican Attorneys General Association. Meanwhile, buyouts and retirements are expected to reduce EPA's total staff count to 14,428 people by October 2017, levels not seen since 1988 under President Reagan.
For more information see:
Severe Storms Present Challenges for Florida's Beach-Driven Economy
Florida's thriving tourism industry, which accounts for $109 billion in revenue, has been one of the primary drivers of the state's shoreline restoration projects. Sixth months ago, the U.S. Army Corps of Engineers spent $12 million and used 220,000 cubic yards of sand to widen Miami Beach to 230 feet. Since 1923, Florida has spent $2.4 billion (in real dollars) to combat beach erosion. However, a combination of severe storms, like Hurricane Irma, and rising sea levels are threatening to reverse beach restoration efforts. In 2014, South Carolina lost $30 million dollars when Hurricane Matthew barreled through, undoing an earlier beach restoration project. Coastal economies that rely upon the beaches to draw in customers and protect property could be fighting a losing battle. Robert Young, director of the Program for the Study of Developed Shorelines at Western Carolina University, warns that even with special projects to improve beaches, some shoreline change is inevitable and part of a natural cycle.
For more information see:
Farm Damage from Hurricane Harvey Raises Questions about Crop Insurance
Texas, the third-largest agricultural state in the nation, has begun to assess Hurricane Harvey's damage to its agricultural sector. Texas cotton growers stand to lose up to $150 million in flood-ruined crops. The 54 counties most affected by the storm are home to 1.2 million cattle, but it is too soon to know how many were lost. The storm also battered farm infrastructure, including irrigation systems, buildings, and machinery. The effects of a warmer climate are expected to reduce Texas's major crop yields by 10 percent over the next 40 years. Crop insurance is vital for assisting farmers when their crops fail, but it does not incentivize climate resiliency practices. Instead, it allows farmers to inflate their average crop yield by throwing out data from bad years, such as when a hurricane strikes. According to Paul Wolfe of the National Sustainable Agriculture Coalition, "[The program] allows you to avoid the consequences of disaster and … climate change."
For more information see:
Melting Arctic a New Space for Geopolitical Conflict, U.S. Military Presence
The U.S. military is considering ways to expand its icebreaker fleet as regions once regularly covered in ice become navigable waters. Warmer temperatures have exposed waters over the extended American continental shelf, an area the size of Texas and rich in oil and minerals. Russia and China both have the means to navigate the newly accessible Arctic waters and could spur territorial disputes with the United States over the resources there. Russia has a fleet of 25 icebreakers, is building new ships with combat capabilities, and plans to expand its coastal military bases. Meanwhile, China has sent research vessels to the Arctic and claimed that no nation should have sovereign rights to those waters. President Trump has expressed support for expanding the U.S. icebreaker fleet, which currently consists of two vessels. Scot Tripp, a chief civilian scientist with the U.S. Coast Guard, said, "There was no need for the Coast Guard to be up here [before] … now there are waterways and cruise ships coming up, so you run into the possibility of disaster with one of those."
For more information see:
Dutch Cities Embrace Cycling as a Path to Greater Sustainability
Utrecht, the Netherlands' fourth-largest and fastest growing city, has rapidly become a leader in the adoption of urban cycling infrastructure. The city boasts nearly 250 miles of dedicated bike lanes, bike parking facilities, new traffic control systems, and other innovations well-suited to Utrecht's medieval-era downtown. The movement to make the city more cycling-friendly has caught the attention of local politicians as well. Commenting on the surging demand for cycling facilities, Vice Mayor Lot van Hooijdonk said, "We found that if you build it, people will use it." Over the past decade, the national government has made a point of investing in cycling infrastructure, which advocates argue pays for itself in the form of public health and socio-economic benefits. A recent study by Utrecht University found that the country's cycling habits save the economy $23 billion annually and has already helped prevent thousands of premature deaths. Today, over a quarter of all trips in the Netherlands are made by bicycle, with daily bicycle usage growing 11 percent in the past ten years.
For more information see:
Bipartisan Voting Bloc Ready to Defend Climate Legislation
The bipartisan House Climate Solutions Caucus is determined to preserve programs and funding for climate change action through the appropriations process. The caucus was founded with a mission to pursue market-friendly climate policies and now features 52 members, drawn equally from both parties. The caucus has taken a defensive approach, organizing to block amendments that thwart progress on climate issues. In July 2017, the caucus produced a major success in blocking an amendment to the House National Defense Authorization Act that would have eliminated a mandatory climate vulnerability study for military bases. In response to the amendment's defeat, caucus co-chair Rep. Ted Deutch (D-FL) said, "I hope my House colleagues were watching closely; denying climate change is no longer a winning strategy." The caucus is hoping to replicate this win against a variety of amendments that might be considered in the next few weeks. The upcoming spending bills include funding for the EPA, Department of the Interior, State Department, and NOAA.
For more information see:
Major American Candy Company to Invest $1 Billion to Reduce Its Carbon Footprint
The candy company Mars Inc. announced its intention to spend $1 billion to improve the sustainability of its operations. The U.S.-based corporation will seek to reduce the greenhouse gas emissions produced by its supply chain by 67 percent by 2050. This is more ambitious than its previous target of a 40 percent emission reduction by 2020, relative to its 2007 levels. The sweets manufacturer joins several other major American companies (including Walmart, Apple, and Home Depot) in publicly-touted efforts to reduce the private sector's carbon footprint. Mars will also be investing in poverty reduction efforts and assisting farmers and suppliers in operating more sustainably. Exploitative labor practices and deforestation have shadowed the production of cocoa and palm oil, two essential crops for Mars' products. Mars Chief Executive Officer Grant Reid said, "We expect to have a competitive advantage from a more resource efficient supply chain. We're doing this because it's the right thing to do but also because it's good business."
For more information see:
Insurance Industry an Emerging Leader in Climate Resiliency Efforts
New estimates for the cost of damages from Hurricane Harvey range from $90 billion to $190 billion, making the storm more expensive than Sandy and rivaling Katrina in its economic destruction. Insurers are expected to cover about half those costs, based on data from past storms. The insurance industry has been aware of the risks of climate change for decades, and is increasingly involved in efforts to promote resiliency. Insurance companies now invest in renewable energy, fund research studies, and collaborate with the United Nations, World Bank, and national governments on climate-related issues. Many insurers believe that not enough is being done now to minimize future risks. ClimateWise, a coalition of 29 insurance companies, warns of a growing "protection gap" between the cost of environmental disasters and the amount people are insured for. Head of Climate and Public Sector Business Development at Munich Re, Ernst Rauch, warns, "The longer we fail to act the more expensive it will be."
For more information see:
Study: Wetland Ecosystems Prevented $430 Million in Hurricane Sandy Damages
A new study published in Scientific Reports found that wetlands prevented $430 million in damages during Hurricane Sandy. Scientists used a model borrowed from the insurance industry in their calculation. They ran the industry-standard model with observed storm-surge data and hypothetical data that replaced coastal marshes with open water. The model showed that regions with both large and relatively small areas of coastal wetlands benefitted. In New York, marshes make up only two percent of the state, but they provided $140 million in benefits because of their proximity to expensive New York City real estate. Wetland ecosystems act like sponges in storm events, absorbing water and lowering the risk of flooding. Harris County, Texas, where Hurricane Harvey hit, lost nearly 30 percent of its freshwater wetlands between 1992 and 2010. However, the authors of the study say their research might not be applicable to Harvey-impacted areas because flooding there was from freshwater and rainwater, not storm-surge.
For more information see:
River Jordan at Risk of Drying Up as a Result of Climate Change
According to a new report published in Science Advances Journal, the primary tributary of the River Jordan could experience a 75 percent decrease in flow by the end of the century due to climate change. A team of hydrologists and climate scientists used various climate scenarios and historical water usage rates to project the future state of the river in Jordan and nearby territories. If the global rate of fossil fuel use continues to grow, average temperatures in the country of Jordan would rise by 4.5 degrees Celsius and rainfall would decrease by 30 percent. Seventy years ago the amount of water available per person in Jordan was 3,600 cubic meters annually, but the current amount has dropped to 135 cubic meters, far below the United Nations' 500 cubic meter level for "absolute scarcity." Jordan's neighbors are already among the most water-poor nations in the world, including Israel, Saudi Arabia, Iraq and Syria.
For more information see:
Headlines
Trump Nominates Climate Denier to Head NASA
Democrats Plan to Push Back Against Trump's Pick for USDA Chief Scientist
Hurricane Harvey Estimated to Be Second-Costliest Disaster in U.S. History
France Announces End to Domestic Oil and Gas Production by 2040
IPCC Remains Gold Standard for Climate Science Reporting, but Critics Claim Updates Are Too Infrequent
Conservative Group Played Key Role in Elevating Climate Denialism to White House
Writers: Beatrix Scolari, Kiara Ryan, and Brian La Shier
Editor: Brian La Shier