Climate Change News - September 10, 2018
September 10, 2018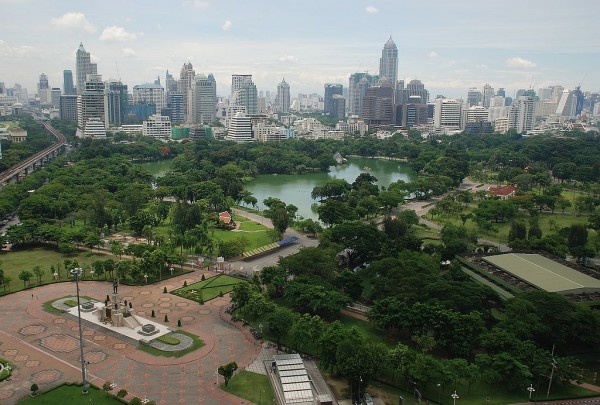 Bangkok, Thailand is hosting a key climate conference ahead of the 24th Conference of the Parties to be held in Poland in December 2018. Image courtesy of Terence Ong via wikipedia.org.
Overstretched FEMA Deployed Unqualified Workers during 2017 Hurricane Season
A new report from the U.S. Government Accountability Office (GAO) showed that over half of the workers deployed by the Federal Emergency Management Agency (FEMA) during the 2017 hurricane season were not "qualified" for field work. Fifty-four percent of the staff deployed to disaster zones struck by Hurricanes Harvey, Irma, Maria and other incidents in 2017 were designated by FEMA as "trainees/candidates" or as having "no proficiency." Last year's record-breaking damages from natural disasters reached more than $300 billion and strained the agency's resources considerably. FEMA workers' limited knowledge of Spanish and lack of familiarity with agency programs proved especially problematic in Puerto Rico, where Hurricane Maria left thousands of survivors without electricity for nearly a year. GAO also cited outdated infrastructure, workforce constraints, and limited local preparedness as factors hindering FEMA's response to disasters in U.S. territories. The Department of Homeland Security, in response to the GAO report, said, "FEMA has taken action to increase preparedness for the 2018 hurricane season by updating hurricane plans, annexes and procedures for states, tribal lands and territories."

For more information see:
CNN

Massachusetts Supreme Court Upholds State's Greenhouse Gas Regulations
On September 4, the Massachusetts Supreme Court unanimously upheld the state's authority to regulate carbon dioxide emissions from power plants. The decision comes on the heels of the Trump administration's roll back of the federal Clean Power Plan. Massachusetts' rule was finalized in 2017 and required power plants in the state to reduce their greenhouse gas emissions by seven percent annually from current levels by 2020 and 80 percent by 2050. The state's Global Warming Solutions Act, signed into law in 2008, preceded many of Massachusetts' clean energy and emission reduction policies. Justice Scott Kafker dismissed industry arguments that the climate rules could unintentionally lead to an increase in emissions if Massachusetts were to seek additional power from out of state. Kafker wrote, "Far from causing increased greenhouse gas emissions from out-of-State generators, [state environmental officials provided evidence that] the two regulations together will send a market signal that Massachusetts' neighbors should invest in clean energy development in order to satisfy the Commonwealth's increasing demand for renewable energy."

For more information see:
InsideClimate News

Global Warming Contributing to Flooding in Virginia's Coastal Cities
Virginia's most populated city, Virginia Beach, is experiencing the fastest rate of sea level rise on the East Coast of the United States. Scientific projections foresee up to two feet of sea level rise by 2050, paired with an increase in average temperatures of up to five degrees Fahrenheit. The region's low-lying location is simultaneously sinking due to groundwater loss and geological changes. Even modest storms have begun to result in flooded streets around Virginia Beach. These disruptions threaten a $1.5 billion tourism industry tied to the state's beachfront recreation and parks. Assistant professor Michelle Covi of Old Dominion University observed, "People are seeing areas that never flooded before are starting to flood. That's not just because the sea is coming onto the land. It's because of rain, but when the sea level is higher, [the rainwater] can't drain." Covi and others advise restoring marshes and wetlands to help alleviate flooding, while balancing development choices with the threat of future disasters.

For more information see:
Washington Post

Delegates Meet in Bangkok to Work on Key Governing Document for Paris Agreement
On September 4, the latest series of international climate talks opened in Bangkok, Thailand. The week-long meeting is meant to produce a draft of the rules necessary to implement the Paris Agreement. The more than 1,400 delegates in attendance hope to achieve consensus on the document ahead of the 24th Conference of the Parties to be held in Katowice, Poland in December. Fiji Prime Minister and COP23 president Josaia Voreqe Bainimarama called the Bangkok discussions "urgent" and warned of "chaos" at the Poland talks if delegates fail to finalize a rules framework in advance. Major issues for negotiators include methods for monitoring and reporting emissions, how to track progress, and financing to assist poor countries with climate adaptation. Chair of the least developed countries group, Gebru Jember Endalew, said, "Climate finance enables developing countries to avoid repeating a history of high-carbon development pathways, and to protect communities against the dire consequences of a climate crisis they did little to cause."

For more information see:
Climate Home News, Reuters

Australia Joins Other Pacific Island Nations in Pact Declaring Commitment to Climate Action
On September 5, 18 member nations of the Pacific Islands Forum signed a statement "[reaffirming] that climate change remains the single greatest threat to the livelihoods, security and wellbeing of the peoples of the Pacific, and our commitment to progress the implementation of the Paris agreement." The Boe Declaration signatories include Australia, Fiji, Samoa, and other island nations across the Pacific. The Forum's leaders also called upon the United States and other "large emitters" to honor their Paris Agreement commitments. Members agreed to collaborate on a range of issues, including humanitarian assistance and environmental security. Australia's turbulent political stance on climate change has put it at odds with the Forum's goals, causing concern among its regional allies. The Pacific's small-island nations are among the most vulnerable to sea level rise and will be among the first to suffer its effects. Xavier Matsutaro, Palau's national climate change coordinator, observed, "Australia is a bit of an anomaly…they're basically sometimes as far right as Trump in some of their views on climate change…but then on a regional basis they've actually given a lot of support."

For more information see:
Guardian

EPA Finds Rollbacks on Coal Regulations Would Pose Serious Health Threats
The Environmental Protection Agency (EPA) concluded this week that the Trump administration's rollbacks on pollution standards for coal-fired power plants would lead to an increase in death and illness, especially in coal-dependent places such as West Virginia and Pennsylvania. Trump's plan would ultimately lead to an additional 350 to 1,500 deaths per year compared to the existing version of the Clean Power Plan. Despite these warnings, EPA's acting administrator Andrew Wheeler traveled to various coal states over the last two weeks advocating for the regulation rollbacks. Under Trump's new plan, the federal government would surrender much of its power over coal emissions standards and instead provide each state the ability to set their own regulations. While some opposition coalitions have formed in coal states, many involved in the coal industry are excited by the prospect of coal making a resurgence. Those against the continued use of coal-fired electricity argue the resulting pollution is causing communities to be "poisoned," while supporters claim the industry is necessary for the region's economy.

For more information see:
Associated Press

Algae Blooms Continue to Threaten Drinking Water across United States
Increasing temperatures and greater concentrations of pollutants are allowing algae blooms to flourish in lakes and rivers like never before, posing elevated risks to swimmers, boaters, and the general public. On May 29, emergency announcements of algae bloom toxins in Salem, Oregon's tap water caused panic and prompted Gov. Kate Brown to call in the National Guard to distribute water. The levels of contaminants found in Salem were low, but nevertheless dangerous to vulnerable individuals like children and nursing mothers. Oregon has now joined Ohio as only the second state to require its public supplies of water to be tested for these toxins despite similar cases elsewhere in the country. Other states are expected to follow their lead, while New York recently announced a multi-million dollar plan to address algae blooms in drinking water. Dr. Steven Wilhelm of the University of Tennessee said, "Since the mid-2000s it's gotten worse, and the worst blooms on record have happened more or less in the last 10 years."

For more information see:
NPR

Hurricane Harvey Recovery Process Highlights Disparities
Since Hurricane Harvey hit Texas with record rainfall in August 2017, the recovery process has been uneven. According to a recent survey of Texas residents, 27 percent of Hispanic households and 20 percent of black households damaged by the storm report their homes remain unsafe to live in, compared to 11 percent of white respondents. In addition, 50 percent of lower-income respondents said they were not receiving adequate recovery aid, versus 32 percent of higher-income households. "Everything always hits the poor harder than it does everybody else," said John Sharp, head of the Governor's Commission to Rebuild Texas. Many residents now live with family and friends, or in trailers and improvised structures on their properties. Others have returned to their homes, despite moldy conditions and a lack of electricity. FEMA spokesperson Kurt H. Pickering stated that his agency does what it can, but was not designed to fund a recovery from start to finish.

For more information see:
New York Times

Climate Science Skeptic Joins White House National Security Staff
On September 4, physics professor William Happer formally joined the National Security Council as a senior director for emerging technologies. Before the Trump administration took office, Happer was considered for a position to head the White House Office of Science and Technology Policy. Happer has characterized mainstream climate science as a "cult movement" and criticized the climate-monitoring and reporting practices of government organizations. "There is no problem from CO2," he has said, instead arguing that the geological record indicates that higher atmospheric carbon dioxide levels would support greater plant growth globally. Happer is not a climate scientist, instead building his career on the development of missile defense technologies. In accordance with these statements, Happer expressed support for Trump's decision to withdraw the United States from the Paris Agreement on the basis that it is not founded in sound science. Happer previously worked as a professor at Princeton University and served in the Department of Energy under George H.W. Bush.

For more information see:
Science

Report Finds Polluting Industries Aren't Disappearing, They're Moving
A new report on global trade and carbon emissions indicates that carbon dioxide emission reductions in wealthy countries may simply reflect a shift in where industries with large carbon footprints operate. While the United States and Europe appear successful in cutting carbon pollution domestically, they now increasingly rely on imports from factories in developing countries, driving up emissions in China, India, and elsewhere. The report, authored by consulting firms Global Efficiency Intelligence and KGM, estimated that one-quarter of global emissions are currently outsourced. Report co-author Dr. Ali Hasanbeigi said, "If a country is meeting its climate goals by outsourcing emissions elsewhere, then we're not making as much progress as we thought." The report calls this process a "carbon loophole," because international climate efforts, like the Paris Agreement, only take into account domestic carbon emissions. The report found that around 13 percent of China's 2015 emissions came from manufacturing goods for export to other countries, while India's exports accounted for 20 percent of its total emissions.

For more information see:
New York Times

Headlines
Recent EPA Actions Could Discount Public Health Benefits in Crafting Future Regulations

Researchers Show Heat-Related Illnesses More Prevalent in DC's Lower-Income Neighborhoods

Study: Climate Change Action Could Add $26 Trillion to Global Economy by 2030

Coastal Research Labs Must Face Flooding of Their Own Facilities

Study: Amazon's Mangroves Store Twice as Much Carbon per Hectare as Tropical Forests
Writers: Clayton Coleman, Meryl McBroom, and Patrick Teese
Editor: Brian La Shier