Climate Change News - October 9, 2018
October 9, 2018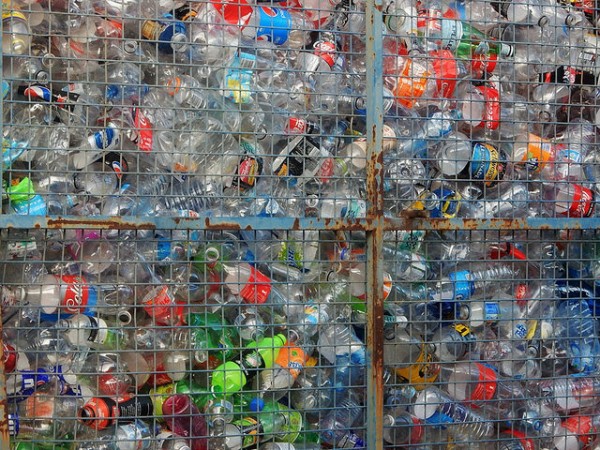 According to a new report, the projected demand for plastics will continue to drive global oil use through 2050. Photo courtesy of Michael Coghlan via flickr.com.

Trump Administration Admits to Rising Temperatures, but Refuses to Act on Climate
An environmental impact assessment released by the National Highway Traffic Safety Administration (NHTSA) in September 2018 assumed that there would be a global temperature increase of 7 degrees Fahrenheit (about 4 Celsius) compared to preindustrial levels by 2100. The report used this assumption to justify the Trump administration's decision to block stricter fuel-efficiency standards for vehicles built after 2020, arguing that the regulations would only decrease greenhouse gas emissions by an inconsequential amount anyway. "The amazing thing they're saying is human activities are going to lead to this rise of carbon dioxide that is disastrous for the environment and society. And then they're saying they're not going to do anything about it," said Michael MacCracken, a former senior scientist at the U.S. Global Change Research Program. The NHTSA report came amid recent rollbacks of other environmental protections, which the current administration feels is costing the private sector. Conservative groups, such as the Heritage Foundation, have encouraged Trump's decision to undo environmental policies.
For more information see:
Trump Administration to Propose Weaker Mercury Controls for Power Plants
A new proposal issued by the Trump administration would weaken regulations on mercury emissions produced by coal-burning power plants. Adding to the administration's growing list of Obama-era rollbacks, the EPA's acting administrator Andrew Wheeler deemed the regulation too costly for the coal-power industry. Mercury, a toxin emitted from burning coal, has been found to be especially harmful to the nervous systems of children. Although the proposal is not finalized, some have speculated that if the rollback should go before the Supreme Court with a pro-industry judge such as Brett Kavanaugh, the proposal would likely pass. The main concern with the administration's new proposal is that it would effectively remove the consideration of health related "co-benefits" associated with mercury regulation, such as the additional reduction of nitrogen oxide, when conducting a cost-benefit analysis. Since mercury control technologies are relatively expensive, eliminating these co-benefits could be framed as an economic justification for the repeal.
For more information see:
Oregon Governor Proposes Bypass of Trump Administration's Environmental Rollbacks
On October 3, Oregon Gov. Kate Brown announced new legislation designed to halt the Trump administration's sweeping environmental policy rollbacks. The "Oregon Environmental Protection Act" would specifically preserve the state's clean air and water rules at the same level or higher as when the Trump administration first took office. Gov. Brown said the action is designed to safeguard public health from the harmful effects of pollution and climate change and cited the "unprecedented and aggressive attack" on air and water quality protections by the Trump administration. The proposed law takes advantage of the fact that, in most instances, the federal Clean Water Act and Clean Air Act allow states to set more stringent environmental regulations than required nationally. The two federal acts are already enforced by state-level agencies in Oregon. Among the regulations that would be maintained under Oregon's proposed law are ozone emission standards, landfill methane controls, mercury regulations, and water quality protections. Oregon's state legislature must still pass the governor's proposal for it to become law.
For more information see:
California Prepares for Showdown with Administration on Vehicle Emissions
On September 28, the California Air Resources Board (CARB) ruled that cars sold within the state must comply with California's emission standards. This ruling by CARB, the agency which establishes rules governing air pollution and greenhouse gas emissions, heightens the tension between California and the Trump administration as the president continues to push for the repeal of federal environmental regulations. In August 2018, the Trump administration announced that it planned to end California's historic exemption that allowed it to set vehicle emission standards exceeding those established by the federal government. The exemption was originally established by the Clean Air Act in recognition of California's unique air pollution concerns. The latest move by the administration would also end California's "advanced clean car" policies, which promote electric and hybrid vehicles. Automakers have urged CARB to compromise with the federal government, seeking to avoid a situation in which vehicle standards vary by state. California Gov. Jerry Brown, backed by allies from seven other states, are not backing down, making a legal battle between these eight states and the administration likely.
For more information see:
UN Climate Panel Calls for Big Cuts to Coal to Limit Global Warming
A draft report prepared by the United Nations Intergovernmental Panel on Climate Change (IPCC) warns that drastic cuts to coal consumption will need to occur if global warming is to hold at 1.5 degrees Celsius above pre-industrial temperatures. On October 1, the IPCC, whose reports rely on input from hundreds of scientists from across the globe, began a week of meetings before delegates release a formal summary document. According to the draft, coal consumption would need to be cut by two-thirds by 2030 - more than twice than what is called for in the most aggressive scenario put forth by the International Energy Agency. Tim Buckley, with the Institute for Energy Economics and Financial Analysis, does not think this goal is realistic, but still sees positive trends. "Will we see [the IPCC-recommended goal] happen by 2030? Not in any models we're seeing at the moment. But thanks to technology, the markets are moving away from coal really fast." While the Trump administration continues to back coal, many other countries are exploring ways to cut emissions in accordance with the 2015 Paris Agreement.
For more information see:
Environmentalists Fear Poland May Use Forests to Avoid Cutting Coal Emissions
A leaked document raised concerns that Poland may rely on forestry and carbon offsetting to avoid making cuts to the country's large coal sector. The document is a draft statement prepared ahead of the United Nations' December climate conference, COP24, and has been disseminated to member states. While forests can sequester carbon, scientists warn that forestry practices cannot wholly substitute for reducing carbon emissions. "I could only support bringing forests in the picture," said Michael Tausz, director of the Birmingham Institute of Forest Research. "However, in the context of COP24, managing forests to take up CO2 does not release [governments] from the duty of curbing emissions, particularly from land-use change." A spokesperson for Poland's Department of Forestry maintained that although the draft statement emphasized the importance of forestry and carbon sinks, it should not be read as an indication that the country will resist cutting emissions. In 2015, 81 percent of the Poland's electricity was generated from coal combustion.
For more information see:
EPA Wrote Scientific Study Restrictions Without Consulting Its Own Science Advisors
According to emails obtained through a Freedom of Information Act request and shared with journalists, EPA's Office of the Science Advisor was shut out while senior agency officials pursued limitations on the types of scientific studies that could be used for developing regulations. The office's director, Tom Sinks, wrote in an April 24 email that he had not participated in the proposal's development and only received the language after it had been drafted. The proposed rule would limit EPA staff to using studies for which the underlying data is publicly available and can be readily reproduced by others. While seemingly benign, the onerous criteria stands to significantly alter the agency's approach toward regulating chemicals, pollution, radiation, and other public health risks. Certain key research supporting EPA's current regulations relies upon private medical data, which would be disqualified from use under the proposed changes. Former EPA staffer John Bachman said, "A study that has been replicated many times might be excluded from consideration, while one that uses an inferior database that is publicly available would be considered."
For more information see:
Report: Reliance on Plastics to Drive Oil Demand for Decades
According to a new report from the International Energy Agency (IEA), the use of plastics and other petrochemical products will push the global demand for oil through 2050. The rapid projected growth of emerging economies, including India and China, could lead to a boom in petrochemical product usage that threatens to undercut national efforts to reduce greenhouse gas emissions from oil and gas combustion. Petrochemicals produced from oil and gas feedstocks are key ingredients in a line of everyday products, including plastics and fertilizers. The report also predicts transportation-related oil usage will slow down by 2050 as more efficient engines and electric vehicles hit the market, but these gains may be lost to petrochemical emissions. Petrochemicals could account for more than a third of global oil demand growth by 2030 and nearly half of this growth by 2050. The Middle East and China are currently hosting large-scale petrochemical plant construction, while private firms such as Exxon and Shell plan on ramping up their capacity in the future.
For more information see:
Climate Change Is Forcing Airports to Plan Ahead
Several airports around the world are preparing for what experts are warning will be increased threats from climate change. To withstand damage from rising sea levels and more severe storms, airport operators are planning proactively, elevating runways, and building seawalls and drainage systems to protect their airports from future flooding. A policy paper published last week by the Airports Council International (ACI) highlights these risks and encourages its members to utilize risk assessments and plan accordingly. Debt investors are particularly concerned about the resilience of airports as climate change raises the risk of long-term investments. According to Richard Marshall, Head of Infrastructure at Fitch Solutions, "There is a kind of one-way direction with regards to the frequency and severity of climate change-related events." Brisbane Airport as well as Changi Airport in Singapore have begun construction on an elevated terminal and on an elevated runway with better drainage, respectively. The Istanbul Grand Airport, set to open next month, incorporated such thinking into its planning from the very beginning.
For more information see:
Headlines
Legislation Awaiting President's Signature Would Improve Pre-Disaster Mitigation Planning
Michigan Governor's Deal Would Leave Risky, Aging Pipeline Active for Next Decade as Replacement Is Built
South Korean Province Becomes First Asian Region to Announce Coal-Power Phase-Out
European Parliament Passes Ambitious Vehicle Emission Targets
City of Austin Hopes to Put the Kibosh on Restaurant Food Waste

Writers: Clayton Coleman, Meryl McBroom, and Patrick Teese
Editor: Brian La Shier