Climate Change News - October 9, 2017
October 9, 2017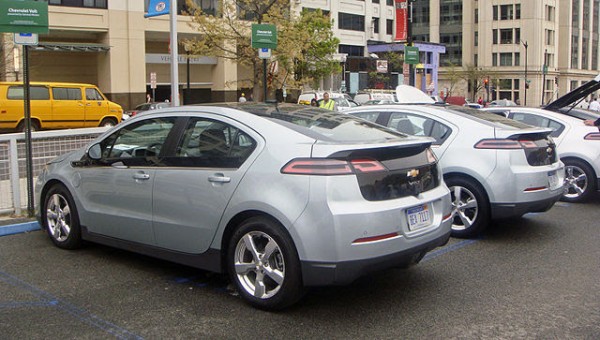 General Motors recently announced its intention to phase-out its internal-combustion engine vehicles and transition to electric vehicle models under a currently unknown timeline. Photo courtesy of Mariordo via wikimedia.org.
EPA Begins Dismantling Obama Administration's Clean Power Plan
A draft proposal from the U.S. EPA indicates the agency will repeal and replace the Clean Power Plan (CPP). The CPP, enacted by the Obama administration in 2015, requires states to reduce greenhouse gas emissions from existing power plants by 32 percent from 2005 levels by the year 2030. The CPP has not yet taken effect due to legal challenges, including lawsuits originally brought by then-Oklahoma Attorney General Scott Pruitt, now the EPA Administrator. Pruitt is seeking to repeal the CPP, while requesting the public and industry to submit comments for replacement options. The legality of the CPP rests on the EPA's "endangerment finding" that determined greenhouse gases are harmful and must be regulated. Reversing this determination would require Pruitt to thoroughly refute well-supported science on climate change and its effects. Replacement of the CPP is a more legally viable option than a straight repeal, but EPA's justification for the courts is still unclear. Brian Deese, a former senior adviser to President Obama, said a regulatory replacement for the CPP could take months or years to develop.
For more information see:
Federal Court Rules Interior Department Must Enforce Methane Regulations
On October 4, a federal court ruled against the U.S. Department of the Interior (DOI), deeming the agency's efforts to delay methane regulations put in place by the previous administration unlawful. These regulations restrict methane emissions at oil and gas drilling sites on federal lands through methods such as methane capture, which generates electricity from gas that would otherwise be wasted. The rules apply to almost 100,000 oil and gas wells across the country and would eliminate 175,000 tons of greenhouse gas emissions annually. The regulations took effect January 17, 2017, days before the inauguration of President Trump, with a compliance date of January 2018. DOI has since avoided implementing the rules, saying in court it intends to replace them soon. Judge Elizabeth Laporte of the District Court of the Northern District of California ruled that DOI cannot postpone rules that are already in effect. The administration has stated it will seek to have the rule's compliance date pushed back to January 2019.
For more information see:
Renewable Energy Could Provide Answers to Puerto Rico's Broken Energy Infrastructure
The U.S. Department of Energy estimates that 80 percent of Puerto Rico's electricity transmission and distribution infrastructure is severely damaged in the wake of Hurricane Maria. The storm caused an island-wide power outage that has affected all 3.4 million island residents. Currently, renewable energy only accounts for 2.4 percent of generation in Puerto Rico, with the rest coming from imported fossil fuels. New sources of renewable generation would make the island more energy-independent and possibly more resilient in the next storm. Renewables could also reduce the cost of electricity in Puerto Rico, where electricity prices are the second-highest in the United States (Hawaii has the highest). Puerto Rico's energy system was highly vulnerable before the storm. The island's utility, Puerto Rico Electric Power Authority (PREPA), was $9 billion in debt before it declared bankruptcy in July 2017. Rebuilding Puerto Rico's broken energy system is a considerable challenge, but proponents of renewable energy see it as an opportunity. They hope to utilize federal storm relief funds to invest in renewable energy development. Private investors are also considering these opportunities.
For more information see:
Energy Secretary Perry Proposes to Pay Coal Generators for "Resiliency" They Provide
On September 29, Energy Secretary Rick Perry unveiled a proposal that would direct financial assistance to coal and nuclear power in the U.S. electricity market. Perry's proposal to the Federal Energy Regulatory Commission (FERC) would compensate coal and nuclear plants for what he described as their "reliability and resiliency." More than 500 coal-fired power plants were shut down between 2002 and 2016, representing about six percent of U.S. generating capacity. Most of these plants were replaced by natural gas-fired plants, which have become an appealing alternative due to low natural gas prices. Wind and solar technologies have also become significantly cheaper, with solar representing the largest source of new electricity generation in the United States for 2016. Amy Farrell of the American Wind Energy Association said, "We worry today's proposal would upend competitive [energy] markets." Texas is uniquely insulated from the FERC measure, since the Electric Reliability Council that controls 85 percent of the state's power load is not under federal jurisdiction.
For more information see:
Anchorage Is Facing a Daunting Set of Climate Challenges
The city of Anchorage is trying to cope with the impacts of climate change, with Alaska warming twice as fast as the rest of the United States. Infrastructure at the Port of Alaska is already in need of hundreds of millions of dollars in repairs, but now melting glaciers are releasing silt into waters that then require more frequent dredging. Rising sea levels must be factored into any future engineering considerations, despite the region already experiencing some of the highest tides in the world. According to port spokesperson Jim Jager, "Ninety percent of all inbound cargo coming into Alaska comes via marine vessel; about half of that cargo comes through the Port of Anchorage." Large tracts of dead trees, many killed by invasive bark beetles, combined with warmer winters pose a wildfire threat to the city. Shifting conditions have made hunting and fishing more challenging for Native Alaskans, forcing them to head to urban areas in search of employment. Native communities themselves are threatened by flooding and erosion brought about by rising sea levels and thawing permafrost.
For more information see:
Many Caribbean Islands Still Reeling from Hurricanes Irma and Maria
Before making landfall in the mainland United States, Hurricanes Irma and Maria slammed island nations and territories throughout the Caribbean region. All 1,600 of Barbuda's residents were forced to evacuate after 95 percent of its homes and businesses were destroyed. Ambassador Ronald Sanders said, "The damage is complete. For the first time in 300 years, there's not a single living person on the island of Barbuda." Most residents of the U.S. Virgin Islands are still without electricity and have been relying upon generators. Repairs to the U.S. territory's electric grid could cost $200 million. Part of the U.S. Virgin Islands, St. Croix saw 70 percent of its buildings destroyed by Hurricane Maria. The island of Dominica lost 27 of its 73,000 residents to Maria, with dozens more still missing. Drinking water is currently being imported, as local water resources have been contaminated. Dominica Prime Minister Roosevelt Skerrit said that every street on the island experienced damage, later telling the United Nations that "the desolation is beyond imagination."
For more information see:
Solomon Island Settlements Are Losing Ground to Climate Change
Inhabitants of the 100 small, man-made islands in Lau Lagoon, located off of Malaita in the Solomon Islands archipelago, have been rebuilding and maintaining their homes since the 17th century. The location has historically protected residents from pests and disease on the mainland, but climate change has begun to take its toll on the wooden structures. The growing effects of climate change have contributed to the unpredictability of seasonal conditions and severe storms, in addition to rising sea levels. John Kaia, chief of the island community of Aenabaolo, explained, "Before, we used to know the seasons, but now the wind, the rain, the cyclones can come at any time. Climate change has affected everything, the people, the sea, the land, even the food we eat has changed." Lau residents who move to the larger islands have faced unfamiliar cultural and land practices, leading to conflict. While some lagoon tribes hold permission to farm on Malaita, landowners have objected to permanent settlements on their property.
For more information see:
Communities Rebuilding After Hurricanes Look to Energy Efficient Houses
Housing companies specializing in energy efficient and storm-resilient models are seeing an increase in demand as a result of the 2017 hurricane season. Shilpa Sankaran, executive director of the Net-Zero Energy Coalition explained, "Nobody wants to see a repeat of damage that's been done [by Hurricanes Harvey, Irma, and Maria], and scientists said certainly it was worse because of climate change. We need buildings that won't exacerbate the problem, but also ones that last longer." According to Sankaran, the market for net-zero energy (NZE) homes has grown 33 percent since 2016. To produce as much or more energy on site than they use over one year, NZE houses are tightly constructed, feature energy efficient materials and appliances, and produce electricity from renewable energy technologies such as solar panels. In order to occupy a larger share of the housing market, the industry is trying to lower costs by offering prefabricated net-zero homes that withstand the power outages and extreme weather brought about by hurricanes. California is aiming to have new residential buildings be net-zero by 2020, while Massachusetts has required all new buildings be 100 percent net-zero energy by 2030.
For more information see:
Top American Auto Manufacturers to Embrace Transition Toward Electric Vehicles
On October 2, GM announced its intention to phase out production of internal-combustion vehicles. The company's chief of global product development, Mark Reuss, said, "GM believes in an all-electric future." GM will be releasing two new electric models in 2018 and plans to add 18 additional models by 2023. Representatives of GM, the third-largest auto-seller in the world, have said that reducing transportation emissions will require both battery electric and hydrogen fuel cell electric vehicles. Meanwhile, Ford announced the creation of an internal group called "Team Edison" to promote development of its electric vehicles. Ford executives say the company is currently on track to roll out 13 electrified vehicles over the next five years. Sherif Marakby, Ford's head of electrification and autonomous vehicles stated, "We see an inflection point in the major market towards battery electric vehicles." Neither Ford nor GM have offered additional details or a timeline for their purported gasoline and diesel technology transitions.
For more information see:
Washington Post, Automotive News
Solar Overtakes Coal as Leading Source of New Energy Globally
Renewable energy comprised two-thirds of the world's newly added power generation in 2016, according to recent findings by the International Energy Association (IEA). Solar was the leader amongst renewables and all other forms of energy. Net solar expansion outpaced expansion in coal generation, the top source of new generation in 2015. New cost efficiencies combined with government policies contributed to the rise in solar. The IEA had to revise previous forecasts to reflect these trends, and now renewable energy is expected to provide 30 percent of the world's power in 2022. China's solar industry is currently the largest in the world, with the United States ranking second. Growth in some parts of Europe, such as the United Kingdom, is expected to stall and the U.S. industry could be constrained by new tariffs on imported solar panels. However, India's solar industry is expected to experience a boom as the country overcomes challenges to integrate solar into its grid.
For more information see:
Headlines
Trump Administration Denies Protection to Pacific Walrus on Basis of Sea Ice Habitat Loss
Seven Western State Governors Agree to Create Network of Electric Vehicle Charging Stations
Chief UN Climate Negotiator: COP23 Must "Restate the Vision of Paris"
Catholic Institutions to Make Largest Ever Faith-Based Divestment from Fossil Fuels
Poll: Majority of Americans Support Action by Local and State Governments on Climate

Writers: Beatrix Scolari and Kiara Ryan
Editor: Brian La Shier