Climate Change News - October 30, 2017
October 30, 2017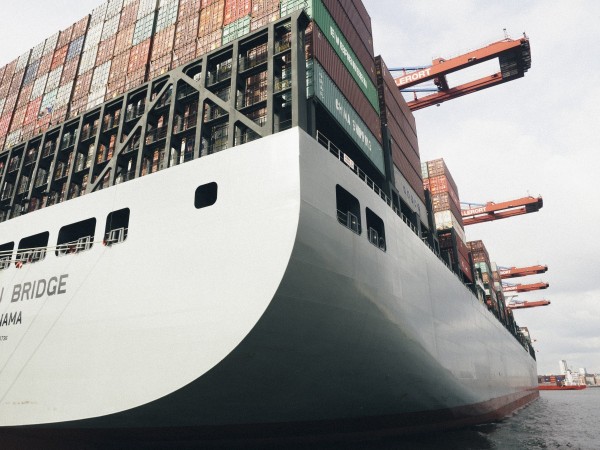 A new report raises concerns about the influence of private sector lobbyists on the development of international emission reduction goals for the maritime shipping industry. Photo courtesy of pxhere.com.
GAO Report Warns Federal Government of Fiscal Impact of Climate Change
On October 24, the Government Accountability Office (GAO), the auditor of the federal government, published a report on the economic effects of climate change with a focus on how much it could cost the government. The federal government has spent $350 billion on extreme weather events in the last decade. Just this past week, the Senate passed a $36.5 billion disaster-relief package for areas affected by recent hurricanes and wildfires. The GAO report predicts that spending on natural disasters will increase in coming years, and recommends executive action to assess and mitigate the risks of climate change, which are "unevenly distributed" across regions and industries. The report was requested by Senators Maria Cantwell (D-WA) and Susan Collins (R-ME), who have stated that the government should consider climate change to be a fiscal responsibility. "We simply cannot afford the billions of dollars in additional funding that's going to be needed if we do not take into account the consequences of climate change," said Collins.
For more information see:
Emission Standards for Truck Components at Risk of Repeal by EPA
The EPA is pursuing a repeal of stricter emission standards for certain heavy-duty truck components at the behest of a small number of manufacturers. The rule was adopted toward the end of the Obama administration and would apply to gliders (the component housing the engine and cab) and trailers (the cargo storage portion of the vehicle). The rule was designed to close a current loophole that allowed truck companies to install an old engine into a new truck body, which would then be classified as a new vehicle and avoid emission regulations for the engine. EPA analysis found that engines manufactured before 2002 produce emissions 20-40 times higher than new engines. EPA Administrator Scott Pruitt held private meetings in May 2017 with a manufacturer of gliders and trailers, later publicly declaring a desire to reexamine the rule. The rule is scheduled to take effect on January 1, 2018 and has broad support from the rest of the trucking industry. In September, multiple companies and trucking trade associations urged Pruitt not to revisit the rule, stating the glider kits "should not be used for circumventing purchase of currently certified power trains."
For more information see:
Vital Weather Forecasting Agency Understaffed as Hurricane Season Rages
The National Weather Service (NWS) has found itself spread dangerously thin as one of the worst stretches of natural disasters in U.S. history has unfolded. Hundreds of vacant forecaster positions have left the agency "teetering on the brink of failure," according to the NWS Employees Organization, the agency's labor union. Managers have had to reduce operations, while staff are showing signs of being overworked. Leading up to and during a natural disaster, NWS provides services to government agencies, emergency managers, and the media. In the NWS office serving the Washington-Baltimore region, the vacancies have reportedly led to cutbacks in forecasting, even with staff working double shifts and foregoing vacation time to cover key forecasting stations. Brooke Taber, a forecaster at a Vermont NWS office, said, "Given our staffing, our ability to fill our mission of protecting life and property would be nearly impossible if we had a big storm." The NWS union has raised the alarm about the vacancies for the past five years, but stressed "understaffing is not due to underfunding," instead directing criticism toward agency leadership.
For more information see:
Boston Fearful of Future Hurricane Strikes
The city of Boston, located in a vulnerable location on the Atlantic Coast, is considering building a seawall to protect itself from future storms. The seawall would cost about $10 billion by one estimate, an amount that could be paid back through avoided flood damages. A recent study by MIT finds that a Category 1 hurricane accompanied by a few feet of storm surge could flood a quarter of a million Boston residents. Boston's leaders are eager to act, fearing the destruction a Harvey-scale storm could cause. Rising sea levels are an especially alarming threat to the city, which sank nine inches during the 20th century. Sea-level around Boston could rise three feet by 2070, making the need for flood-resistant infrastructure urgent. In 2016, the city released its "Climate Ready Boston Plan," a roadmap for climate adaptation that offered many potential solutions to the city's vulnerability. Kathy Abbot, president of Boston Harbor Now, said, "We've got to think about the impact of climate change from inland to the coast, out into the harbor and the harbor islands and beyond."
For more information see:
Norfolk Naval Base Under Siege by Rising Sea-Levels
Sea-levels around the Hampton Roads region of Virginia are rising twice as fast as the global average, threatening 18 military sites and 1.7 million residents, many of them military personnel. Naval Station Norfolk, home of the U.S. Navy's Atlantic Fleet, is among the sites affected. In the last 100 years, recorded sea-level rise was 1.5 feet, and a 2014 study by the U.S. Army Engineer Research and Development Center warns that an additional 1.5 feet could be a "tipping point" for Naval Station Norfolk. At the current rate, 1.5 feet of rise is expected in the next 20-50 years. The city of Norfolk has already taken action to protect itself from rising water by elevating roads and houses, building floodwalls, and creating wetland buffers. The Department of Defense has conducted many studies on climate change vulnerability, but has not yet funded any physical projects targeting sea level rise. The Trump administration has rolled back prior climate adaptation policies for the military, although Congress may accept an amendment to the pending Defense Authorization Act containing language to provide some climate change planning.
For more information see:
Low-Lying Kiribati Faces Existential Threat from Rising Sea Levels
Rising sea levels are presenting a serious danger for the 33 islands of Kiribati and its 100,000 residents. Salt water is threatening to contaminate fresh water sources upon which islanders rely for drinking water and agriculture. Long-time residents worry that they have no place else to go if they are displaced. Meanwhile, typical protective seawalls are viewed as unlikely to stand up to strong ocean waves. The 2016 election of President Taneti Maamau has brought along Kiribati Vision 20 (KV20), which plans to increase national revenue through fishing licenses. The plan puts little emphasis on addressing climate change, which the past president, Anote Tong, was passionate about. Tong said, "Climate change for most if not all of the countries in the Pacific is a survival issue. If we do not address the climate change challenge, all of our efforts in trying to achieve economic survival, economic viability all will come to naught." Tong is looking to the upcoming United Nations' Framework Convention on Climate Change meeting in Germany for representatives of Australia and Fiji to speak up on behalf of Kiribati.
For more information see:
Solomon Island Farmers Adapt to Climate Stressors; Government Seeks New Policies
Climate change is placing significant pressure upon the Solomon Islands, where farming is essential for subsistence and the local economy. More than 80 percent of the island chain's residents live in rural areas. In 2014 alone, 17 percent of the region's economic losses from floods were directly related to farming and agriculture. Crop yields are projected to decline as climbing temperatures and natural disasters contribute to heat and water stress, as well as land degradation and pest issues. The Ministry of Agriculture has instructed people to move their farms to less flood-prone areas, but some farmers have chosen to plant more flood-resilient crops instead. Better disaster preparedness and other innovations have also helped safeguard residents. Hilda Suri, a farmer, said, "In the Solomon Islands we can't predict the stability of the weather and, for us here in the village, we don't have access to a lot of weather information." New national legislation to reduce natural disaster risks is expected by the end of 2018, but funding for its implementation will still present a challenge.
For more information see:
Medical Professionals Call for Greater Preparedness for Health Impacts of Climate Change
A set of 11 studies published in the Journal of Nursing Scholarship highlights the many ways climate change threatens public health and how the nursing profession can adapt to these challenges in the future. The aftermath of Hurricane Maria in Puerto Rico represents a "worst-case scenario" for public health, according to professionals in the field. The lack of access to potable water, electricity, and communication systems has endangered the island's residents, particularly those who were already in need of medical treatment or special services. Groups such as National Nurses United are calling upon the federal government to use its resources to deliver relief to Puerto Rico, while also better preparing for the next disaster. Eileen Sullivan-Marx, an editor of the journal edition and dean of New York University's College of Nursing, said, "Recent natural disasters have had considerable health consequences, including deaths in nursing homes and an extreme lack of access to medical services. It is critical that the nursing community work with other health professionals to plan for changing conditions."
For more information see:
Report: Shipping Industry Plays Outsized Role in Emission Reduction Talks
A new report from industry watchdog Influence Map asserts that the shipping industry has been "aggressively lobbying" to influence negotiations held by the United Nations' International Maritime Organization (UN IMO). According to Ben Youriev, one of the report's authors, "[Industry representatives] have completely captured policymaking bodies at the IMO." The report found that 31 out of 100 member states on the IMO environmental committee had shipping sector representatives in their delegation, an unusually large industry presence for a UN agency. The industry is also represented at the proceedings by observers from trade associations, such as the International Chamber of Shipping (ICS). The ICS attended the last committee session with a delegation larger than those of 85 percent of the nations in attendance. Ultimately, the negotiations resulted in an emissions reduction timetable that closely resembled industry preferences, but critics say the goals are not nearly stringent enough. The shipping industry's carbon footprint is roughly equivalent to that of Germany and is projected to grow by 50-250 percent by 2050 if left unchecked.
For more information see:
Study: Melting Glaciers Could Cause Sea Level to Rise in Rapid Bursts
A new study found that sea-level rise during the planet's last significant warming period may have occurred in rapid bursts. Researchers examined fossilized coral 200 feet below the surface of Texas's coastal waters. Between 12,000 and 14,000 years ago, the reef grew in a step-like pattern, forming a coral terrace. Coral can only survive close to the ocean's surface. If sea-level rises, coral has to grow towards the shoreline to survive. The steepness of the coral terraces suggest that water levels rose several meters in a matter of decades. The terrace levels correspond with warming periods determined from ice core samples from Greenland. Scientists believe that the rapid collapse of the glaciers at the end of the last ice age caused meltwater pulses across the globe. In the future, the melting of the Greenland ice sheet and West Antarctic ice sheet due to global warming could have a similar effect. Rice University Professor André Droxler, one of the study's authors, believes his research might provide a type of "analog" for future events.
For more information see:
Headlines
Nineteen Senators Submit Letter Calling for EPA to Explain Calculations Behind Clean Power Plan Repeal
Controversial EPA Nominee Passes Senate Vote; Holds Ties to Industries He'll Be Regulating
Nicaragua Signs Paris Agreement, Leaving United States and Syria as Sole Non-Supporters
Chinese Government Pursues Aggressive Crackdown on Non-Compliant Polluters
Report: Proposed Rule to Incentivize Coal and Nuclear Could Cost Consumers $10.6 Billion Annually

Writers: Beatrix Scolari and Kiara Ryan
Editor: Brian La Shier