Climate Change News - October 15, 2018
October 15, 2018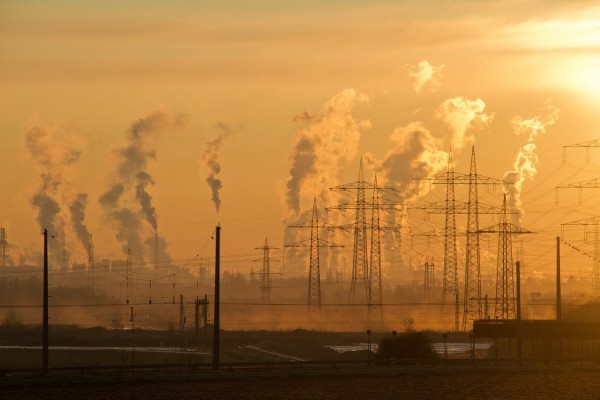 On October 8, the Intergovernmental Panel on Climate Change released the dire results of its latest report, urging immediate and vast action to reduce greenhouse gas emissions. Image courtesy of pexels.com.
New Climate Report Gives Limited Window to Avoid Grim Future
On October 8, the United Nations' Intergovernmental Panel on Climate Change (IPCC) released a report detailing a grim future for the planet if humans do not make dramatic cuts to greenhouse gas (GHG) emissions. In a business-as-usual scenario, warming would exceed the dangerous threshold of 1.5 degrees Celsius over pre-industrial temperatures by 2040. While previous reports have considered the effects of an increase of 2 degrees Celsius, the authors now believe that agricultural production, natural disasters, and the health of coral reefs will be markedly impacted if the 1.5 degree target is surpassed. The report indicates that avoiding these damages will require massive changes to the global economy and a dramatic shift from coal-fired electricity to renewable energy sources. The report was commissioned under the 2015 Paris Agreement, and although the Trump administration plans to exit the pact in November 2020, delegates from the United States accepted the IPCC report summary. However, the State Department underscored that "acceptance...does not imply endorsement" of the report's scientific findings.
For more information see:
Record-Breaking Hurricane Michael Slams the Florida Panhandle
The sudden, frightening force of Hurricane Michael has been classified as a "worst case scenario" for the Florida Panhandle region, officials say. The powerful storm has been breaking new records since its landfall on October 10, including the record for strongest storm in the Florida panhandle, most powerful October storm to ever make landfall in the United States, and the third-strongest storm to make ever make landfall in the continental United States. Winds capable of stripping roofs from houses have been documented near the hurricane's eye, with intense gusts exceeding 130 MPH. The massive storm also threatened Georgia and southeastern Alabama with hurricane-force winds. Most of Hurricane Michael's damage, however, is expected from the nine to fifteen feet of storm surge slamming the Florida coast. The "rapid intensification" of this storm is in part due to extremely warm coastal waters and a relatively calm atmospheric space to move through. These types of storms are expected to increase as the climate changes, while at the same time becoming less predictable.
For more information see:
D.C. Council Proposes 100 Percent Renewable Energy Goal
A bill drafted by D.C. Council member Mary Cheh (D-Ward 3) would transition the District to 100 percent renewable electricity sources for the city's entire grid by 2032, improve green building standards, and increase capacity for regional cooperation on reducing greenhouse gas emissions. Four additional council members co-sponsored the bill, which would add a fee of $1 to average monthly electricity bills and $2.10 to natural gas bills for D.C. residents. More than 80 witnesses planned to testify before the Transportation and Environment Committee at a public hearing on October 9. Supporters of the bill cite the direct impacts that climate change could have on the District, especially in light of the Intergovernmental Panel on Climate Change report released on October 8 that encourages government action. The Trump administration has been lax in addressing climate change, prompting state and local governments to pursue their own policies. Council member Cheh said, "We either do our best and encourage others to do their best and the national government to change their position on this, or we give in and accept catastrophe." The bill must first pass through the Council's Business and Economic Development Committee before appearing before the full chamber.
For more information see:
Hope for Reducing HFCs Buoyed by Montreal Protocol Amendment
The Kigali amendment, a 2016 addition to the Montreal Protocol, goes into effect at the beginning of 2019 to reduce the presence of hydrofluorocarbons (HFCs) in the atmosphere. The amendment offers hope that international efforts can blunt some of the consequences of crossing the 1.5 degree Celsius global warming threshold, especially in light of the recent United Nations report emphasizing the urgency of reducing atmospheric pollutants. "With the wolf of climate impacts at our door, time for our counter-offensive is short," said a reviewer of the report. HFCs are a common byproduct of certain industrial processes and are a common example of short-lived climate pollutants (SLCPs). While SLCPs break down in the atmosphere more quickly than carbon dioxide, they also have warming potentials of up to 11,000 times that of carbon dioxide. According to another recent report by Oxfam and the World Resources Institute, "In the near term, taking fast, ambitious action to reduce SLCPs is particularly vital to keeping temperature rise below 1.5 C."
For more information see:
Authoritarian Brazilian Politician Places Future of Amazon Rainforest in Doubt
Jair Bolsonaro is the leading candidate in Brazil's presidential election, despite his outspoken opposition to environmental conservation and indigenous peoples, and in addition to a public track record of racist, homophobic, and sexist behavior. He promises to dissolve Brazil's environmental agencies and eliminate nearly all oversight in the Amazonian region. Current environment minister Edson Duarte warned, "The increase of deforestation will be immediate. I am afraid of a gold rush to see who arrives first." If he wins, Bolsonaro plans to withdraw his country from the Paris Agreement to limit what he has suggested is unjust interference in Brazilian sovereignty by the United Nations. He also claims that land rights for indigenous communities are part of a UN plot to generate separatist sentiments. The inflammatory statement only bolstered his strong support from the logging and mining industries, which would benefit financially from access to indigenous lands. "If [Bolsanaro] wins, he will institutionalize genocide," said Dinamam Tuxá, the national coordinator of Brazil's Association of Indigenous Peoples. The second and final round of voting will take place on October 28, when Brazilian voters will choose between Bolsonaro and Workers Party candidate Fernando Haddad.
For more information see:
Climate Report Predicts Catastrophe, but Governments Are Slow to React
National leaders have taken notice of the Intergovernmental Panel on Climate Change's (IPCC) latest report, which predicts a bleak future based on current global emissions. IPCC scientists urged immediate governmental action to reduce greenhouse gases, but many remain skeptical that nations will rise to the occasion. The Paris Agreement signed three years ago by 197 countries yielded ambitious emission reduction targets worldwide, but recent figures show that many top emitters, such as Brazil and Australia, are falling short on their commitments. In fact, energy sector emissions climbed throughout 2017 and are expected to rise in 2018 as well. The report's warnings underscore how critical the December climate negotiations in Poland will be. There is broad agreement among scientists that reduced coal consumption, the gradual phase-out of gasoline-powered vehicles, and the preservation of forests should all be top priorities for governments. Mohamed Adow of the development group Christian Aid said, "There's a big gap between what the science requires and what governments are delivering."
For more information see:
Hurricane Florence Raises Concerns about Coal Ash Storage in Virginia
After narrowly escaping the devastation of September's Hurricane Florence, lawmakers, environmentalists, and residents of Southeast Virginia are working to safeguard their rivers and groundwater from coal ash pollution. "As we have seen with Hurricane Florence, we're going to pay for it now, or we're going to pay for it later," said State Sen. Amanda Chase (R-VA) at a joint Commerce and Labor subcommittee meeting. In neighboring North Carolina, storage ponds owned by Duke Energy were damaged in the storm, spilling coal ash containing heavy metals into the surrounding area. "Hurricane Florence is a wake-up call," said Nate Benforado, an attorney with the Southern Environmental Law Center. Dominion Energy, Virginia's largest public utility, currently stores at least 27 million cubic yards of coal ash. Dominion denies that its pollution of groundwater has reached private wells. Legislators are exploring solutions to remove the coal ash as an alternative to placing a cap on the ponds, which may not prevent further groundwater contamination.
For more information see:
Climate Change Expected to Drive More Refugees Northward
Rising temperatures are expected to increase the number of "environmental refugees" fleeing to more developed regions like the United States and Europe. Millions will likely leave their home communities to escape worsening soil erosion, coastal flooding, desertification, and other impacts of climate change, often first migrating to urban centers within their home country and then across international borders. The urban heat island effect will compound the problem in cities, where temperature increases could be double the global average. A 2016 study noted the importance of agricultural conditions in determining future environmental displacement, stating, "Extreme heat is correlated both with lower crop yields and higher outmigration flows." Additional studies have shown that Pakistan, Bangladesh, India, Indonesia, and sub-Saharan Africa have already begun to experience this phenomenon. Researchers estimate that by 2080, climate-related agricultural failures could cause two to ten percent of Mexico's working population to emigrate. Although refugees of natural disasters tend to return to their region of origin once conditions allow, the permanent nature of certain climate impacts could make this impossible in the future.
For more information see:
New Report Examines How to Sustainably Feed Earth's Growing Population
On October 10, the journal Nature published a report examining the global food system and concluded that radical changes are necessary if we are to feed Earth's growing population in a sustainable manner. The report, titled "Options for keeping the food system within environmental limits," was authored by researchers from the United States, Europe, Lebanon, and Australia, and warns that raising livestock is an inefficient way to produce calories. The report suggests a shift toward plant-based diets may be a necessary part of the solution. "Feeding humanity is possible," said Johan Rockström, a coauthor of the study. "It's just a question of whether we can do it in an environmentally responsible way." Much of Earth's land is already used to raise and feed livestock, and rising incomes in countries like China are increasing demand for animal protein. With billions of people malnourished today, and 70 percent of Earth's freshwater consumed for agriculture, meeting the demands of a growing population will pose serious challenges.
For more information see:
Two Economists Awarded Nobel Prize for Contributions to Climate Change Policy
William Nordhaus and Paul Romer, two U.S. economists specializing in climate-related economic theory, were awarded the 2018 Nobel Prize in Economic Sciences. Nordhaus, a professor at Yale University, is a renowned climate economist whose work was vital to the development of a social cost of carbon and revolutionized the way climate policy is implemented. Romer is based at New York University's Stern School of Business and focused his research on how market forces function. Romer's efforts helped determine how economic factors can affect the progression of technology and innovation. Both individuals have contributed significantly to the establishment of climate change economics as a well-researched field of study. Nordhaus and Romer have been recognized not only for their contributions to the discipline, but because their models have provided significant insight into how to formulate effective climate policy. The Royal Swedish Academy of Sciences stated, "William D. Nordhaus and Paul M. Romer have designed methods for addressing some of our time's most basic and pressing questions about how we create long-term sustained and sustainable economic growth."
For more information see:
Headlines
Climate Skeptic and Oil Industry Lawyer Installed as DOJ's Lead Environmental Attorney
EPA's Pollution-Focused Particulate Matter Review Panel Is Dismissed
Hurricane Michael Threatens Southern Peanut, Cotton, and Sweet Potato Crops
Hurricane Michael Closures Slash Gulf Region's Daily Oil Production by 40 Percent
Study: Stress from Climate Impacts May Contribute to Decline in Mental Health Outcomes

Writers: Clayton Coleman, Meryl McBroom, and Patrick Teese
Editor: Brian La Shier