Climate Change News - November 26, 2018
November 26, 2018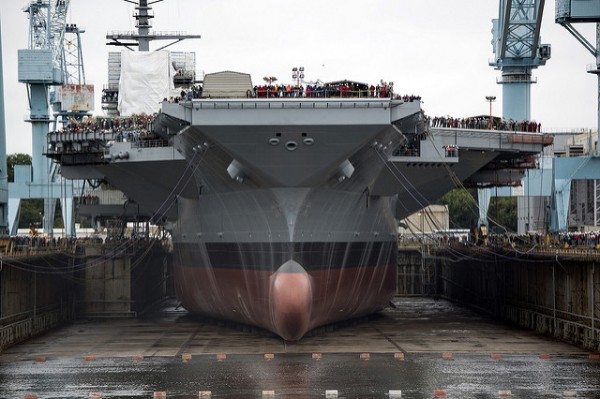 Defense officials are concerned about the Norfolk Naval Shipyard's vulnerability to future climate change impacts. Photo courtesy of U.S. Navy via flickr.com.
Green New Deal Touts Infrastructure-Based Climate Strategy
A coalition of freshmen legislators, including Rep.-elect Alexandria Ocasio-Cortez (D-NY), are pushing Democratic leadership to pursue a so-called "Green New Deal" during the next session of Congress. The details of the plan are still under formulation. However, House Minority Leader Nancy Pelosi's (CA) proposed revival of a Select Committee on Energy Independence and Global Warming is being cited as a potential forum for drafting a full plan by January 1, 2020. Rep. Cortez's effort has the public backing of grassroots organizations, including the Sunrise Movement, which has deployed activists to protest at the offices of Reps. Pelosi and Frank Pallone (D-NJ) in support of legislative action on climate change. The draft Green New Deal proposes a 100 percent renewable energy grid for the United States within a decade, the integration of "smart" efficiency technologies into the grid, improved residential and industrial building efficiency standards, investments in deep decarbonization of the nation's economy, and the creation of a national jobs training program to assist industry transitions. Despite a desire to act on climate, there has been early disagreement between wings of the Democratic Party over what goals to set and how to achieve them.
For more information see:
Key Naval Shipyard Facilities Threatened by Sea Level Rise
The Norfolk Naval Shipyard in southeast Virginia has existed in some fashion since before the United States became an independent nation, but sea level rise is threatening to wipe out the vital facility by the end of the century. According to former Secretary of the Navy Ray Mabus, a direct hit from a major storm today "would have the potential for serious, if not catastrophic damage, and it would certainly put the shipyard out of business for some amount of time." Mabus emphasized such a disruption would have major implications for the Navy, since the site plays a key role in maintaining its fleet. The shipyard's five dry docks are among its most vulnerable facilities, since the docks "were not designed to accommodate the threats [of sea level rise and stronger storms]," according to a 2017 report from the Government Accountability Office. Recurring flooding during high-tides are already creating delays to ship repairs, including sensitive nuclear-powered vessels. The Navy has written a $21 billion proposal to build flood walls and elevate equipment to protect the dry docks, but Congress has yet to approve the measure.
For more information see:
Property Insurance May Become Unaffordable in Parts of California Due to Wildfire Risk
California's wildfires have become more frequent and more destructive in recent years, causing the property insurance industry to reassess how they do business in the state. Four of California's 20 worst wildfires in history occurred in 2017 alone, resulting in a record $12.6 billion in insurance claims. In 2018, August's Mendocino Complex Fire was the largest in state history, while November's ongoing Camp Fire has become the state's deadliest and has destroyed nearly 12,000 homes so far. In turn, some property insurers have begun to deny coverage renewals on homeowners' policies in fire-prone areas. If owners in these high-risk locations choose to rebuild, they may not be able to obtain insurance at an affordable rate (or at all). About three million California houses are situated on the popular boundary between urban and natural landscapes (the wildland-urban interface), with 1.7 million of those homes deemed "highly prone to wildfire." David Jones, California's insurance commissioner, said, "We're not in a crisis yet, but all of the trends are in a bad direction. We're slowly marching toward a world that's uninsurable."
For more information see:
Study: Simultaneous Climate-Related Disasters to Strike More Frequently in Future
According to a new study published in the journal Nature Climate Change, parts of the world are expected to face numerous climate-related disasters simultaneously. The disasters accounted for include wildfires, heat waves, drought, sea level rise, hurricanes, flooding, and clean water shortages. The researchers have already observed combinations of these events occurring in the United States. In 2018, Florida and California have both dealt with concurrent instances of extreme drought, record temperatures, and wildfires. The study estimates that without drastic action to reduce greenhouse gas emissions, parts of the Atlantic coasts of South and Central America could suffer from as many as six disastrous events at a time. Although the researchers include a caveat that the article review may reflect potential biases of scientists to focus more on negative climate effects over positive ones, they assert that conditions are already worsening. The study concluded, "The largest losses of human life during extreme climatic events occurred in developing nations, whereas developed nations commonly face a high economic burden of damages and requirements for adaptation."
For more information see:
Headlines
House Democrats Signal Investigation of Administration's Environment Regulation Rollbacks
Climate Change Continues to Throw a Myriad of Challenges at U.S. Military
Commission Closes Gulf of Maine's Winter Shrimp Season for Three Years, Citing Losses from Rising Sea Temperatures
Satellites Show Melting of Major Chinese Glaciers Has Doubled
Report: Air Pollution Reduces Global Average Life Expectancy by 1.8 Years per Person
Editor: Brian La Shier