Climate Change News - November 20, 2017
November 20, 2017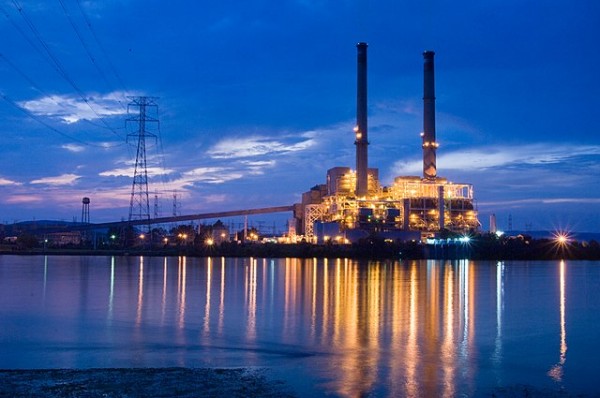 At the United Nations climate conference in Bonn, Germany, an alliance of 27 countries and states reaffirmed their commitment to phasing out coal-fired electricity by 2030. Image courtesy of TVA via wikipedia.org.
Senate Committee Approves Proposal to Drill in Arctic Refuge
On November 15, the Senate Committee on Energy and Natural Resources approved a proposal allowing oil drilling in the Arctic National Wildlife Refuge (ANWR). The proposal is being pitched by Republicans as a means of raising government revenue to fund the federal budget. The bill from Committee Chair Lisa Murkowski (R-AK) would limit the footprint for oil wells and related activities to 2,000 acres within ANWR's coastal plain, but opponents note those acres would not have to be contiguous and would likely be connected by a series of roads, pipelines, and other infrastructure. This could potentially open up the entire coastal plain to development. Approval of drilling would also open an additional 92,000 acres to drilling under the terms of a 1984 lease between the Arctic Slope Regional Corporation, Chevron, and BP, predicated on the federal government allowing drilling in the region. The Refuge's coastal plain is home to key caribou calving grounds, polar bears, and thousands of migratory birds. Robert Thompson, a resident of the only town within ANWR's borders, noted that oil development would harm the caribou herd and directly impede his community's ability to hunt. "We get most of our food from the land," he said.
For more information see:
Virginia Regulatory Board Approves Draft Proposal to Cap Utility Sector Carbon Emissions
On November 16, the Virginia State Air Pollution Control Board unanimously approved a draft rule to reduce carbon dioxide emissions from power plants in the Commonwealth and join a regional carbon trading network. The rule resulted from a months-long study ordered by departing Gov. Terry McAuliffe and a panel working in conjunction with the state's Department of Environmental Quality (DEQ). If the rule is adopted, it would make Virginia the 10th state to join the Regional Greenhouse Gas Initiative (RGGI) and the only state beside New York to do so via executive action. The proposal would establish a carbon cap for Virginia of either 33 or 34 million tons of CO2 starting in 2020, followed by an annual decrease of 3 percent. Virginia's power plants emitted 34 million tons of CO2 in 2016. Under the trading scheme, fossil-fuel power plants generating more than 25 megawatts would be given emission allowances from the state. The plants could then "consign" their allowances to the RGGI auction in return for revenue or to purchase additional allowances to cover their excess CO2 emissions, as needed.
For more information see:
Trump Administration's Promotion of Fossil Fuels at Climate Conference Met with Jeers
On November 13, the only public event held by the United States on the sidelines of the United Nations climate conference drew vocal protests and sharp rebukes. The Trump administration's panel discussion was meant to promote the continued use of coal, natural gas, and nuclear power and featured speakers from those industries. White House energy aide George David Banks argued that renewable energy was insufficient for displacing fossil fuels on the electric grid and that the use of fossil fuels would help alleviate poverty in developing regions. The panel was met with a spirited crowd of 100 protesters who chanted criticism of the panel's positions before exiting the room, leaving it half-empty. When asked by a reporter if the administration felt the Paris Agreement's two-degree Celsius threshold for limiting the increase in global average temperature needed to be met, Banks replied, "I actually don't know what that means, the 2C target." Fijian Prime Minister and president of COP23, Frank Bainimarama, called coal the dirtiest fossil fuel, adding, "There is really no need to talk about coal because we all know what coal does with regard to climate change."
For more information see:
Global Mayors Pursue Greater Ambition on Climate Mitigation and Adaptation
On November 12, a coalition of 25 mayors from across the globe vowed to achieve net zero emissions by 2050 and improve the climate resilience of their cities. The geographically diverse coalition represents 150 million urban residents and features major cities, including London, Rio de Janeiro, Paris, and Accra. The mayors intend to finalize their individual climate action plans by 2020, with support from the C40 Cities Network. C40 and the German government will also be assisting nine African cities, including Addis Ababa, Cape Town, Lagos, and Nairobi, in developing long-term sustainability plans that align with the Paris Agreement's goals. Meanwhile, the 7,500-strong Global Covenant of Mayors for Climate and Energy announced a new international standard for measuring and reporting emissions from cities and local governments, beginning in 2018. Officials emphasized the need to acquire more funding for cities to build sustainable infrastructure and greater renewable energy capacity. One delegation of local leaders led by the mayor of Quito, Ecuador would recruit the G20 governments and international financial institutions to acquire funding for such efforts.
For more information see:
Indigenous Groups Gain Formal Recognition and Roles in International Climate Negotiations
For the first time, international governments have formally recognized the leadership role indigenous peoples can play in combatting climate change. While the Paris Agreement had noted the value of indigenous knowledge in developing climate solutions, a document approved at the United Nations conference in Bonn on November 15 further states that countries "should, when taking action to address climate change, respect, promote and consider their respective obligations on the rights of indigenous peoples and local communities." The document officially recognizes indigenous rights, autonomy, and participation in international negotiations. In addition to gaining leadership roles, indigenous groups may ultimately become eligible to receive funding through the Green Climate Fund. Going forward, countries will be expected to consult with indigenous communities when drafting national climate goals. However, Clare Shakya of the International Institute for Environment and Development cautions, "This is an important step forward, but only if it really does mean that indigenous and local communities are listened to and their knowledge recognized."
For more information see:
Partnership Announced to Improve Insurance Access for Climate-Vulnerable Populations
On November 14, leaders at the United Nations' international climate conference unveiled the InsuResilience Global Partnership, a new insurance program to help impoverished and vulnerable populations better withstand natural disasters. The initiative was formulated in 2015 by the G7 group, but has added partners since, including an alliance of 50 climate-vulnerable countries, small island states, and the World Bank. The $550 million raised to date is expected to cover 160 million people, with an ultimate goal of insuring 400 million people by 2020. A central aspect of the insurance program is a streamlining of assessment and claims procedures. Policies are paid out when weather data passes a particular threshold, such as when Hurricanes Irma and Maria struck the Caribbean region. Numerous international insurance companies and NGOs are parties to the effort. Critics have noted that the program would require impoverished people to divert already limited resources to pay insurance premiums and that the elevated climate risks stem from the "loss and damage" liabilities of developed nations.
For more information see:
Report: African-Americans Face Disproportionate Health Risks from Industrial Pollution
A joint report produced by the Clean Air Task Force and the NAACP documents the disproportionate risk of pollution-related health issues faced by African-American populations. The report found that more than one million African-Americans live within a half mile of an oil and gas facility, while 6.7 million have a fossil fuel refinery located in their county. Texas, Ohio, California, Louisiana, Pennsylvania, Oklahoma, and West Virginia were found to the have the greatest number of African-Americans living within that high-risk radius of a facility. Texas and Louisiana were found to have the largest populations of African-Americans in areas known to have an elevated risk of cancer, per EPA metrics. The cities of Houston and Dallas held the highest risk of childhood asthma attacks due to ozone smog resulting from fossil fuel industry activities there. According to the study, African-Americans are 75 percent more likely than Caucasians to live in a "fence-line" community, meaning a residence directly impacted by the pollution, traffic, or noise generated by a commercial facility.
For more information see:
Many Imperiled Countries Still Awaiting Assistance from Green Climate Fund
The Green Climate Fund (GCF) originated seven years ago around a promise by wealthy nations to deliver billions of dollars in aid for the poorest countries most vulnerable to climate change. However, independent observers have raised concerns over whether the GCF's management board has properly vetted many of the projects approved so far, particularly those involving the private sector. A purported lack of transparency plagues the $2.6 billion in financing available, with half of that total having already been authorized for 54 projects thus far. Observers have also questioned why the GCF's finances are being directed toward global investment firms, when they are meant to go to locally-owned projects in vulnerable locales. Industrialized nations have promised to donate $100 billion a year to the GCF by 2020, but the fund has only secured $10.3 billion to date. Donor countries, private sector entities, and the countries in need of assistance have exerted competing pressures upon the GCF. In response to criticism, the GCF has adopted a monitoring framework meant to promote transparency and an independent assessment team to evaluate project effectiveness.
For more information see:
Twenty Nations Reaffirm Their Commitment to Phase-Out Coal-Fired Electricity by 2030
On November 16, the United Kingdom and Canada announced an alliance of 27 countries and states that have pledged to phase out coal-fired power plants and end all domestic and international investment in coal. The "Powering Past Coal Alliance" was organized by climate ministers Catherine McKenna of Canada and Claire Perry of the UK during the United Nations climate conference in Bonn. Among the initial members are Austria, Costa Rica, France, New Zealand, and El Salvador, as well as five Canadian provinces and the U.S. states of Washington and Oregon. The alliance further solidifies existing commitments, as each member had already planned on phasing out coal on their own, with some small island members having never used coal. The Netherlands is the most coal-dependent member, generating 32 percent of its energy from coal. The alliance intends to expand to more than 50 members by the next UN climate conference in Poland in 2018. Private sector businesses are also being encouraged to pledge a divestment from coal and join the group.
For more information see:
Study: Geoengineering without Oversight Could Hold Consequences for Distant Regions
A new study in the journal Nature Communications explored the potential impacts of solar geoengineering if it were to be carried out in the absence of regulatory oversight. Solar geoengineering, also known as "solar radiation management" (SRM), covers a variety of hypothetical methods designed to reduce the solar energy that reaches the Earth's surface. Although SRM methods could potentially reduce temperatures, they would not remove the atmospheric carbon dioxide driving certain climate impacts, such as ocean acidification. The study focuses on a subset of SRM methods called stratospheric aerosol injection, which involves the delivery of substances to the stratosphere to achieve a cooling effect on the climate. The study found that if even one country, region, or hemisphere were to engage in SRM, there could be significant consequences for other parts of the globe that may not have participated in or approved of the action. János Pásztor, executive director of the Carnegie Climate Geoengineering Governance Initiative, observed, "Geoengineering is going to require more global cooperation than has ever been attempted before."
For more information see:
Headlines
France to Cover Funds for Intergovernmental Panel on Climate Change Withdrawn by United States
New Zealand Leaders Target Agricultural Reforms to Achieve Climate Mitigation Goals
Lack of Affordable Housing Near Employment Centers Hinders California's Emission Reduction Efforts
After Three-Year Plateau, Global Carbon Emissions Are Rising Again
Number of UNESCO World Heritage Sites Threatened by Climate Change Nearly Doubles in Three Years
Study: Improved Soil Management Could Sequester Carbon Emissions Equivalent to Global Transportation Sector
Writer and Editor: Brian La Shier