Climate Change News - November 14, 2016
November 14, 2016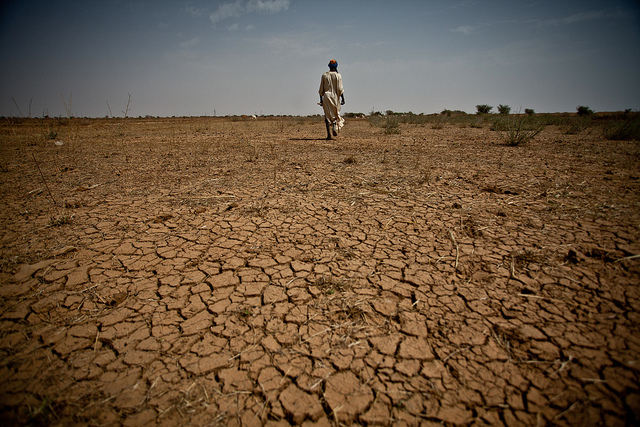 Long-term planning and aid for Africa's agricultural sector to adapt to climate change-induced droughts has been a major topic at the United Nations climate summit in Morocco this week. Image courtesy of Oxfam International via flickr.com.
Trump's Election Threatens America's Participation in the Paris Climate Agreement
The election of Donald Trump to the White House has cast doubt over the future participation of the United States in international climate change negotiations. Campaign promises from Trump include backing out of the Paris climate agreement, cutting all federal spending towards international climate change mitigation, and opening up federal public lands to fossil fuel drilling and mining. The United States can legally back out of the Paris treaty after four years, or simply refuse to honor its emission reductions commitments. Meanwhile, an increase in the extraction and consumption of fossil fuels would severely undercut America's ability to reduce its emissions to the levels necessary to help stave off the worst effects of global climate change. There is currently no punitive measure for nations that fail to meet their emission reduction targets under the treaty. Scientists such as Michael Oppenheimer from Princeton University have expressed concerns about the global implications of the United States withdrawing its support: "Without U.S. action to reduce emissions and U.S. diplomatic leadership, implementation of Paris will surely slow and avoiding a 2 degree warming, the benchmark of danger, would become impossible."
For more information see:
ABC News, New York Times, Washington Post
Bureaucratic Procedure and Legal Precedent Could Slow Trump Administration's Rollback of Climate Policies
President-elect Donald Trump has vowed to reverse much of the current United States environmental policy, but the actual implementation of this about-face could take significant time given the numerous procedures and factors standing in the way. The soonest Trump could withdraw from the Paris climate agreement is 2020, but his administration could take action to severely undermine the agreement in the meantime. One possibility would be to withdraw from the United Nations Framework Convention on Climate Change, but this departure would require a year to take effect. The $800 million in international aid the United States promised for climate adaptation may be another component reviewed by incoming Administration officials. Senior political and business leaders may run interference over the next four years to try and lessen the diplomatic damage and assure countries that the United States will rejoin upon Trump's exit from power. The Clean Power Plan may also prove difficult to dislodge. Jody Freeman, director of the Environmental Law Program at Harvard, said, "You can't rescind a rule with the stroke of a pen. [The Administration would] have to engage a focused effort to undo regulations and replace them with something else," adding that the courts would be unlikely to favor steps that are not based on "sound scientific or technical reasoning."
For more information see:
Suit Alleging U.S. Government Failed to Protect Future Generations from Climate Change Allowed to Go to Trial
A lawsuit alleging the federal government has failed to take adequate action to protect future generations from the impacts of climate change has been allowed to proceed to trial. U.S. District Judge Ann Aiken issued the ruling in federal court in Eugene, Oregon on November 10. Aiken's decision declared, "Federal courts too often have been cautious and overly deferential in the arena of environmental law, and the world has suffered for it." The Department of Justice has stated that while they do not dispute the climate science, they disagree with the plaintiffs' view on how the United States should coordinate with other nations on climate. However, Aiken found "no contradiction" between America's international obligations and the judicial order. The 21 plaintiffs, ranging in age from 9 to 20, allege the government's failure to act has violated their constitutional and public trust rights. The plaintiffs are seeking a court order to require the government to rapidly reduce carbon emissions.
For more information see:
Morocco Introduces Agricultural Adaptation Plan for Africa to Aid Farmers
Climate change impacts are already beginning to affect harvests in Africa. In Boumia, a small village in Morocco, apple farmers are encountering hardship with the increased frequency of droughts and warmer temperatures. Morocco is not unlike many other African countries, where 40 percent of its population works in agriculture, leading climate shifts to have a particularly deep economic impact. Morocco's Ministry of Agriculture estimates that the nation's total crop output fell 70 percent in 2015. In northern Africa's dry Sahel region, Chad, Niger, and Mali have been suffering from severe recurring droughts since the 1980s, leading to a suppression of agricultural and economic activities. According to a study in Nature, approximately 60 percent of the land for bean production in the Sahel, a staple food, will become unsuitable by 2090. Morocco is leveraging its role as host of this year's United Nations climate summit to introduce the Adaptation of African Agriculture (AAA) initiative. The initiative includes proposals to improve soil and water management, set up insurance programs for drought-afflicted farmers, and bring better weather forecasting to the continent.
For more information see:
Africa Struggles to Meet Its Climate Goals as Vital International Financing Fails to Arrive
African countries are struggling to fulfill their Paris agreement commitments due to a shortfall of promised funding. Many of African nations' mitigation and adaptation objectives depend on international aid. For instance, the Democratic Republic of Congo has received only $200,000 of the $20 billion it requested through the REDD+ program for rainforest protection. Many negotiators within the African delegation have offered grim outlooks for achieving their climate goals, citing already limited domestic budgets and a need to prioritize poverty reduction. Trinto Mugangu of the Congolese delegation, said, "Delivering on the [climate plans] is becoming unrealistic because the money is not there. I think three quarters of Africa will not deliver." The Africa Low Emission Development Strategies Partnership (LEDS) was introduced during the COP22 climate summit in Morocco as a way to jumpstart Africa's transition to a low carbon economy. Some nations, like Kenya, are striving to balance current energy demands with a desire to utilize renewable sources as their electricity grid expands.
For more information see:
Australian Prime Minister Stands by Paris Commitment amid Conservative Grousing
On November 10, Prime Minister Malcolm Turnbull held a press conference to reaffirm Australia's commitment to the Paris climate agreement. Australia ratified the Paris agreement on November 4th to positive reviews from environmental advocacy groups despite experiencing domestic backlash during the ratification process. Conservative factions within Australia are applying political pressure to turn back the agreement, citing the stance of U.S. President-Elect Donald Trump. A coalition of local officials and conservatives in the Australian Senate are fueling climate skepticism within the government. Recent submissions commenting on the emissions reduction plan revealed that Australia will struggle to achieve the necessary reductions and will have difficulty passing a more ambitious plan due to political opposition. Prime Minister Turnbull responded to these comments by restating the government's commitment to working with other nations to mitigate the effects of global climate change and cited the Paris Agreement as "a watershed and turning point."
For more information see:
Auto Industry Trade Group Seeks Rollback of Vehicle Emission Standards under Trump Administration
The Alliance of Automobile Manufacturers, a primary government lobbyist on behalf of the industry, issued a memo to President-Elect Trump's transition team requesting a rollback of the more stringent vehicle emission standards installed under the Obama Administration. The current standards would require automakers to achieve a fleet-wide average of 54.5 miles per gallon for cars and light-duty trucks by 2025 and have already begun to affect model-year 2017 vehicles. The industry memo characterized the CAFE standards as "a substantial challenge to the auto sector due to the steeper compliance requirements for model years 2017-2025" and that they "[over-project] technology efficiencies and inadequately [account] for consumer acceptance and marketplace realities." Andrew Linhardt, associate director of federal advocacy at the Sierra Club, said, "[Automakers have] been pushing this for the last year. Trump pretty much ran on tearing down President Obama's climate legacy, and this is a pretty big part of it."
For more information see:
New Emission Verification Methods for Agricultural Sector Could Be Boon to Small Farmers
New carbon emissions tracking methods will allow small farm operations to participate in carbon markets in the near future, according to the Food and Agriculture Organization of the United Nations (FAO). Agriculture accounts for a fifth of global aggregate greenhouse gas emissions, but the industry has been difficult to regulate in the past due to a lack of reliable verification tools. The FAO's method will allow smallholder dairy farmers to measure and verify their greenhouse gas reductions by assigning reporting procedures to distinct aspects of agriculture. For instance, an emission value can be calculated from altering livestock feed composition or feeding practices or buying more energy efficient equipment. According to Carolyn Opio, lead technical officer at FAO, it should only be a matter of time before these verification tools allow farmers to benefit financially from carbon credit markets. This could also lead to an increase in investment from both domestic and international companies, who were previously apprehensive to put money into an unverifiable industry.
For more information see:
Moody's Integrates Climate Change into Its Ratings, Warns of Downgrades for Vulnerable Nations
On November 7, Moody's rating agency announced changes in the rating scale used to determine sovereign nations' credit ratings. Moody's implemented the changes to reflect potential threats to economic productivity created by climate change. Moody's described its rationale for the decision: "Climate change has ramifications for countries' credit profiles through potential economic impact, damage to infrastructure, rising social costs, and population shifts." To determine new credit ratings, a country's vulnerability to climate change was determined by exposure and resilience. Exposure relates to a country's geographic location and economic diversity, while resilience was a combination of adaptive capacity, fiscal flexibility, and national income levels. Countries with high vulnerability ratings featured large amounts of coastline and economies lacking a strong, centralized infrastructure with a large percentage of the workforce employed in the agriculture sector. African and South Asian countries were projected to experience the worst economic side effects and would experience the largest decrease in creditworthiness. Standard & Poor's, a competing rating agency, has already integrated climate change into its sovereign credit valuations.
For more information see:
Exxon Seeks to Lengthen Its Court Battle with State Attorneys General through Expanded Depositions
An alliance of state attorneys general from across the United States have been pursuing legal means to hold ExxonMobil accountable for its long-standing role in disseminating false or misleading information on the risks of climate change associated with fossil fuel use. For years, many scientists and leaders in the field have questioned Exxon's internal understanding of climate implications through the corporation's development and sale of petroleum. However, Exxon has revealed plans to depose at least 17 of those attorneys general, which could prolong the ongoing legal dispute for years. Exxon had initially cooperated with state officials, but is currently seeking to block the investigation through a Texas court. Massachusetts Attorney General Maura Healey said the company's effort to depose the other officials would facilitate "Exxon's goal of putting off as long as possible any investigation into the critically important question of whether Exxon broke the law and deceived consumers and investors."
For more information see:
Major Australian Workers Union Calls for "Just Transition" to a Clean Energy Economy
The Australian Council of Trade Unions (ACTU) has published a policy paper calling for Australia to implement a managed decline of coal-fired power plants and begin a "just transition" to a clean energy economy. The ACTU argues that Australia has a responsibility to assist the workers affected by fundamental shifts in the energy industry. Recommendations from the paper include creating a government office (Energy Transition Australia) to manage the transition and funding the transition by ending fossil fuel subsidies, introducing a carbon tax, and allocating funds from federal and state budgets. According to the paper, adopting proactive measures to retrain workers and transition them into new industries will grow Australia's economy and increase energy security. Ged Kearney, president of ACTU, says the pending shutdown of coal plants is "obvious" and their proposal "very squarely places responsibility on the federal government to come up with a national plan for the sake of the workers in [the energy industry]."
For more information see:
Study Underscores Delicate Balance between Biomass Carbon Sinks and Climate
A recent study published in Nature Communications has uncovered new information on how plants interact with carbon dioxide (CO2) in the atmosphere. The absorption rate of CO2 by plants is limited by environmental factors such as rain, light and temperature. From 1959-1990, atmospheric carbon doubled, but from 2002-2014, the rate of growth for CO2 levels remained steady despite a boom in anthropogenic emissions being produced. According to the study, a slowdown in global warming resulted in a 60 percent reduction in plant respiration, a process which produces CO2. This environmental shift led to a greater amount of CO2 being contained in plants rather than being emitted into the atmosphere. The study underscores the value in protecting global vegetation to allow natural carbon sinks to function as intended. According to Professor Richard Betts, head of climate impacts research at the Met Office Hadley Centre, "The warmer the world becomes, the more difficult it could be to prevent further warming, as our CO2 emissions could have proportionally larger impacts, and natural carbon sinks [like plants] could become less effective."
For more information see:
Headlines
Washington Voters Reject America's First State Ballot Measure to Implement a Carbon Tax
Election Results Unlikely to Shake Up Current Climate Policies at State Level
Japan Ratifies Paris Agreement – Responsible for 3.79 Percent of Global Greenhouse Gas Emissions
Lack of Reliable, Comprehensive Meteorological Data for Africa Hindering Climate Planning There
Ralph J. Cicerone, Esteemed Scientist Who Fought for CFC Ban, Passes Away at Age 73
Writers: Sasha Galbreath, Tyler Smith, and Brian La Shier

Editor: Brian La Shier