Climate Change News - May 29, 2017
May 29, 2017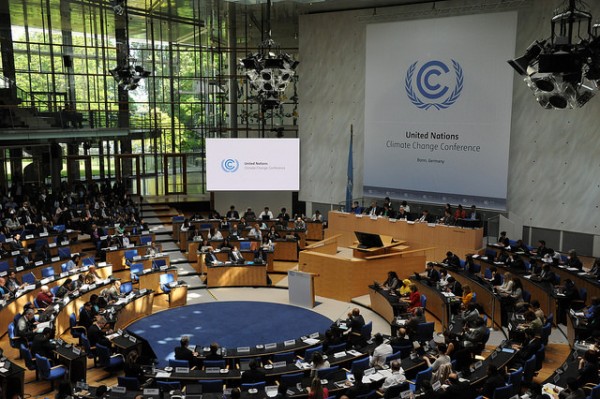 World leaders are applying pressure to U.S. President Trump to adhere to the Paris Climate Agreement. The next round of United Nations climate talks will be held in Bonn, Germany. Photo courtesy of UNClimateChange via flickr.com.
Trump Administration's Budget Would Eliminate Climate Programs and Clean Energy Research
On May 23, the Trump administration released a full budget proposal that bears a close resemblance to the outline published in March 2017. Overall, the President's budget would eliminate 66 federal programs spread across numerous agencies. Environment, energy, and climate programs would see steep cuts, with EPA's popular Energy Star Program, several NASA earth science missions, the Green Climate Fund and Global Climate Change Initiative, and the Department of Energy's (DOE) Advanced Research Projects Agency all zeroed out. During a press conference, Office of Management and Budget Director Mick Mulvaney characterized past spending on climate science as "crazy." Energy research programs at DOE saw an 18 percent ($3.1 billion) reduction from last year. Jason Bordoff, director of the Center on Global Energy Policy at Columbia University, said, "It is incredibly shortsighted to slash funding for energy R&D and let other countries take the lead in developing new technologies and markets that are going to grow quickly in the years to come." Many aspects of the budget have already drawn rebukes from Congress. In response to the proposed divestment of government-owned transmission lines connecting 20 Western states, Sen. Maria Cantwell (D-WA) stated, "Selling government-owned transmission lines to the highest bidder will just have the effect of jacking up power rates, and no one in that region is going to be in favor of this."
For more information see:
New York Times, The Hill, The Atlantic
President Trump Urged by European Leaders to Keep the United States in the Paris Agreement
Throughout his recent European trip, President Trump received encouragement from world leaders to maintain the United States' participation in the Paris Climate Agreement. German Chancellor Angela Merkel addressed representatives from 30 countries on the importance of international cooperation on climate, stating, "I am trying to convince doubters. There is still work to do." Merkel was scheduled to meet with Trump during the G7 summit held May 26-27. At the Vatican on May 24, Pope Francis gifted Trump a copy of his 2015 encyclical calling for immediate and significant reductions in greenhouse gas emissions. During a trip to Brussels for a NATO meeting, French President Emmanuel Macron had a "very frank" discussion on climate change with Trump, urging the U.S. president to avoid making a "hasty decision" on withdrawing from the agreement. Speaking with reporters earlier that day, U.S. Secretary of State Rex Tillerson said Trump was "still thinking about [the Paris Agreement]," but would not consider the issue again until his return to Washington over the weekend.
For more information see:
CNBC, Reuters, Bloomberg, Reuters
EPA Delays Landfill Methane Rule as it Considers a Repeal
The EPA has instituted a 90-day enforcement delay for a regulation to limit methane pollution from municipal landfills and is currently considering a partial repeal of the rule. The August 2016 regulation set limits on methane emissions for new and existing landfills and required site operators to monitor their emissions. The regulation was projected to reduce landfill methane emissions by 334,000 tons annually, starting in 2025. If the administration decides to move forward with a rule change, the proposal would be subject to the full review process involving a public comment period. The changes could also be open to litigation by environmental groups or states who stand in opposition. EPA Administrator Scott Pruitt had notified industry petitioners of the decision in a May 5 letter, which was only made public on May 23. Peter Zalzal of the Environmental Defense Fund said, "This is not something the public was aware of. The way in which it was accomplished was done in a way to shield this from public scrutiny."
For more information see:
California Engages World, and Stands Up to Trump, on Climate Change
California is emerging as a national and global leader in efforts to curb climate change. According to Mario Molina, a Nobel-winning scientist from Mexico, "California demonstrates to the world that you can have a strong climate policy without hurting your economy." California has an annual economic output of $2.4 trillion, the sixth largest economy in the world, while its policies served as a model for national environmental regulations like the Clean Power Plan. The Chinese government has recently worked with experts from the state to develop a cap and trade program, and California is working with Canada and Mexico to create a regional cap and trade market. California is also preparing to challenge the Environmental Protection Agency if they revoke a waiver allowing the state to set fuel economy standards higher than the federal level. As the Trump administration weighs pulling out of the Paris Agreement, Gov. Jerry Brown plans on representing California at the next United Nations climate meeting, stating, "We may not represent Washington, but we will represent the wide swath of American people who will keep the faith on this."
For more information see:
State Laws Limiting Food Waste Deliveries to Landfills Can Reduce Methane Emissions and Create Jobs
In 2014, the United States produced 38 million tons of food waste. The Environmental Protection Agency estimates that food makes up 21.6 percent of the waste sent to landfills and incinerators, where it produces methane gas, a significant contributor to climate change. Reducing food waste can limit these environmental impacts, support the economy, and alleviate hunger—a "win-win-win" according to Meghan Stasz of the Grocery Manufacturers Association. New York recently passed legislation providing tax credits to farmers who donate what is left unharvested in their fields to food banks. Many farmers do not harvest entire fields because of high labor costs and consumer demand for perfect produce. In 2014, Massachusetts banned businesses from sending organic waste to landfills if they produce over one ton of organic waste each week. This waste is instead converted into electricity, livestock feed, or compost. A follow-up study of the law found that in two years this initiative generated over 900 jobs and $175 million in economic activity. Currently only four other states limit the amount of food waste that can be sent to landfills.
For more information see:
India Continues to Invest Aggressively in Renewables, Efficiency, and Electricity Infrastructure
On May 11 at the Vienna Energy Forum, India's Energy Minister Piyush Goyal stated, "We must decouple economic growth from environmental impacts and leave a better world. Every moment counts." Although India is currently powered primarily by coal, the country is adopting a number of clean energy initiatives with surprising speed and plans to extend electricity access to thousands of rural villages. India is in the process of replacing 770 million household and street lights with more efficient LED bulbs, reducing annual carbon dioxide emissions by nearly 80 million tonnes annually. India is also increasing its use of solar and wind power, with plans to have a total of 186 gigawatts (GW) by 2022. The United States currently has around 100 GW of wind and solar installed. Solar is now cheaper than coal in India, potentially eliminating the need to import coal for energy. Goyal also believes no subsidies would be required to have all of India's vehicles run completely on electricity by 2030. The country currently taxes gasoline at the world average, which is 50 percent higher than the rate in the United States.
For more information see:
Scientists Advise Australian Government to Include Mitigation in Climate Plan for Great Barrier Reef
Australia's Reef 2050 Plan, which seeks to increase the Great Barrier Reef's resilience to climate change, does not include plans to reduce greenhouse gas emissions. For two straight years, the Great Barrier Reef has experienced mass coral bleaching due to warming oceans. Scientists estimate that nearly half of the reef's corals have died in the past year. A panel of expert scientists have advised Australia's federal government to revise the plan and include steps on reducing emissions, arguing, "We can't be passive bystanders in this. We're the custodians of the reef and its ecosystem for the world." While the Australian government has acknowledged the role of climate change in reducing reef health, the government stated that the 2050 plan focuses on local pressures and Australia is instead addressing climate change through the Paris agreement. Australia has agreed to cut their emissions to 26 percent below 2005 levels by the year 2030. However, the government recently supported a proposal to allow coal mining in the Galilee Basin, which could produce 25 million tonnes of coal each year.
For more information see:
Senegal Struggles to Adapt to Coastal Flooding and Erosion
Senegal's coastline is receding at an average rate of 1-2 meters (3-6 feet) per year, driven by sea level rise, urbanization, and illegal sand extraction for construction. Near Saint-Louis in Senegal, two villages have already succumbed to the water. When floodwaters threatened the city in 2003, the government tried to dig channels to redirect the waters, inadvertently exposing new parts of the mainland to flooding. As the region's sand dunes erode and the ocean creeps inland, farmland is gradually becoming contaminated by saltwater. Experts suggest the erosion trends are "irreversible," with other regions in coastal West Africa facing similar problems. Efforts to relocate families away from flood zones have had mixed success, as many have strong ties to the land and are reluctant to leave. Mangrove restoration in Senegal's river delta region has helped, but a lack of funds has stymied progress. Abdou Sane, a former legislator leading efforts to address the flood risk, said, "The people are trying to fight, but in reality the phenomenon has become very serious. It exceeds the means of the government, the means of communities."
For more information see:
Coastal Restoration Is Fueling an Employment Boom in Louisiana
Sea level rise associated with climate change is a serious threat to coastal areas around the world. The U.S. Geological Survey has reported that Louisiana loses a section of coastline equal in size to a football field every hour. As oil prices decline, Louisiana has started investing in greener industries. With over 30,000 jobs, water management is now Louisiana's fastest growing industry, in many cases employing workers who were previously in the oil sector. Coastal restoration efforts are attracting projects involving hydrologic modeling and the construction of artificial reefs, which can help the state defend itself against future hurricanes. Louisiana's 50-year plan for coastal restoration has also been translated into several languages for other countries facing similar concerns to use as a reference. Although Louisiana remains a largely conservative state, Deb Abibou with the Coalition to Restore Coastal Louisiana said, "Down here, 'climate change' is a bad word, but the reality of sea level rise is something that no one can deny."
For more information see:
Report: Litigation in Pursuit of Climate Action Is on the Rise World-Wide
According to a new study, governments are facing an increasing number of court challenges as citizens seek to advance action on climate change. While the bulk of the litigation is occurring in the United States, the number of countries hosting these types of cases has tripled since 2014 and now stands at 25. The United Nations Environment Programme and Columbia Law School partnered on the report, which discovered a "proliferation" of climate cases brought by citizens and environmental organizations to tackle issues such as sea level rise, greenhouse gas emissions, and fossil fuel extraction. The issue of climate refugees is also beginning to feature prominently within these types of cases. The United States led with 654 climate-related cases, followed by 80 in Australia, 49 in the United Kingdom, and 40 in the European Union's Court of Justice. Erik Solheim, head of UN Environment, said, "It's patently clear we need more concrete action on climate change. The science can stand up in a court of law, and governments need to make sure their responses to the problem do too."
For more information see:
Guardian, United Nations Report
Climate Change Suspected as a Contributing Factor in Yellow Fever Outbreak in Brazil
Brazil is experiencing one of its worst yellow fever outbreaks on record, with more deaths in 2017 than from 1989 through 2008 combined. The hardest hit regions were largely rural and had been coming out of their worst drought in 80 years. However, when the rain finally returned, it hatched several years' worth of mosquito eggs, which can survive the dry conditions. Michael Osterholm, director of the Center for Infectious Disease Research and Policy at the University of Minnesota, said that a firm connection between climate change and Brazil's yellow fever trend remains "unclear." Yet, with the virus spreading much farther than in previous outbreaks, he added, "If this thing takes off in the urban areas of Brazil, we're in big trouble." Doctors in Brazil cite an ill-informed public and poverty as complicating factors in trying to stem Yellow Fever's spread. Warmer temperatures allow disease-carrying mosquito species to flourish, while international trade has provided a means for different species to spread around the world.
For more information see:
Headlines
Bipartisan Bill Seeks to Strengthen Infrastructure and Wetlands to Ease Coastal Flooding
Canada, European Union, and China Vow to Collaborate on Advancing Paris Agreement Goals
Over 280 Global Investors Sign Letter Urging G7 Nations to Implement Paris Agreement
OECD Report: Integrating Climate and Economic Policies Would Promote Short and Long-Term Growth
Fearing Disclosure of Internal Documents, Industry Groups May Pull Out of Children's Climate Case
Report: Sea Levels Are Increasing Three Times Faster Than Pre-1990 Rates
Writers: Sara Tanigawa and Brian La Shier
Editor: Brian La Shier