Climate Change News - May 22, 2017
May 22, 2017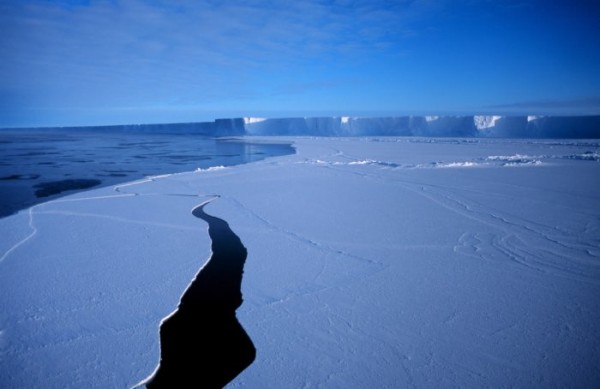 Scientists warn that a future collapse of the West Antarctica ice sheet may be unstoppable, raising fears of significant sea level rise impacts. Photo courtesy of NOAA via noaa.gov.
Trump Administration to Nominate Climate Skeptic for USDA's Chief Scientist Post
The Trump administration is expected to nominate Sam Clovis as the U.S. Department of Agriculture's (USDA's) "chief scientist," despite Mr. Clovis' lack of a scientific background. USDA's undersecretary of research, education, and economics oversees the agency's agricultural research programs, which includes studying the impacts of climate change, pests, and diseases on essential crops and involves collaboration with other research centers across the federal government. Former Agriculture Secretary Dan Glickman said, "Not to have someone with a scientific background in that position is going to be challenging for them. The whole agricultural world depends on this." Clovis previously served as an advisor to the Trump campaign and has a background working as a talk radio host and economics professor. Past occupants of the undersecretary position include accomplished individuals with backgrounds in biochemistry, plant physiology, food nutrition, and ecosystem ecology. The undersecretary position also manages part of USDA's climate work. In a 2014 interview, Clovis characterized climate science as "junk" and "not proven," calling himself a "skeptic."
For more information see:
Federal Research Protecting Farmers from Climate Impacts Viewed with Scrutiny by Trump Administration
Farmers and ranchers rely upon government-funded research to protect their businesses from climate change impacts, but the Trump administration is working to upend those programs. The American agricultural sector is highly susceptible to climate-driven afflictions, including extreme temperatures and precipitation, more frequent pests and crop diseases, and heat stress on livestock. These issues could lead to billions of dollars in losses and cause food prices to increase. In 2014, the U.S. Department of Agriculture (USDA) established its "climate hubs" program to coordinate agency research and deliver advice to farmers, ranchers, and foresters on how to adapt to extreme and erratic weather. Agriculture Secretary Sonny Perdue has said his office is evaluating the future of the hubs, stating that if their work is found to be too political, the agency will find a "better way to research." Roger Johnson, president of the National Farmers Union, said, "Farmers care about [climate] a lot. What farmers really want is good, solid scientific information about how they can better operate their farms and ranches."
For more information see:
Governor Announces Virginia Is Pursuing a Multi-State Carbon Trading System
As the Trump administration seeks to undo the Clean Power Plan, Virginia Gov. Terry McAuliffe declared, "Virginia will lead the way to cut carbon and lean in on the clean-energy future." A working group established by McAuliffe recently reported that climate change poses a significant risk to Virginia, with the state already seeing a 33 percent increase in severe storm events over the past 60 years and up to five feet of sea level rise possible by 2100. Following recommendations from a working group convened last year, McAuliffe instructed the Virginia Department of Environmental Quality (DEQ) to design a regulation that would "allow for the use of market-based mechanisms and the trading of carbon dioxide allowances through a multi-state trading program." Virginia's power plants currently account for 30 percent of the state's total carbon emissions, though emissions have declined by 21 percent since 2005. Virginia's largest utility, Dominion Energy, considers carbon regulation "settled public policy" and has already taken steps to reduce its emissions. The DEQ has until December 31 to present their proposed regulation to the State Air Pollution Control Board, just prior to McAuliffe's departure from office.
For more information see:
Vulnerable Nations Call for Corporations to Be Sidelined from Future Climate Talks
Developing nations are concerned about the influence of large corporations in United Nations (UN) climate negotiations. Under current rules, industry representatives are allowed to lobby delegates as stakeholders. This is discouraging for delegates from nations like Uganda, where the country's total economy amounts to only a tenth of the market value of a corporation like Exxon Mobil. Several nations hope to ban industry groups from attending climate talks and ban industry officials from being appointed to positions with the power to make policy. Norine Kennedy, vice president of the United States Council for International Business, argued against the effort stating, "The reason we were able to get the Paris agreement in the first place was that the UN was willing to open their doors to a whole range of stakeholders, including businesses." However, industry groups are already trying to lessen restrictions set in the Paris agreement. Stephen Eule of the U.S. Chamber of Commerce stated the agreement's emission goals should be revised to be "less ambitious" and "more in line with reality."
For more information see:
U.S. Delegation Watered Down the Climate Language in the Arctic Council's Final Declaration
During its biannual ministerial meeting of the Arctic Council in early May 2017, the U.S. delegation requested several changes be made to the intergovernmental declaration that the group issued at the end of the session. These changes weakened the Fairbanks Declaration's language on climate change and the Paris Agreement. When representatives from the eight member nations and six indigenous groups met to negotiate the language, they were greeted by an alternative version from the United States that diminished the risk of climate change and the need for meeting emissions and renewable energy goals. The U.S. delegation asked for the removal of text "encouraging" the implementation of the Paris Agreement, but the other nations pushed back. The United Nations' Sustainable Development Goals would also have been scrubbed by the Americans, but remained in after further protest. The U.S. delegation did succeed in removing an entire paragraph on the impact of an ice-free Arctic and the ice melt's impact on sea level rise.
For more information see:
China and India Projected to Surpass Emission Reduction Goals, as United States Lags Behind
A new report from Climate Action Tracker projects China and India will meet their emission reduction goals under the Paris Agreement years ahead of schedule, while the United States is expected to fall well short of its own targets. A decline in coal use, the cancellation of new coal-fired power plant construction, and a surge in renewable energy development in China and India has led to a greatly improved outlook. According to the report, China will meet or surpass its goal to reduce its emissions intensity by 64-70 percent below 2005 levels by 2030. Meanwhile, India is expected to cut its emissions intensity by 42-45 percent by 2030, exceeding its Paris pledge of a 33-35 percent reduction from 2005 levels. Bill Hare, CEO of Climate Analytics, said, "Five years ago, the idea of either China or India stopping—or even slowing—coal use was considered an insurmountable hurdle. Recent observations show they are now on the way toward overcoming this challenge." China and India are the world's first and third largest producers of carbon emissions, respectively.
For more information see:
China May Tread Its Own Path on Climate, Rather than Take on America's Fading Leadership Role
As the Trump administration considers scaling back the U.S. commitment to reduce carbon emissions under the Paris Agreement, China is viewed as a potential candidate to bridge the gap in leadership. However, Sen. Ben Cardin (D-MD) suggests that China's view of itself as a developing nation and its previous shyness from leading on international agreements may cause it to take a quieter role than expected. China is also unlikely to make up for the $2 billion climate financing shortfall that would result from a shift in U.S. policy. Alden Meyer with the Union of Concerned Scientists said, "Some of the Chinese I've talked to are even resentful that they're being asked to [replace U.S. funding]," given America's role as the world's largest historical greenhouse gas emitter. China may prefer to invest in its own climate finance programs, including the South-South Climate Cooperation fund to which it has pledged $3.1 billion. China remains a strong supporter of the pact, with President Xi Jinping declaring in May 2017 that his country would partner with France to "protect the achievements of global governance, including the Paris Agreement."
For more information see:
Intersessional Climate Talks Wrap Up, Set the Stage for November's Conference of the Parties
The May 8-18 climate talks in Bonn, Germany saw international envoys wrap up negotiations on a roadmap for COP23, the next major United Nations climate conference in November 2017. One focus of the proceedings was on building out the Paris Agreement's "rulebook," providing deadlines, obligations for the parties, and where funds should be directed. The parties will submit their thoughts on what a draft of the rulebook should look like by September 2017, followed by a series of workshops covering transparency, communications, compliance, and other issues heading into the COP. Transparency and reporting remain major topics, with negotiators still working to ensure these processes are flexible, but without promoting backsliding. Developed and developing nations are reportedly still deadlocked on climate finance, although the European Union did pledge $890 million to aid the Pacific region. Forty-eight of the world's most vulnerable nations called for a strengthening of the Paris Agreement, calling it a "lifeline." Commenting on the reduced U.S. delegation in Bonn (which shrank from over 40 people to 15), Ronald Jumeau of the Seychelles said, "They're not hampering anything. They're sending the same people. The only difference is that they don't have any guidance [on future policies]."
For more information see:
Global Warming Is Driving Plant Growth in Antarctica and Elevating the Risk of Invasive Species
A new study in Current Biology documents a 50 percent increase in the quantity of moss and the rate of plant growth in Antarctica over the last 50 years. Scientists assessed sediment cores to determine the historical record of photosynthesis activity on three islands near the northernmost part of the Antarctic Peninsula. Due to global warming, moss growth in the region is four to five times greater than it was before 1950. A consistent set of results across a large study area left the research team confident that the growth is in response to rising temperatures. Matt Amesbury, a co-author with the University of Exeter, said, "Antarctica … will become more green than it currently is. This is linking into … things like glacier retreat which are freeing up new areas of ice-free land – and the mosses particularly are very effective colonizers of those new areas." Models indicate additional warming could lead to rapid changes in Antarctica's ecosystems. The warmer environment combined with a potential increase in humans visiting the continent makes the risk of invasive species being introduced a real concern.
For more information see:
Scientists Seek Answers as West Antarctica's Ice Sheet Threatens Massive Rise in Sea Levels
Scientists are alarmed that an accelerated shift in West Antarctica's ice sheet may be signaling the "early stages of an unstoppable disintegration." The destruction of such a large portion of the ice sheet could significantly raise global sea levels, endangering coastal cities and displacing tens of millions of people. A lack of information has stymied climate researchers trying to develop a clearer forecast for sea level rise, leading the U.S. National Science Foundation and the U.K. Natural Environment Research Council to join forces. However, the $25 million endeavor may not produce the necessary answers until 2020. In order to address the urgent data gap, scientists have been surveying the Ross Ice Shelf in West Antarctica to assess vulnerabilities that may portend the structure's collapse. The Ross shelf is crucial in that it helps to slow the flow of land ice from Antarctica toward the ocean. West Antarctica's ice is especially at risk of melting due to its exposure to the warming ocean. Ted Scambos, a scientist with the University of Colorado said, "What we need to know is really the details of what is occurring where the ice, ocean and land all come together."
For more information see:
Headlines
American and Canadian Indigenous Leaders Sign Declaration of Opposition to Keystone XL Pipeline
Four Major Renewable Energy Trade Groups Signal Concern with DOE's Grid Reliability Assessment
Japan and China Successfully Extract Methane Hydrate from the Seafloor
Study: Government Testing of Diesel Vehicles Underestimates Actual Pollution by More Than 50 Percent
Scientists Discover Massive Coral Bleaching Event in Indian Ocean
NASA: 2017 Had the Second Warmest April on Record
Events and Briefings
Powering Businesses, Homes and Vehicles with Waste: How to Grow the Economy and Jobs with Biogas and Renewable Natural Gas
Tuesday, May 23, 2017
11:30 AM - 1:00 PM
201-00 Capitol Visitor Center (Senate-Side)
Lunch will be served
Please RSVP to expedite check-in
A live webcast will be streamed at www.eesi.org/livecast (wireless connection permitting)
The American Biogas Council (ABC), the Coalition for Renewable Natural Gas (CRNG) and the Environmental and Energy Study Institute (EESI) invite you to a briefing about the untapped energy in domestic wastes. Waste streams-including manure, agricultural waste, waste water, food scraps and landfill gases-can be converted to biogas and upgraded to renewable natural gas (RNG) for electricity, pipeline injection, or vehicle use, while also providing valuable products such as fertilizer and compost. Using these products provides local jobs, improves air and water quality, assists in meeting multi-agency nutrient management strategies and helps to meet multiple policy goals espoused in both the Farm Bill and the Renewable Fuel Standard.
Speakers for this forum are include: Bernie Sheff, Chairman of the American Biogas Council; Johannes Escudero, CEO of the Coalition for Renewable Natural Gas; Grant Zimmerman, CEO of ampCNG; Caroline Henry, Vice President of Marketing at the Quasar Energy Group; Paul Morrow, Managing Director of Morrow Renewables; Brian Meek, Director of Plant Operations at Avant Energy; and Patrick Serfass, Executive Director at the American Biogas Council.
Currently, most waste streams represent a missed opportunity. The United States produces over 70 million tons of organic wastes per year (food waste, manure, agricultural waste), yet only a small portion is used to make RNG, biogas and a variety of soil amendments (fertilizers, composts, peat moss replacement). State waste resources are diverse and numerous. Briefing attendees will have the opportunity to learn about the potential resources in their states, as well as economic and job opportunities, and policy drivers.
This event is free and open to the public.
Writers: Brian La Shier and Sara Tanigawa
Editor: Brian La Shier