Climate Change News - May 15, 2017
May 15, 2017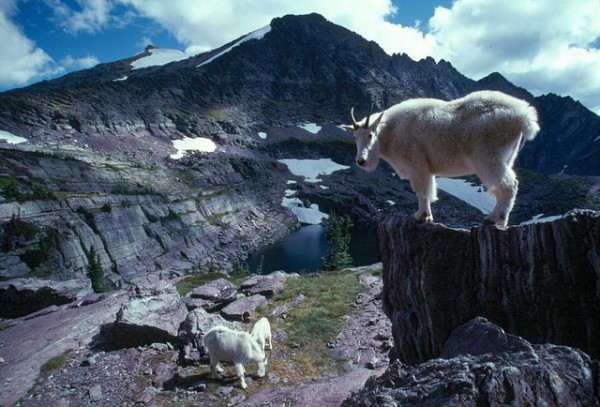 The famous glaciers in Montana's Glacier National Park have been receding drastically over the last few decades due to global warming and are in danger of disappearing in the future. Photo courtesy of U.S. Geological Survey via flickr.com.
Senate Upholds Rule to Reduce Methane Emissions at Drilling Sites on Federal Lands
On May 10, the Senate voted to preserve a rule that would limit methane emissions from oil and natural gas drilling operations on federal lands. The long-awaited vote was taken on one of the last days available for the Senate to leverage the Congressional Review Act (CRA), which has been used this session to repeal several other environmental protections issued under President Obama's executive authority. The rule requires energy companies to capture methane that would otherwise be burned off as a waste product. The resolution to repeal the rule had already passed the House in February, by a vote of 221-191. Senate supporters of the rule prevailed, 51-49, with Republican Senators Susan Collins (ME), Lindsey Graham (SC), and John McCain (AZ) crossing the aisle to ensure its survival. McCain's vote surprised many, with the Senator explaining, "While I am concerned that the BLM rule may be onerous, passage of the resolution would have prevented the federal government, under any administration, from issuing a rule that is 'similar,' according to the plain reading of the Congressional Review Act."
For more information see:
The Hill, Associated Press, NPR
EPA's Mass Dismissal of Science Advisors Feared to Be a Preview of Broader Action
The EPA has dismissed 12 of the 18 members on its Board of Scientific Counselors (BOSC). The board advises EPA's scientific offices on the "rigor and integrity" of its research, in addition to providing expertise on scientific topics. All of the members who were let go had concluded at least one three-year term on the board, but members' terms are typically renewed for an additional period rather than abruptly dropped. An EPA spokesman characterized the terminations as a "clean break with the [Obama administration]," adding that outgoing academic scientists may be replaced with industry representatives. The Trump administration also has proposed an 84 percent budget cut for the EPA's 47-member Science Advisory Board (SAB), while House Republicans have advanced a bill to reform the SAB under the pretense of increasing industry involvement in the regulatory process. University of Michigan professor and SAB member Joseph Arvai, said, "I see the dismissal of the scientists from the BOSC as a test balloon. This is clearly very political, and we should be very concerned if it goes further."
For more information see:
Washington Post, New York Times, E&E News
U.S. Stance on Climate Unnerves Its Fellow Arctic Council Members
On May 11, Secretary of State Rex Tillerson attended a ministerial meeting of the Arctic Council in Fairbanks, Alaska. The session also marks the official transition of the council's rotating chairmanship from the United States to Finland. The council consists of seven other Arctic nations, plus indigenous groups, and serves as an advisory body to facilitate cooperation on the economic and environmental issues facing the region. While no formal talks were scheduled, the topics of climate change and drilling were on the minds of the attendees. According to Assistant Secretary David Balton of the U.S. State Department, "The U.S. will remain engaged in the work the Arctic Council does on climate change throughout. I am very confident there will be no change in that regard." Nonetheless, some of the council's members have expressed concern over the Trump administration's stance toward climate change. The council's joint declaration was reportedly the result of compromise, since it merely noted the Paris Agreement without endorsing it outright. Finnish Foreign Minister Timo Soini said, "The document addresses ... the impacts of climate change and is a most welcome sign of our will to cooperate."
For more information see:
New York Times, Associated Press, Washington Post
International Community Braces for U.S. Decision on Paris, Makes Case for Staying In
On May 8, a ten day round of international climate talks kicked off in Bonn, Germany. The session, a continuation of work for implementing the Paris Climate Agreement, was overshadowed by concerns that the United States may exit the pact or fail to honor its prior commitments. The White House has continued to postpone a final decision on Paris, leaving international delegations an opening to try and persuade the Trump administration to remain at the table. European Union representatives have been strengthening ties with allies to underscore the diplomatic and economic benefits of the agreement, while China has served as a vocal defender of climate action. An EU official stated the United States dropping out would "damage the process," adding, "It's going to be problematic, even a benign disengagement. Because in climate negotiations … you need to push, and the previous administration was definitely instrumental in pushing other economies forward." The United States has a considerably smaller presence in Bonn this year, sending seven delegates compared to 44 in 2016.
For more information see:
Politico, BBC, Washington Post
Africa Is Turning to Coal to Keep Up with Electricity Demand, Facilitated by Chinese Investment
A proposed $2 billion, 1,050 megawatt coal-fired power plant in Kenya has prompted a discussion on how the region can balance new development with environmental protection. The plant would be the first of its kind in East Africa and would be built by a state-owned company, Power Construction Corporation of China. Financing would come from Chinese, South African, and Kenyan sources. The Kenyan government hopes to further industrialize the country and broaden its middle-class by 2030, but the plant brings criticism due to its potential impacts on the region's fishing and tourism industries, as well as a fragile marine environment. This scenario is playing out across Africa, where more than 100 coal-fired plants representing 42.5 gigawatts are planned across 11 countries, with half of those projects receiving funding from China. Sub-Saharan Africa's electricity demand is expected to triple by 2040 and coal represents an inexpensive option there. Richard Muiru at Kenya's Ministry of Energy says that renewable energy projects are not coming online fast enough to meet the nation's projected demand, whereas coal represents "a shot in the arm as we continue to develop our renewables."
For more information see:
Former President Obama Turns Attention Toward Agricultural Greenhouse Gas Emissions in Speech
On May 9, former President Barack Obama gave his first speech outside the United States since departing the White House. Mr. Obama spoke at the Seeds & Chips conference in Milan, Italy about the impact of climate change on agriculture. Addressing the audience of policy makers, investors, and entrepreneurs, Obama noted that agriculture is humanity's second-largest contributor of greenhouse gas emissions, trailing only the energy sector. "Our changing climate is already making it more difficult to produce food. We've already seen shrinking yields and rising food prices," he said. Mr. Obama continued, "When we think about issues like food security or climate change, ultimately politicians can help guide policy, but the energy to bring about change is going to come from what people do every day. It's millions of decisions made individually that have the ability to make changes." In commenting on the Paris Climate Agreement, the former president observed that food production and the agricultural sector's rising emissions were largely left out of the landmark agreement, but that "changing diets around the world" have a lot to do with these trends.
For more information see:
Atlantic City's Low-Income Neighborhoods Are Struggling Without Funding for Climate Adaptation
Low-income neighborhoods across the Eastern Seaboard of the United States are struggling with the impacts of climate change, as more affluent parts of those communities receive an influx of infrastructure investment. In Atlantic City, New Jersey, the U.S. Army Corps is sinking tens of millions of dollars into seawalls and sand dunes to protect the city's casinos and beachfront properties from storm surges and flooding. Meanwhile, municipal budgets are stretched too thin to provide the same level of protection to less affluent neighborhoods. Protective infrastructure like bulkheads and storm drain valves are failing, while Atlantic City's high tides are a foot higher on average than they were a century ago. New Jersey's government has implemented federal grants to help residents move or elevate flood-vulnerable homes, but has trailed in delivering significant solutions for coastal communities. New Jersey Department of Environmental Protection spokesman Bob Considine said, "We expect each town to focus on planning and budgeting for mitigating flooding."
For more information see:
Organizations Are Using the Freedom of Information Act to Restore Access to Federal Climate Data
Environmental advocates and transparency watchdogs are utilizing a 2016 open records provision to access climate change data previously removed from federal websites. The law requires government agencies to make any information digitally available if it is requested at least three times through the Freedom of Information Act (FOIA), as long as it is not otherwise exempt from disclosure. The intent is to make frequently queried information available to the public to streamline the FOIA process. The Center for Biological Diversity, the Center for Media and Democracy, and Prof. Stuart Pimm of Duke University recently filed a request with the Interior Department to acquire federal climate change data that was previously removed from government websites, and which they worry may be destroyed by the Trump administration. The agency has 20 business days to respond to the request. Center for Biological Diversity attorney Amy Atwood, says her organization has received a range of responses from agencies in the past, from cooperation to simply erroneous claims, with denied requests set to be appealed.
For more information see:
Global Warming Is Melting Glacier National Park's Namesake Attraction
According to newly released data from the U.S. Geological Survey, Montana's famous glaciers have shrunk drastically over the last few decades. The 37 named glaciers in Glacier National Park, and two more on U.S. Forest Service land, have been reduced in size by an average of 39 percent since 1966, with some receding as much as 85 percent. Only 26 glaciers larger than 25 acres remain – the minimum size for a body of ice to be deemed a true glacier. In 1910, the region boasted 150 glaciers. Portland State geologist Andrew Fountain observed, "While the shrinkage in Montana is more severe than some other places in the U.S., it is in line with trends that have been happening on a global scale." Fountain added, "This is emblematic of what's happening all over the West." The melting glaciers are expected to have an ecological impact on local aquatic species due to changes in stream water volume, water temperature, and the timing of the run-off. The loss of regional tourism revenue is also a concern, as 2.9 million people visited the park during the summer of 2016, with the glaciers as a major attraction.
For more information see:
Tundra May Be Shifting Alaska to Put Out More Carbon Than It Stores, Study Says
According to a new study sponsored by NASA and NOAA, climate change may be transforming tundra in Alaska and other Arctic regions from a carbon sink into a carbon source. Due to later winters, warmer summers, and other climate impacts, the tundra in Alaska's North Slope has been emitting 73 percent more carbon dioxide than average for October to December during the 2012-2014 study period. Scientists compared today's unseasonably warm temperatures to records from 1973. Higher soil temperatures have also allowed carbon-emitting microbes to remain active for longer stretches during the year. This has created an imbalance between carbon dioxide absorbing plants that photosynthesize during the day and the sub-surface microbes, which can carry on their activities without the sun. Harvard atmospheric scientist and study co-author, Steve Wofsy, said, "Tundra soils appear to be acting as an amplifier of climate change. We need to carefully monitor what it's doing up there, even late in the year when everything looks frozen and dormant."
For more information see:
Headlines
Organization Mails Tens of Thousands of School Teachers Literature Discrediting Climate Science
Report: Six European Union Countries Have Spent Nearly $1 Billion on Coal Subsidies Since 2015
Study: A Majority of Americans Across Every State Supports the Paris Agreement
Thirty-one States Are Experiencing Record-Setting Heat Through 2017 So Far
Bipartisan Group of Retired Senior Military Officers and Experts Urge Secretaries of State and Defense to Address Security Impacts of Climate Change
GOP Lawmakers Introduce Bill to Ease Restrictions for Fossil Fuel Development on Tribal Lands
Events and Briefings
Energy Emergency Preparedness: A Critical Federal-State-Private Sector Partnership
Monday, May 15
12:30 pm - 2:00 pm
Room 334 Cannon House Office Building
Independence Avenue SE and 1st Street, SE
Lunch will be served
The Environmental and Energy Study Institute (EESI) and the National Association of State Energy Officials (NASEO) invite you to a briefing about the key role played by the 56 governor-designated State and Territory Energy Officials, other state agencies, the private sector, and the U.S. Department of Energy (DOE) in mitigating the impacts of and responding to energy supply disruptions (of electricity, natural gas, and petroleum products). Such emergencies, often caused by extreme weather, can pose a threat to public health and safety and can cause lasting economic harm. According to the Congressional Research Service, weather-related outages cost the nation between $25 and $70 billion annually. In this briefing, NASEO and state energy directors will discuss the concept of energy assurance—as well as key mitigation actions—and how State Energy Offices partner with state and local agencies and the private sector to rebuild after a natural disaster, prepare for future emergencies, and improve resiliency with energy efficiency and renewable energy.
Please RSVP to expedite check-in
A live webcast will be streamed at 12:30 PM EDT at www.eesi.org/livecast (wireless connection permitting)
Writer and Editor: Brian La Shier