Climate Change News - March 12, 2018
March 12, 2018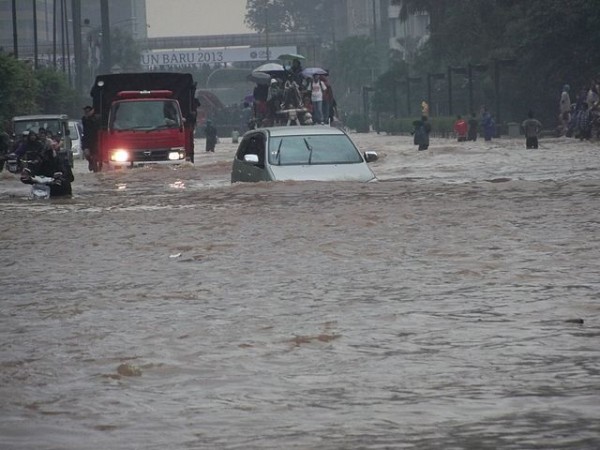 Sea level rise and land subsidence has put millions of people in Indonesia in the path of serious flood hazards. Image courtesy of wikimedia.org.
Federal Flood Insurance Chief Urges All Florida Residents to Purchase a Policy
Speaking at an insurance industry conference, Roy Wright, who manages FEMA's National Flood Insurance Program, said all Floridians should consider themselves at risk of flooding. Wright's point was that the risk is so acute in the state, that rather than relying on flood zone maps, Floridians should hold a flood insurance policy no matter what. Hurricane Irma showed how winds and storms can span for hundreds of miles, nearly covering the entire state. Immediately before Irma, data showed that the number of insured homes in high-risk zones in Florida had decreased by 15 percent over the past five years. Wright said the problem lies partly in flood maps, which can sometimes mislead property-owners on the actual risks. He added, "We really gotta help people move beyond and quit focusing just on the lines. Because nature … pays no attention to the lines." Flood claims in Florida stemming from Hurricane Irma have reached $850 million, totaling 28,000 claims. Private insurers covered another 900,000 claims for other damages, totaling $8 billion.
For more information see:
EPA's Science Advisory Board Has Been Sidelined for Six Months
The Environmental Protection Agency's Science Advisory Board (SAB) has not met since August 2017, with some board members stating they have been intentionally marginalized to avoid any conflicts with EPA Administrator Scott Pruitt's agenda. Agency officials contend the delay is merely the result of delayed paperwork. While the full 45-member SAB has not been able to achieve a quorum, its subcommittees have met in the meantime. SAB would have normally held at least 3-4 conferences at this point in the year. Board chair Michael Honeycutt expects to have a meeting by late May or June 2018. This fall, Pruitt reordered EPA's science advisory boards to open up more seats for industry-affiliated members. Scientists who had received past EPA grants were labeled as having a conflict of interest, a move critics say will result in the departure of independent academics. One current member said Pruitt is "running out the clock" until the end of September, when about a dozen SAB members' terms expire and he can appoint his own advisers.
For more information see:
Aftermath of Hurricane Maria Is Accelerating the Exodus from Puerto Rico
Puerto Rico's population has been declining, due in part to the damage of Hurricane Maria. Residents had been leaving the island even before Hurricane Maria struck, with roughly 500,000 Puerto Ricans departing for the mainland United States over the past decade. Residents have been burdened with power outages, infrastructure failures, and communication lapses left in the hurricane's wake, quickening the pace of migration for those who have the means to leave. Tens of thousands of Puerto Rico's residents have been without electricity for nearly five months. Scandal and mismanagement have plagued the island's bankrupt public utility, while the governor's recent plan to privatize it has led to protests and suspicions. Almost 58,000 homes have nothing more than blue tarps for roofs and more than 437,000 residents have requested financial assistance from FEMA for repairs. Since Puerto Ricans received U.S. citizenship in 1917, they have been moving between the island and the mainland. However, the latest migration trends could end up changing the island's demographics in a more permanent fashion and influence recovery efforts.
For more information see:
Sea Level Rise Threatens Millions in Indonesia
Villages on the north coast of Java, Indonesia are being flooded as a result of man-made environmental degradation and sea level rise. The subsidence of coastal lands has been caused partly by the over-pumping of groundwater to supply large cities, such as Jakarta. With around 40 percent of Jakarta situated below sea level, new walls have been built to defend the city against flooding, but these measures have been ineffective. The recurring flooding is affecting millions of people, forcing them to leave their homes and elevate their belongings. Indonesia is home to about 81,000 km (50,000 miles) of coastline and more than a fifth of the world's mangroves, which can help block the ocean tides. However, over the past 30 years, the number of mangroves has declined significantly due to clear-cutting to make way for fish farming and rice paddies. The Indonesian government has tried to replant the mangroves, build dykes, and relocate residents, but many people are unwilling to leave or have nowhere to go on the crowded island of Java.
For more information see:
Climate Skeptics Occupy Top Posts in Trump Administration
According to a review of the Trump administration's top agency advisors and leaders, at least 20 have a record of disparaging climate science and/or expressing overt skepticism toward the validity of scientific findings on anthropogenic climate change. The roster of vocal climate skeptics includes the president himself, the attorney general, the director of OMB, numerous EPA, Energy, and Interior appointees (including the cabinet secretaries for those agencies), the nominee for NASA administrator, the Homeland Security secretary, and many others. These views accompanied the administration's removal of climate change information from government websites, the dismissal of scientists from agency advisory boards, and the exclusion of climate change from the list of threats in the government's latest national security strategy review. The White House has tried to portray itself as holding moderate views on climate change, telling media outlets that "the climate has changed and is always changing. The administration supports rigorous scientific analysis and debate." However, observers note that this view is both misleading and fails to line up with the administration's real actions and appointments to date.
For more information see:
Interior Officials Continue Attempts to Censor Climate Change Findings
A U.S. Geological Survey (USGS) study warned that "the warming climate has dramatically reduced the size of 39 glaciers in Montana since 1966, some by as much as 85 percent." This conclusion drew criticism from two high-level Interior Department officials, Doug Demenech and Scott Cameron. In an email, Domenech wrote, "This is a perfect example of [agency analysts] going outside their wheelhouse." Cameron characterized the study's language as "inflammatory." The correspondence, revealed through a Freedom of Information Act request, provides a prominent example of Interior's political appointees attempting to insert themselves into the agency's climate science work. According to a policy created during the Trump administration, news releases from Interior must undergo a "policy review" by department officials. Andrew Fountain, a co-author of the study, said, "In short, they just didn't like the idea we found yet more evidence of climate warming. This is what we do. It is our wheelhouse." Agency officials had previously requested language attributing sea level rise to climate change be removed from a news release for a study published in a scientific journal.
For more information see:
U.S. Energy Secretary and European Oil Companies Diverge on Future of Energy
During the CERAWeek conference, held March 7 in Houston, U.S. Secretary of Energy Rick Perry declared a world without fossil fuels would be "immoral," while Shell CEO Ben van Beurden called for the development of renewable energy and greenhouse gas emission reductions in the energy sector. The two speeches showed a widening gap between powerful American and European energy stakeholders. Shell and other European oil companies are supporters of the Paris Agreement and have been actively developing renewable energy projects for their fossil-heavy portfolios. In contrast, Perry firmly leaned into fossil fuels, stating, "We are passionate about renewable energy. But the world, especially developing economies, will continue to need fossil fuels, as over a billion people on the planet live without access to electricity." Some executives at the conference echoed Perry's remarks, dismissing the viability of renewable energy and electric vehicles. Others, such as BP President Robert Dudley, urged the development of carbon capture technologies and carbon pricing.
For more information see:
Increasing the Reflectivity of Structures Could Reduce High Temperatures in Cities
Recent research has shown that cities, which absorb drastically more solar radiation than the countryside, would benefit from coloring dark surfaces with light gray or white materials. For instance, black asphalt reflects only four percent of the sunlight that strikes it, while grassland and white snow can reflect up to 25 and 90 percent, respectively. In New York City, this "urban heat island" effect can increase temperatures 1-3 degrees Celsius warmer relative to rural areas. Research by the National Center for Atmospheric Research found that by raising the reflectivity of a city's roofs from 32 percent to 90 percent, the urban heat island effect would decrease by a third, reducing maximum daytime temperatures by an average of 0.6 degrees C. Additional studies have found that "cool roofs" could reduce temperatures by 1.8 degrees C in cities like Washington, DC. Urban heat islands can also cause nighttime temperatures to remain high, placing stress on vulnerable populations in need of a recovery period from blistering daytime conditions.
For more information see:
Scientists Say Nuclear Fusion Breakthrough Could Be (Relatively) Close
A team of scientists at MIT claim they may have the technology to fast-track a breakthrough in the use of nuclear fusion for commercially-viable energy generation. The team is developing a new class of high-temperature superconductors. The superconductors play a role in producing smaller, more powerful magnets, which create the magnetic field necessary to contain plasma hotter than the center of the sun. The experimental reactor is designed to produce about 100 megawatts of heat, which would theoretically be twice as much energy as it would require to heat the plasma. The potential of positive net energy production would be transformative for the global grid. The nuclear fusion reaction would not produce greenhouse gas emissions or hazardous radioactive waste. While the research team says it could get fusion power on the grid within 15 years, other scientists are skeptical of such a rapid development timeline. Despite this, Prof. Howard Wilson of York University added, "The exciting part of [the project] is the high-field magnets."
For more information see:
Headlines
Trump Administration Failing to Nominate Candidates for EPA, Energy, and Interior Posts, Prompting Concerns
Appeals Court Rejects Administration's Challenge, Rules Youths' Climate Liability Case Can Proceed to Trial in Lower Court
NOAA: Flooding of East Coast Cities to Become More Frequent Over Time
Study: At Least 28 Million Americans May Be Unaware They Live in a Flood Zone
Study Examines Greenhouse Gas Emissions from Consumers, Rather Than Producers
Writers: Jieyi Lu, Joanne Zulinski, and Pietro Morabito
Editor: Brian La Shier