Climate Change News - June 5, 2017
June 5, 2017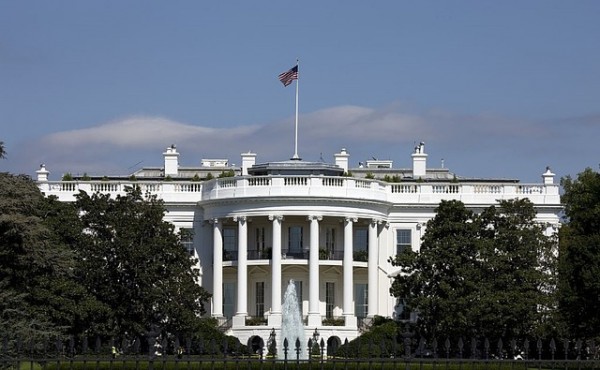 On June 1, President Trump announced the United States would begin procedures to fully withdraw from the Paris Climate Agreement, eliciting universal scorn and disappointment from world leaders. Photo courtesy of pixabay.com.
Trump Calls for U.S. Exit from Paris Agreement; Alliance of Cities, States, and Industries Oppose Move
On June 1, President Trump announced that his administration will move to fully withdraw the United States from the Paris Agreement. The decision set off a torrent of opposition, including the formation of a growing coalition consisting of three governors, 30 mayors, over 80 university presidents, and more than 100 businesses. The still-nameless group will negotiate directly with the United Nations (UN) and hopes to submit its own climate action plan. Former New York City Mayor Michael Bloomberg, who is coordinating the effort, stated, "We're going to do everything America would have done if it had stayed committed." Bloomberg added that the group could even surpass the original U.S. pledge to reduce its greenhouse gas emissions by 26 percent from 2005 levels by 2025. The U.S. is roughly halfway to meeting this goal, but the federal government was expected to play a prominent role in future reductions. There is currently no formal method for a non-country entity to sign on to the agreement, but the coalition's efforts could be integrated into future UN progress reports. The governors of California, New York, and Washington (which make up a fifth of the U.S. economy) also announced they will be forming a coalition of states in support of the Paris Agreement's goals. CEOs Elon Musk of Tesla and Robert Iger of Disney resigned from President Trump's economic advisory council upon learning of his decision on Paris, underscoring the increasingly strained relationship between the White House and business leaders. American companies will still have to meet the stricter emission laws enforced in other countries if they hope to operate abroad and sell their products in international markets.
For more information see:
New York Times, Washington Post
European Union and China Vow Close Cooperation to Fully Implement Paris Agreement; International Community Expresses Disappointment with United States
As President Trump announced the United States would initiate steps to pull out of the Paris Agreement, the European Union (EU) and China issued a joint statement reaffirming their commitment to the treaty. EU Climate Commissioner Miguel Arias Cañete said, "The EU and China are joining forces to forge ahead on the implementation of the Paris agreement and accelerate the global transition to clean energy." The statement declares climate change is a "national security issue" and a "multiplying factor of social and political fragility" in the world. The statement also reiterated the duo's dedication to funding climate initiatives and for pursuing mid-century emission reduction targets. The leaders of Germany, France, and Italy issued a joint statement of their own, expressing their "strongest commitment" to upholding the agreement and urging "all our partners to speed up their action to combat climate change." Representatives of Japan, South Korea, Australia, and New Zealand all expressed regret over the U.S. decision.
For more information see:
Guardian, CNN, Associated Press
U.S. Exit from Paris Agreement Will Harm Chances of Holding Global Temperature Rise to 2 C
The potential policy impacts of the U.S. exit from the Paris Agreement would severely hinder any chance of keeping global warming below the two degrees Celsius target considered to be the climate "danger zone." According to Climate Interactive, removing U.S. emission reductions from climate models would increase projected global temperatures up to 3.6 degrees Celsius by 2100, rather than the anticipated 3.3 C baseline. John Holdren, professor of environmental science and policy at Harvard University, said, "U.S. withdrawal from the Paris Accord would not only be a setback for the prospects of halting global climate change short of the catastrophic level, but it would also reduce U.S. influence in the world on every other issue that Americans should care about." The U.S. withdrawal also raises concerns about climate-related funding and the potential for other countries to follow suit. Michael Grubb, an advisor to the European Union on climate change, remarked, "The loss of U.S. finance would be the biggest headache, and of course the symbolism is not good."
For more information see:
Countries Conspire to Undermine European Union Climate Laws
Under the Paris Agreement, the European Union (EU) agreed to reduce its carbon emissions by 40 percent by 2030. However, some East European member states, particularly Poland and the Czech Republic, have been attempting to subvert these requirements by opening up loopholes and prolonging the use of coal-fired electricity. A proposal from the Czech Republic would reduce its energy efficiency obligations from 1.5 percent to just 0.35 percent. In Poland, where the ruling party views coal as "the foundation" of the country's economic development, a procedure was implemented that, if ratified by a third of EU governments, could block the emission reduction limits proposed in the EU's winter legislative package. According to documents leaked to the press, the United Kingdom has also attempted to weaken the EU efficiency targets, despite their pending departure from the body. Claude Turmes, the European parliament's lead negotiator on climate governance, stated, "We cannot allow backward-looking east EU states to destroy the EU's credibility on the Paris Agreement."
For more information see:
Back-Bay Flooding Presents an Overlooked Hazard for America's Coastal Communities
Millions of people around the world are increasingly experiencing back-bay flooding, which occurs as water moves behind barrier islands and can't drain back out to sea. Although back-bay flooding occurs as often as oceanfront flooding, it receives just a fraction of the government funding. This is because back-bay flooding is much more complicated to resolve than flooding along the coastline, where there is enough space to more easily install sea walls and bulkheads. President Trump's proposed budget would cut a total of $452 million from the National Oceanographic and Atmospheric Administration (NOAA) and the Department of Homeland Security, which could mean fewer funds to study back-bay flooding. Over the next five years, Ocean City, New Jersey will spend $40.3 million to elevate roadways and improve drainage infrastructure, which have effectively reduced flooding in the past. Referring to an earlier back-bay dredging project, Ocean City Mayor Jay Gillian said, "When you talk about $20 million in one seaside resort for just one thing, that speaks volumes about how much these coastal places need."
For more information see:
New England Region's Coal Consumption Is Drawing to a Close
With the closure of Brayton Point Power Station this week, the New England states will become almost entirely free of coal as a power source, bringing the region closer to its goal of cutting carbon emissions 80 percent by 2050. Sharing a common electricity market, New England states have been at the forefront of investing in renewable forms of energy, such as wind, solar, and hydroelectric. However, concerns remain over a continued reliance on natural gas, the hesitancy of Maine and New Hampshire to commit to the carbon emissions goal, and how best to integrate renewable resources into the energy market. Many states view procurement as a cost-effective option, which involves competitive bidding for long-term contracts to develop renewable energy projects. Former Massachusetts state senator Benjamin Downing described procurement as "the best politically viable path forward." Critics of procurement worry that guaranteed state contracts may displace private investment in energy facilities.
For more information see:
Rising Sea Levels Will Make Gulf Coast Storm Surges and Hurricanes Worse
Rising sea levels caused by climate change are causing larger and more frequent storm surges, according to a new study by Climate Central. Ben Strauss, the study's co-author, explained, "Every storm surge today reaches higher because it starts from a higher level, because the sea level is higher." Strauss warned that even a small rise in sea-level can cause significant damage to buildings and infrastructure. Texas' Gulf Coast region, which is experiencing sea level rise at a higher rate than the rest of the United States, could experience additional storm surges of seven inches in the future. A combination of larger storm surges and stronger hurricanes will, according to a January study from the National Oceanic and Atmospheric Administration (NOAA), force the evacuation and resettlement of hundreds of thousands from the Texas Gulf Coast by 2100. Although Texas officials have requested $15 billion to build a storm-surge barrier, the Trump administration's proposed budget significantly cuts funding for projects related to combatting sea level rise.
For more information see:
Urban Heat Island Effect Could Make Cities Significantly Warmer by 2100
Scientists predict some cities may experience a warming of 14.4 degrees Fahrenheit (8 C) by 2100 due to a combination of global warming and the urban heat island effect. Concrete and dark asphalt trap heat in cities, causing them to have higher temperatures than surrounding rural areas. Professor Richard Tol of the University of Sussex states that ignoring this effect "leads to a fairly drastic underestimate of the total impact of climate change." While cities cover just one percent of the earth's surface, they contribute over 60 percent of global carbon emissions and are home to 54 percent of the world's population. This rise in temperature could have significant consequences for public health, reduce worker productivity, and put a strain on water supplies. A study considering the economic costs of warming reported that cities could lose up to 10.9 percent of GDP by 2100. To minimize the impacts of the urban heat island effect, cities can plant more trees, use lighter-colored pavement, and paint rooftops white to reflect sunlight.
For more information see:
High Tides in Hawaii a Harbinger of Future Climate Change Impacts
Scientists are warning that the unusually high tides Hawaii has experienced during the summer of 2017 are no anomaly and are instead a sign of the increasing dangers posed by rising sea levels. The so-called king tides were recorded as high as nine inches above anticipated levels this year and are projected to reach even higher later in the year. The Hawaiian Islands are at grave risk from rising sea levels, with scientists believing the state could see as much as a three-foot increase in sea level by 2100. Chip Fletcher, associate dean of the School of Ocean and Earth Science and Technology at the University of Hawaiʻi, believes these king tides should be considered a "practice run" and that such high tides will become the "new normal" over the next few decades. Concerns about Hawaii's ability to combat these rising tides has led to dozens of "citizen scientists" working with the Hawaii and Pacific Islands Tide Project to document the impact of king tides to help officials better prepare and adapt for the future.
For more information see:
Coral Reefs in U.S. Waters May Disappear within Decades due to Warming Oceans
Despite strong conservation efforts, the National Oceanic and Atmospheric Administration (NOAA) predicts extensive coral bleaching in Hawaii and Florida this year. According to Kim Cobb, an oceanographer at Georgia Tech, "The idea we will sustain reefs in the United States 100 years from now is pure imagination. At the current rate it will be just 20 or 30 years." The world's reefs are viewed as essential marine ecosystems, as they provide food and shelter to many species. Between 2014 and 2015, Hawaii's corals suffered from up to 90 percent bleaching, and 10 percent of corals within the protected Hanauma Bay nature preserve have died. Corals are home to tiny algae that provide corals with food and their vibrant color. High ocean temperatures put stress on corals, causing them to expel the algae and turn white. If exposed to prolonged periods of high temperatures, corals will likely die or be severely weakened. This is cause for concern as each year continues to bring above-average temperatures. As the world's oceans have absorbed over 90 percent of the heat produced from greenhouse gas emissions, scientists are urging climate action to protect coral reefs.
For more information see:
Headlines
Fact-Checking President Trump's Speech on the U.S. Withdrawal from the Paris Agreement
Interior Secretary Approves Initial Steps to Open Alaska's Arctic Wildlife Refuge to Oil Drilling
Pittsburgh's Mayor Says City Will Strive to Meet Paris Goals, Slams Trump's Invocation of Steel City
American Physicians Caution That Climate Change Poses a Clear Risk to Public Health
Report: Over Past Three Years, U.S. Wind Jobs Increased by 100 Percent; Solar by 82 Percent
Iceberg Nearly the Size of Delaware Expected to Break Off from Antarctic Ice Shelf Soon
Events and Briefings
Briefing Recap: Energy Emergency Preparedness - A Critical Federal-State-Private Sector Partnership
On May 15, the Environmental and Energy Study Institute (EESI) and the National Association of State Energy Officials (NASEO) held a briefing about the key role played by the 56 governor-designated State and Territory Energy Officials, other state agencies, the private sector, and the U.S. Department of Energy (DOE) in mitigating the impacts of and responding to energy supply disruptions (of electricity, natural gas, and petroleum products). Such emergencies, often caused by extreme weather, can pose a threat to public health and safety and can cause lasting economic harm. According to the Congressional Research Service, weather-related outages cost the nation between $25 and $70 billion annually.

David Terry, Executive Director of NASEO, discussed the interdependence of emergency preparedness and climate resilience planning. These preparations require expertise and coordination among state, local, and federal leaders, as well as the private sector. David highlighted two U.S. Department of Energy programs that deal with preparedness in Emergency Support Function 12 (Energy) and the U.S. State Energy Program (SEP). Kelley Smith Burk, Director of the Florida Office of Energy, pointed out Florida's unique vulnerabilities to hurricanes. Since nearly all of the state's fuel arrives via port, any disruption to these facilities can have a ripple effect on citizens and services. Kelley explored several case studies and programs Florida has used to strengthen its systems, including collaboration with the U.S. Forest Service and the creation of a state Energy Assurance Plan. Kylah McNabb, Energy Policy Advisor at the Oklahoma Energy Office, underscored the fact that her office runs wholly on funds from U.S. DOE's State Energy Program. The program itself is critical to the state's ability to plan and respond to energy emergencies, including disruptions to electricity production and the region's petroleum industry. Michael Furze, Director of the Washington Energy Office, presented examples of how state energy offices must plan to address different levels of emergencies, such as earthquakes. He emphasized the need for collaboration between state governments and partnerships with local utilities for disaster planning.

For additional details on the briefing, including supporting materials and a full video recording, visit this link.


Briefing Recap: Investing in U.S. Infrastructure for Maximum Dividends
On May 12, the Environmental and Energy Study Institute (EESI) and the National Association of State Energy Officials (NASEO) held a briefing on America's infrastructure needs and the business case for investing in long-term reliability and sustainability. Electric power outages, failing bridges, congested airports, deficient mass transit... all have substantial economic costs. A critical 2016 American Society of Civil Engineers (ASCE) report, Failure to Act: Closing the Infrastructure Investment Gap for America's Economic Future, found that failing to fix and improve our nation's infrastructure will result in $3.9 trillion in lost GDP by 2025, and 2.5 million lost jobs. There are also significant health and safety risks-Flint, MI, is just one example of the tragic consequences of neglected infrastructure.

Tom Smith, Executive Director of the American Society of Civil Engineers, discussed discussed the challenges facing America's built infrastructure across all sectors. He highlighted the work of the American Society of Civil Engineers and their quadrennial report card on the state of America's infrastructure. The cumulative grade for the United States has not moved past a "D" since the report was first published in 1998. U.S. infrastructure today does not even rank in the top 10 internationally. Tom called for dedicated project funding at the local, state, and federal levels; raising the federal motor fuel tax; and streamlining permitting processes without sacrificing environmental protections. John Stanton, CEO and President of the Institute for Sustainable Infrastructure, explored the need to make infrastructure investments more resilient, more energy efficient, and less resource intensive. He noted infrastructure can have a wide-ranging set of impacts on public health, the economy, and quality of life. He showcased the Institute for Sustainable Infrastructure's Envision rating system, a decision-making guide for all civil infrastructure designed to keep up with the rapidly changing field of sustainability. Mariana Silva, an Associate in Infrastructure Planning and Finance at Nathan Associates, emphasized the key role of financing in delivering infrastructure projects. The cost of inadequate infrastructure can add up in the form of power outages, delays from congested roads, and water main breaks. Mariana said planners need to think about how to leverage private capital and that maintenance should also be prominent in conversations about funding. Resilient infrastructure should be integrated into the planning process. Jeremy Marcus, Deputy Chief of Staff to Rep. Matt Cartwright, highlighted the "PREPARE Act," sponsored by Rep. Matt Cartwright (D-PA) and Rep. Leonard Lance (R-NJ), which will soon be reintroduced in the new Congress. The bill would establish a coordination process requiring federal agencies to implement government-wide resilience, preparedness, and risk management priorities.

For additional details on the briefing, including supporting materials and a full video recording, visit this link.
Writers: Sara Tanigawa, James Stanish, and Brian La Shier
Editor: Brian La Shier