Climate Change News - June 26, 2017
June 26, 2017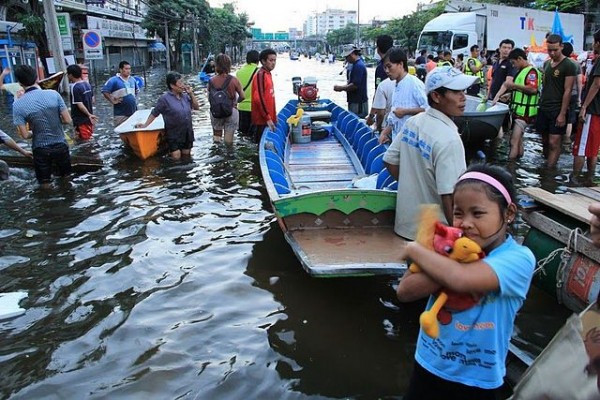 Bangkok, Thailand is working to adapt to more severe flooding, but critics say the city's poorest communities are at risk of being left behind as infrastructure investment increases. Image courtesy of Voice of America via Wikimedia.org.
Utility Executives' Request for Carbon Regulations Met with a Shrug by EPA Administrator
On June 19, over 30 energy industry executives met with EPA Administrator Scott Pruitt to discuss what they would like to see replace the Clean Power Plan (CPP). Assuming the CPP is repealed, many of the executives still requested EPA issue a new carbon emission regulation in its place, albeit a less stringent version. The industry representatives emphasized the need for long-term regulatory certainty for their companies to plan around, while also signaling state governments that the utility sector was going to continue to move away from new coal plants. The industry's concerns were reportedly met with skepticism from Pruitt. Pruitt is thought to be considering a challenge to EPA's endangerment finding, a policy which informs the legal argument for regulating carbon dioxide. According to an industry executive who attended the meeting, "The only time [Pruitt] really perked up was when he heard the word 'coal.' None of our people are ever going to be building a coal plant again. It's devoid of reality."
For more information see:
State Attorneys General Fight EPA on Delay of Methane Emissions Rule
Environmental Protection Agency (EPA) Administrator Scott Pruitt recently initiated a two-year delay of a regulation that would reduce methane emissions produced by the oil and gas industry. The regulation was finalized in 2016 under the Obama administration. In defending the move, Pruitt argued that businesses did not have the opportunity to review the regulations before they were finalized. Now a coalition of 15 state attorneys general are filing a lawsuit claiming the EPA does not have the power to delay the implementation of a rule while the agency is reviewing them. Massachusetts Attorney General Maura Healey, who leads the coalition, said she is taking action to "ensure that the EPA does not roll back the progress we've made to protect our planet." Senators Maria Cantwell (D-WA) and Tom Udall (D-NM) are also pushing back against an Interior Department decision to issue a stay on a similar methane rule.
For more information see:
Houston Faces Catastrophic Flooding Due to Climate Change and Overdevelopment
Houston, Texas, already experiences some of the worst impacts of floods and hurricanes in the United States, and scientists are warning that a combination of climate change and irresponsible development will further exacerbate the problem. Researchers have noted significant flaws in the city's flood defenses, including two aging dams facing a high risk of failure and the conversion of the surrounding landscape from grassy plains to impervious surfaces. Texas A&M professor Sam Brody estimates that "each new square meter of pavement in Houston on average adds $4,000 worth of flood damage." One area of particular concern is the Houston Ship Channel, where experts fear a severe flood could result in millions of gallons of crude oil and chemical substances stored there to be released into surrounding neighborhoods. The multitude of threats has led to the formation of local advocacy groups calling for smarter development and better flood management. Dean Bixler, an activist and resident, said, "The truth is that most of the flooding in Houston is manmade."
For more information see:
Bangkok's Impoverished Communities at Risk of Being Swept Away by Floodwaters
Phrom Samrit, a squatter community along a major canal in Bangkok, Thailand, is struggling with worsening floods. The slum's elected leader, Adirak Sangnut, says floods used to begin after three days of rain, but it now takes "just three hours." In 2011, Bangkok was hit by its worst flooding in 50 years, causing over $45 billion in damages and disrupting international supply chains. Climate change and widespread urbanization are expected to increase the capital's vulnerability to flooding, leading the Bangkok Metropolitan Administration (BMA) to plan 28 flood protection projects at a cost of $765 million dollars. The plans include expanding canals and constructing infrastructure to drain and divert water into the Chao Phraya River. The city has also drafted a resilience strategy to combat the issue. Critics suggest the plan would mostly benefit urban areas, as marginalized groups like farmers, fishermen, and rural residents would continue to experience losses. There is a call to make Bangkok a "sponge city," with more pavement and green space specially designed to take on water.
For more information see:
Coffee Farmers Struggle with Climate Change in Ethiopia
Ethiopia's coffee industry provides a living for 15 million people, but is highly vulnerable to climate change and is already seeing some of its effects. A combination of higher temperatures, less rainfall, and subsequent droughts has resulted in poorer crop yields and an overall decline of coffee-growing regions, with researchers warning as much as 59 percent of these regions could be lost by 2100. Despite the potential for newly suitable coffee growing areas to emerge at higher elevations due to climate change, many smallholder farmers lack the resources to move. Instead, some farmers are being encouraged to switch to more climate-resilient crops such as khat or maize, which can have environmental repercussions due to tree clearing and soil erosion. One promising solution comes from Aaron Davis, a scientist at the Royal Botanical Gardens in London, who advocates for moving coffee farms to currently deforested areas that climate change will make more favorable in the coming decades.
For more information see:
Oil Companies Seek "Conservative Climate Solution" and Protection Against Climate Change Lawsuits
Exxon Mobil and several other large oil corporations have joined Stephen Hawking, Michael Bloomberg, Ratan Tata, and others on the Climate Leadership Council. The council was formed in February 2017 to promote a "conservative climate solution." The council plans to tax $40 per ton of carbon dioxide produced, arguing a market-driven approach would be more effective at reducing greenhouse gas emissions than setting regulations. The plan would return money collected to taxpayers as a "climate dividend," and the council predicts the average American family of four would receive $2,000 after one year. The plan would also protect companies from lawsuits for their climate change contributions. Exxon is currently under investigation for misleading the public about the risk of climate change. Some Democratic leaders and environmental organizations support the plan, to which chief executive of the council Ted Halstead said, "It's hard to argue against a carbon tax that Exxon's in favor of."
For more information see:
Corporations Are Now Some of the Largest Consumers of Renewable Energy in the Nation
Driven by tax breaks and technological advances that have led to lower prices, corporations have become some of the largest consumers of renewable energy in the United States. In 2016, nearly 40 percent of wind contracts and 10 percent of large-market solar projects were backed by corporations (with contributions from universities and the military). The boom is largely due to wind and solar-power costs each dropping by over 65 percent since 2010. Corporations have taken advantage of these cheap prices by entering into long-term power purchase agreements where renewable energy producers supply electricity directly to the grid, which means companies do not need to invest in the technologies themselves. These favorable conditions have led to nearly 100 international companies committing to transitioning to 100 percent renewable energy since 2014. Many of these corporations were also vocal opponents of President Trump's recent decision to withdraw from the Paris Agreement.
For more information see:
Soaring Temperatures May Affect Future Air Travel Plans
In the future, travelers will likely see increased flight cancellations, costs, and turbulence due to climate change. With temperatures reaching 120 degrees Fahrenheit in the southwestern United States recently, American Airlines had to cancel more than 40 flights in and out of Phoenix because the hot air was too thin for smaller planes to create enough lift for take-off. As above-average temperatures become the new normal, more airports may have to cancel or delay flights, or restrict passenger and cargo weight to reduce the amount of lift needed to take off. Stronger winds will also mean increases in turbulence, travel time, and fuel consumption. While airlines have started using more fuel-efficient engines and aerodynamic planes, industry members say more work needs to be done to prepare for the long-term effects of climate change. Industry analyst Robert Mann observed airline companies are in the habit of focusing on "near-term issues," meaning climate change can sometimes be left out of their fleet-wide planning.
For more information see:
European Forest Industry Seeks Pass on Increased Harvesting
To reduce future carbon emissions, the European Union is hoping to cap forest harvesting at levels last experienced between 1990 and 2009. Harvesting above these levels would count towards a country's total emissions. Several countries, including Finland, Poland, Sweden, and Austria, argue they should not be penalized because forests will still absorb more carbon than is released even if harvesting occurs. Forests in Europe have expanded at a rate of 1,500 soccer fields per day for the last 10 years, which the forestry industry attributes to businesses investing in forests with the intention of harvesting in the future. Industry representatives have questioned the motivation to continue these investments if tree harvest limits are put in place. However, researchers say allowing countries to increase harvest rates without penalization would "hide" 300 million metric tons of carbon each year. According to University of Bristol professor Joanna House, "These forest sinks are quite critical to meeting the two-degrees Celsius target under the Paris Agreement."
For more information see:
Climate Change Could Threaten 74 Percent of Global Population with Deadly Heat Waves
According to a new study in Nature Climate Change, prolonged exposure to temperatures above 98.6 degrees Fahrenheit combined with high humidity can create a deadly heat threshold for humans. Nearly a third of the world's population already experiences these conditions for at least 20 days per year. However, if no action is taken to mitigate climate change, deadly heat waves could threaten 74 percent of the population by 2100. For instance, New York City could experience 50 days per year with life-threatening temperatures if greenhouse gas emission levels are not reduced. Recent heat waves can take a steep toll on vulnerable populations, including the elderly. Europe's 2003 heat wave saw 70,000 people perish, while a 1995 incident in Chicago killed 700. These consequences can be multiplied by an increase in urbanization, which reduces vegetation while introducing more heat-trapping asphalt and building materials. University of Hawaii at Manoa biologist Camilo Mora says, "Our options are now between bad or terrible," but "we cannot afford to give up hope."
For more information see:
Dramatic Increase in Great Plains Wildfires Leads to New Challenges for the Region
Wildfires on the Great Plains have dramatically increased in both scope and frequency over the last 30 years, leading to a strain on firefighting resources and costs. According to a new study, the number of wildfires on the Great Plains grew from 33 in 1985 to 117 in 2014, with the total area affected increasing by 400 percent. Although wildfires used to be common on the Great Plains, modern fire prevention techniques have left people unaccustomed to the recent uptick. Michele Steinberg with the National Fire Protection Association noted that this previously low frequency has lulled many people into a "sense of complacency." This rise is believed to be the result of both climate change and human activity, including population growth in fire-prone areas that increases the risk of accidental ignition. The lead author of the study, Victoria Donovan of the University of Nebraska, called the increase "undocumented and unexpected for this region," leaving Plains agencies struggling to secure the funds and personnel to properly combat the growing threat.
For more information see:
Washington Post, Climate Central
Headlines
EPA Dismisses Majority of Its Remaining Science Advisors
Energy Secretary Rick Perry Falsely Believes CO2 Is Not a "Primary Contributor" to Global Warming
Sweden Passes Law to Make the Nation Carbon Neutral by 2045
China's National Carbon Emission Trading Market Set to Take Off in Late 2017
Oil Companies Could Face Stranded Assets Totaling $2.3 Trillion as Global Economy Decarbonizes
Climate Change Is Allowing Invasive Species to Threaten Antarctic Ecosystem
Writers: Sara Tanigawa, James Stanish, and Erin Brown
Editor: Brian La Shier