Climate Change News - June 19, 2017
June 19, 2017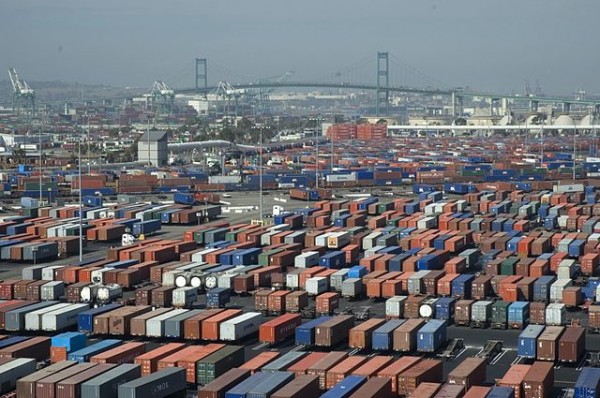 The mayors of Los Angeles and Long Beach signed a joint agreement to shift the Port of Los Angeles toward zero emissions by 2035. The port complex is the largest in the United States. Image courtesy of Wikimedia.org.
Oil and Gas Industry Receives a Pass from EPA on Methane Emissions
The Environmental Protection Agency (EPA) proposed a two-year suspension to a rule that would limit methane emissions from oil and gas drilling sites on private land. The rule, which was finalized in 2016 under the Obama administration, would also set equipment and employee certification standards for the industry. Methane is a greenhouse gas with 25 times the global warming potential of carbon dioxide. In 2015, the San Juan Basin in New Mexico was responsible for 10 percent of all methane emissions related to oil and gas operations. Documents show EPA Administrator Scott Pruitt has a close relationship with Devon Energy, a large oil and gas producer that operates in the Basin. Pruitt also sued against the rule while he was still Oklahoma's attorney general. Drillers argue the rule is "excessive, uneconomic and threatening to the long-term production of oil and natural gas." However, the upper Green River Basin in Wyoming, a state with methane rules enacted versus none in New Mexico, produces twice as much natural gas as the San Juan Basin with only half the methane emissions.
For more information see:
United States Refused to Sign G7 Pledge Calling Paris Agreement "Irreversible"
After distancing the United States from the Paris Agreement, the Trump administration has now refused to sign a G7 pledge calling the agreement "irreversible" and crucial to the "security and prosperity of our planet." The G7 pledge also expresses support for multilateral development banks, which provide funds to poorer nations to lower their greenhouse gas emissions. A footnote to the meeting's report affirms President Trump's position that the Paris agreement undermines the U.S. economy and states the United States will take action on its own to reduce emissions. In a statement defending the country's position, Environmental Protection Agency Administrator Scott Pruitt wrote, "We are resetting the dialogue to say Paris is not the only way forward to making progress." The other G7 countries are open to maintaining conversations with the United States on climate, though Italian Environment Minister Gian Luca Galleti said the accord is "irreversible, non-negotiable, and the only instrument possible to combat climate change."
For more information see:
Mayors Pledge to Move Port of Los Angeles Toward Zero Emissions
On June 12, Los Angeles Mayor Eric Garcetti and Long Beach Mayor Robert Garcia signed an agreement to move the Port of Los Angeles, the nation's largest port complex, toward zero emissions. The pact, which seeks to build off of the 2006 Clean Air Action Plan and follow new regulations from the California Air Resources Board, pledges the port's cargo-handling equipment will reach zero emissions by 2030 and trucks by 2035. This represents the "first attempt at having enforceable and quantifiable milestones" for reducing emissions, according to Nidia Erceg with the Coalition for Clean Air. According to Mayor Garcetti, the agreement is meant to demonstrate a commitment to improving air quality, after recent revelations that the Port had not followed earlier clean air procedures. The port, which primarily runs on diesel, is the largest smog producer in Southern California and has been a target of environmental groups who have been concerned about the health risks it posed. The mayors also acknowledged that despite recent efforts by the Trump Administration to weaken clean air measures, they remained committed to pursuing "environmental justice" for local citizens.
For more information see:
Federal Judge Orders Army Corps to Reevaluate Dakota Access Pipeline Permits
On June 14, U.S. District Court Judge James Boasberg for the District of Columbia issued a decision on permits for the Dakota Access Pipeline. The finding states the U.S. Army Corps failed to adequately account for the detrimental environmental and socio-economic impacts for the controversial project in approving its permits. Judge Boasberg noted, "The government's position on the easement shifted significantly once President Trump assumed office," alluding to political pressures that may have influenced the permitting process. Standing Rock Sioux Tribal Chairman Dave Archambault II said, "We applaud the courts for protecting our laws and regulations from undue political influence and will ask the court to shut down pipeline operations immediately." Three separate violations by the Army Corps were detailed: an analysis of the potential for spills was not fully addressed; risks to tribal hunting and fishing rights were not considered; and environmental justice concerns brought by the Standing Rock Sioux were not accounted for adequately.
For more information see:
India's Prime Minister Calls Renewable Energy the "Foundation of the New Economy"
The world's third-largest carbon emitter, India, is projected to see its greenhouse gas emissions start to level off in the near future. India is quickly becoming a global leader in renewable energy, with its renewable generating capacity doubling to 50 gigawatts in the past five years. India plans to generate over 50 percent of its electricity from renewable sources by 2027. India's government provides several renewable energy incentives, and building wind or solar projects is now cheaper than building a fossil fuel plant. In the state of Tamil Nadu, the Adani Group has installed a 648 megawatt solar plant, one of the largest in the world. The company previously attracted opposition from environmental groups for its involvement with coal mines and coal-fired power plants. Clean energy projects also help conserve water, reduce pollution, and are not built in highly populated areas, making them much more attractive to the public. As renewable energy technologies continue to advance, Prime Minister Narendra Modi said, "The dream of universal access to clean energy is becoming more real. This will be the foundation of the new economy."
For more information see:
Wealthy Nations Called Upon to Increase Their Climate Finance Contributions
The sudden end of U.S. contributions to overseas climate programs has resulted in a funding gap that must be filled by other wealthy nations, according to the chair of the Climate Vulnerable Forum (CVF). The Ethiopian government, which chairs the CVF, cites the "collective nature" of a 2009 agreement signed in Copenhagen in which wealthy nations pledged $100 billion every year toward climate initiatives in impoverished countries. This means that instead of the pledged amount decreasing following the withdrawal of the United States, other countries must pick up the outstanding balance. Even if this newly created funding gap is covered, it may not be enough, as the climate financing effort has only achieved an endowment of $10 billion so far. Some countries are taking steps to fill the funding void. China recently announced a $900 billion green investment plan, while Germany, France, and Italy have declared they will continue to support global climate finance goals.
For more information see:
Management Challenges and a Loss of U.S. Support Are Holding Back the Green Climate Fund
The Green Climate Fund (GCF) was created in 2010 by the United Nations to help developing countries reduce their greenhouse gas emissions and adapt to climate change. Over 40 countries promised $10.3 billion to the GCF in 2013, but so far the fund's administrators approved only $1.3 billion in 2016, falling short of its $2.5 billion target. GCF board members say funding disbursement has been slow because of legal complexities and developed countries that attach numerous stipulations to loans. Under the Obama administration, $1 billion of the U.S. pledge of $3 billion has been paid. The United States actually trails other countries' donations, in terms of per capita dollars, by a significant amount. However, President Trump characterized the GCF as inefficient and has moved to end U.S. contributions. A GCF board member said of Trump's actions, "The fund is like a plane that's taken off but we're still building it in mid-air. That's a risky situation." Payments are voluntary and the GCF has no legal power to collect funds, meaning the United States will simply be listed as in arrears.
For more information see:
The Netherlands Finds Economic Opportunity in Adapting to Sea Level Rise and Flooding
The Netherlands is one of the Europe's most vulnerable countries in terms of sea level rise, but the Dutch have successfully crafted a sophisticated civil engineering approach to tackle climate adaptation across the country. Many common urban features across The Netherlands, such as parks, plazas, and garages, have been designed to double as spare reservoirs during major flooding events. A national program called Room for the River encompasses dozens of projects and years of work to better prepare communities for the impacts of climate change. The program represents a policy shift by the Dutch away from building dams and dikes. Instead, the low-lying nation realized, "We can't just keep building higher levees. We need to give the rivers more places to flow," according to senior government advisor Harold van Waveren. He added, "Protection against climate change is only as strong as the weakest link in the chain, and the chain in our case includes not just the big gates and dams at the sea but a whole philosophy of spatial planning, crisis management, children's education, online apps and public spaces."
For more information see:
Miami Neighborhoods Consider Resilient Redesign to Address Rising Sea Levels
Sea level in Miami, Florida is expected to rise up to five feet by the end of the century, a serious concern for neighborhoods that are currently only three feet above sea level. To accommodate these rising seas, municipalities are considering converting developed areas back into natural spaces — a "resilient redesign" approach popular in Europe. This will require residents to voluntarily sell their homes, and the government will need to find the funds to buy them. The Arch Creek community recently proposed purchasing and tearing down properties in flood-prone areas to return them to marsh. The Shorecrest neighborhood similarly plans to replace vulnerable areas with parks to retain flood waters. Shorecrest also intends to amend zoning laws to discourage development in low-lying areas. Some residents call the plan "delusional," but Miami's chief resilience officer Jane Gilbert argues, "Raising roads? That will be part of the solution. It will have to be. But we're going to look for more holistic solutions."
For more information see:
Dusty Air Chokes Residents Near California's Salton Sea, as State Officials Search for Solutions
The shorelines of California's Salton Sea will recede to dangerously low levels by the end of 2017, allowing dust to blow off the exposed lakebed and worsening air quality in the Imperial Valley region. Imperial County near the Sea has 180,000 residents and the highest rate of asthma-related emergency room visits for children in California. Nearby Coachella Valley's $5 billion tourism industry is also at risk from the dust pollution. High cost estimates have been a barrier to previous proposals to address the environmental degradation around the Sea. Frustrated resident Ruben Dominguez said, "People in Sacramento, they have no idea what we go through over here. They're not breathing in this air." The growing demand for water in Southern California led the county to sell off part of its water share in the Colorado River, leading to less runoff for the Sea. A 17-year drought made competition between western states for the Colorado River's water even more acute. The Imperial Valley's management officials hope to tie the Salton Sea's declining health to broader water negotiations for the west.
For more information see:
Current Carbon Prices Not Enough to Avoid Catastrophic Temperature Increase
A new report by the Carbon Pricing Leadership Coalition warns that existing carbon prices designed to lower emissions are not high enough to avoid a global temperature rise above two degrees Celsius, in accordance with the Paris Agreement's mission. Although over 40 countries, as well as 25 cities, states, and provinces currently use some form of carbon pricing, most operate below $10 USD per ton. The report argues that carbon prices actually need to be between $40-$80 per ton by 2020, and $50-$100 per ton by 2030. Carbon pricing methods vary, with two of the most common forms being carbon taxes on fossil fuels and cap-and-trade systems that allow companies to buy and sell credits to stay under an overall cap on emissions. Although the report shows that significant improvement is needed for the approach to setting carbon prices, Stephanie Hallegatte, a senior economist at the World Bank, said, "There is also a trend with the fraction of emissions covered increasing rapidly in the last few years."
For more information see:
Renewable Electricity Generation Reaches New Heights, as U.S. GDP Decouples from Emission Reductions
According to a report from the U.S. Energy Information Administration, the total monthly electricity generation from wind and solar sources for the United States has exceeded 10 percent for the first time. The milestone occurred in March 2017, with wind constituting eight percent and solar two percent of electricity generation. In addition, a new report from consulting firm M.J. Bradley & Associates highlighted the continued decoupling of America's greenhouse gas emissions and its overall economic growth. The report found that by 2016, carbon emissions for U.S. power generators had declined to levels last recorded in 1990, yet the country's gross domestic product (GDP) continued to grow during that period. The power sector's emissions peaked in 2007, with the decline in emissions driven by the industry's shift to renewable energy sources. In 2015, coal produced only 34 percent of the country's electricity, versus 52 percent in 2006. Dan Bakal of Ceres noted, "You can achieve these [emission] reductions while growing the economy, and trying to reverse these trends would be an uphill battle."
For more information see:
Headlines
Department of Energy to Close Office of International Climate and Technology
Attorneys General from 13 States to Challenge any Rollback of Federal Vehicle Fuel-Efficiency Standards
California Gov. Jerry Brown Named Special United Nations Envoy for Upcoming Climate Conference
Global Demand for Coal Drops for Second Consecutive Year
Oil Industry Continues to Sow Climate Skepticism by Infiltrating Oklahoma's K-12 Curriculum
Urban Sewer Systems Could Be a Boon for Saving Energy on Heating
Lloyd's of London: Insurers Should Reward Investment in Mangroves, Reefs, and Marshes by Coastal Communities
Study: Southeast Asia's Peat Bogs under Threat, Could Shift from Key Carbon Sinks to Emitters
Writers: Sara Tanigawa, James Stanish, and Erin Brown
Editor: Brian La Shier