Climate Change News - June 11, 2018
June 11, 2018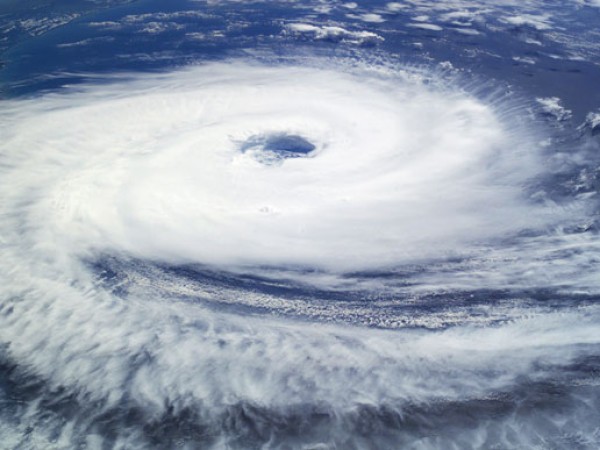 Experts fear that America's current storm forecasting capabilities fall short of what's needed in the face of more severe and frequent hurricanes brought about by climate change. Photo courtesy of NASA.
EPA Seeks Public Comment on Effort to Tear Down Current Cost-Benefit Methodology
On June 7, EPA took an initial step toward altering the cost-benefit calculations it uses to formulate and justify its climate-related regulations. EPA officially opened up its proposal to public comment, signaling a potential series of moves on how the agency conducts one of its core duties. The proposal suggests that EPA may modify or end the practice of considering ancillary benefits that stem from the regulation of fossil fuel emissions. This could result in public health benefits no longer carrying the broad value they currently do. In a press release, EPA Administrator Scott Pruitt said, "Many have complained that the previous administration inflated the benefits and underestimated the costs of its regulations through questionable cost-benefit analysis." Pruitt's claim suggests that he intends to challenge the use of cost-benefit metrics for more than just climate rules. EPA stated that industry groups had previously requested these changes to the regulatory process.
For more information see:
Trump Administration's Coal Directive Could Reshape U.S. Energy Markets
On June 1, President Trump released a directive ordering the Department of Energy (DOE) to prepare recommendations to keep at-risk coal and nuclear electricity generators from retiring. The directive utilizes DOE's emergency and war-time powers under Section 202(c) of the Federal Power Act and the Defense Production Act (DPA). While supporters of the directive claim it provides an argument for the economic value of coal and nuclear, critics fear the action could upend today's competitive electricity market. Former FERC Chairman Jon Wellinghoff said, "Having a significant number of subsidized generating facilities will cause market prices to fall substantially and cause other plants to become uneconomic," leading other segments of the market into bankruptcy while raising the price of energy for customers. There will likely be multiple court challenges to the directive, seeking to characterize it as arbitrary and capricious. Industry experts have stated that the nation's energy system could be made more secure by investing in power grid upgrades and more distributed energy, rather than subsidizing older, centralized generators.
For more information see:
Boston Pursues Climate Adaptation Steps; Critics Call for Greater Urgency
As Boston prepared to host the International Mayors Climate Summit on June 7, city officials declared they would be ready for the climate impacts expected to plague the city down the road. City Planning Deputy Richard McGuinness said, "We know the water is going to be coming in through South Boston, pretty much from every direction, by 2070." The 36 inches of sea level rise, relative to 2000 levels, projected for the city would affect 90,000 residents and 12,000 buildings, while potentially causing $14 billion in economic losses. Critics point to the continued development along Boston's low-lying areas as evidence the city is moving too slowly to adapt. Boston's "climate-ready checklist" provides guidance to developers on how to strategically plan for future adverse conditions, but companies are not required to implement such measures. City officials counter that they're investigating revisions to zoning codes and estimating the cost of major public works projects and neighborhood improvements designed to deal with flooding.
For more information see:
Maryland Farmers Seek Solutions to Salinization, Invasive Species, and Flooding
Maryland contains some of the oldest farmland in America; however, the region is under threat from a rising Atlantic Ocean. For farmer Bob Fitzgerald, encroaching saltwater has killed 15 acres of his soybean crop, now replaced by invasive phragmite plants and degraded soil. Fellow farmer Kevin Anderson said the transformation has harmed his livelihood, stating, "There's 20 acres of farmland that I mortgaged and paid for 20 years ago that's not producing any income now." As the sea is pushed underneath the land and into the groundwater, a briny salt mixture is killing crops from below. Researchers from the University of Maryland have been studying the phenomena in an attempt to help farmers restore the health of their farmland. Wheat, barley, and switchgrass are being tested as potentially restorative and salt-tolerant crops. In the future, farmers may be compensated to set aside their land for conservation. Regardless of these efforts, there appears to be a general consensus that the farming of past centuries may have to be abandoned due to the rising seas.
For more information see:
Pushback from Lignite Industry as Germany Forms Climate Commission
With Germany adamant about meeting its greenhouse gas emission reduction goals, new steps are being taken to transition away from coal-fired electricity. A government-appointed commission has been tasked with developing alternatives to the country's coal mining industry within two years. However, the appointment of the commission's leadership has been postponed three times, a result of clashes between industry and environmental groups. Chancellor Angela Merkel's conservative CDU/CSU parties argue that climate protection should not be prioritized over economic security. According to a recent survey by the University of St. Gallen, 75 percent of Germans support government action to begin transitioning away from coal, but lignite industry labor unions have been vocal opponents of the commission. The unions' strong political ties to the conservative Social Democrats party, paired with upcoming regional elections, has left little motivation for government officials to push the commission forward. If action is taken, the commission is expected to deliver preliminary results by the end of October 2018.
For more information see:
Study: Maintaining Fossil Fuel Investments Could Lead to Major Economic Losses in Future
The decreasing demand for fossil fuels may result in a global economic decline, according to a recent study published in the journal Nature Climate Change. This predicted downturn, caused by a burst in the "carbon bubble," could result in the global loss of one to four trillion dollars by 2035. A separate study found that if the Paris Climate Agreement goals are met, 20 percent of world electric generating capacity could become "stranded assets." The United States, Canada, and Russia would likely suffer the largest economic losses under this predicted shift. Despite a recent trend among companies of divesting from carbon intensive industries, the fossil fuel energy sector still accounts for six percent of global stock markets. The authors note that the movement away from fossil fuels is likely a long-term trend, and a downturn may occur even if the implementation of emission reduction policies were to halt. The authors conclude that if action is taken soon, losses associated with the predicted economic decline could be reduced.
For more information see:
Big-Name U.S. Corporations Leading Renewable Energy Boom
Despite President Trump's decision to pull out of the Paris Climate Agreement, dozens of U.S. companies have stayed committed to their renewable energy goals. Now big-name companies are investing billions of dollars in new wind and solar projects across the country, fueling significant growth in renewable electricity generation. Last year alone, 19 corporations announced deals with energy providers to build 2.78 gigawatts worth of renewable energy capacity. Long-term power purchase agreements between companies and energy providers have proven to be advantageous environmental and financial investments for large firms. However, these arrangements can often be too costly for smaller companies to consider. "Green tariffs" have emerged as a potential solution to this problem, where deals are made with local utilities to pay a fixed price for electricity from a solar or wind farm. The hope is that the momentum created by these companies can have a sizable influence in transforming America's grid, despite an absence of federal oversight.
For more information see:
Market Forces Display Greater Influence on Decarbonization Efforts than Trump Administration
A year after President Trump announced the United States' withdrawal from the Paris Climate Agreement, the rate of greenhouse gas (GHG) emissions in the United States has remained relatively unchanged. Emissions continue to slowly decrease, despite initial fears the withdrawal announcement would usher in a period of increased emission rates. In fact, one independent analysis (the Climate Action Tracker) has recently released an improved assessment of the country's trajectory for reducing GHG emissions – a result of the "continuing reduction of carbon in the electricity sector… driven mainly by market forces, rather than Trump policies." The actual impact of the Trump administration on GHG emissions is unclear, due to this decreased demand for carbon-intensive services and a surge in cities and states implementing their own climate measures to fill a "policy vacuum" at the federal level. Yet, the United States is still not on track to meet its emission reduction targets outlined in the Paris Agreement.
For more information see:
American Storm Forecasting Technology in Need of an Update
A group of storm experts recently met at the National Center for Atmospheric Research (NCAR) to discuss how meteorologists are responding to changes in storm intensity as a result of climate change. The gathering focused on the growing issues regarding severe weather events, which are difficult to forecast with current computer models and often form too quickly to give communities early warning. The current warning system has led to contradictory advice from forecasters about how to survive a storm, resulting in loss of life. U.S. agencies are now seeking ways to make weather predictions earlier by partnering with European agencies to improve modeling capabilities. Meanwhile, private firms have begun to develop new satellite technologies with the hope of selling the resulting data to international government agencies. However, the involvement of private firms has led to questions on whether lifesaving forecasting technology will be shared widely, even when not paid for.
For more information see:
With Stronger Storms on the Rise, Experts Call for New Category Six Designation
The National Oceanic and Atmospheric Administration (NOAA) has published its outlook for the 2018 Atlantic hurricane season, projecting above-average storm activity this year. Scientists point to climate change as the driver of increasing storm frequency and intensity, noting that the number of storms with winds stronger than 155 mph have tripled since 1980. In response to Hurricane Maria's devastation in Puerto Rico, experts are now calling for adding a Category Six to the Saffir-Simpson Hurricane Wind Scale to capture storms with peak winds of 190 mph. Climate scientist Michael Mann of Penn State University said, "The current intensity scale doesn't capture the fact that a 10 mph increase in sustained wind speeds ups the damage potential by 20 percent. That's not a subtle effect. It's one that we can see." The new category could help save lives, in part by guiding efforts to implement disaster preparedness measures that can withstand such storms. Scientists argue that small investments in resilience are critical to preventing future fatalities and catastrophic losses.
For more information see:
Headlines
GAO Releases Agency-Specific Breakdown of Federal Climate-Related Spending
Report: Industrialized Nations Still Spending $100 Billion Annually to Subsidize Fossil Fuel Consumption
Hawaii to Pursue State-Wide Carbon Neutrality by 2045
Pennsylvania to Implement Tougher Air Pollution Standards for Natural Gas Industry
Washington State Continues Pursuit of Carbon Pricing Policy

Writers: Sam Morton, Maria Pfister, and Tim Manning
Editor: Brian La Shier