Climate Change News - February 9, 2015
February 6, 2015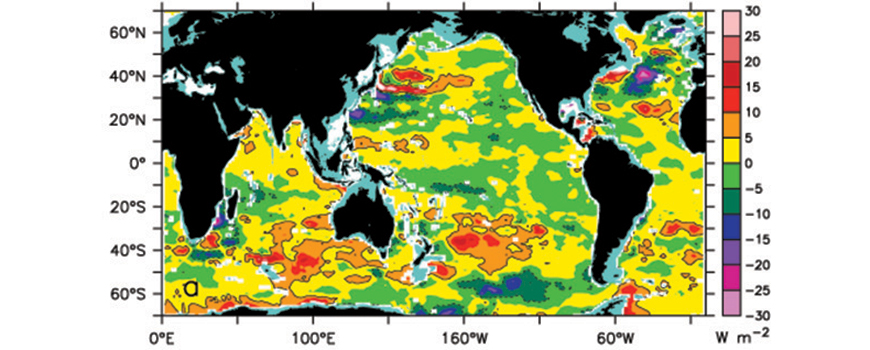 On February 2, Nature Climate Change published a study on rising ocean temperatures, which found that the deepest layers of Earth's oceans hold the vast majority of heat gains from human-induced climate change. This image shows the 2006 to 2013 trends of ocean heat content between zero and 2,000 meters deep, around the world. Image reproduced here with permission from Nature Climate Change.
President Obama's Budget Request Funds Climate Work
On February 2, the White House released its budget for Fiscal Year 2016 (FY16), with funding for a broad range of programs to promote clean energy and increase preparedness to climate change impacts. The budget requests $7.4 billion in funding for clean energy technology, the repeal of $4 billion in annual tax subsidies for fossil fuel producers, and $4 billion in funding to create a Clean Power State Incentive Fund to help states comply with EPA's coming regulation on carbon emissions from existing power plants. The budget also permanently extends the production tax credit (PTC), upon which the wind industry heavily relies; the investment tax credit (ITC), which primarily supports solar power; and creates a new tax credit for carbon capture utilization and storage (CCUS) and carbon capture and sequestration (CCS) projects. The budget includes a $500 million initial investment (of a $3 billion total commitment) to the United Nation's Green Climate Fund.
For more information see:
The National Journal, Responding to Climate Change, Reuters, White House
President Obama Issues Executive Order on Sea Level Rise
On January 30, President Obama signed an Executive Order establishing the 'Federal Flood Risk Management Standard' which will require buildings constructed with Federal funds to take climate change and sea level rise into account. The order states, "It is the policy of the United States to improve the resilience of communities and Federal assets against the impacts of flooding. These impacts are anticipated to increase over time due to the effects of climate change and other threats." This order requires buildings to either add two feet of elevation to base flood elevation levels (a 100-year floodplain) or use data from "best-available, actionable . . . climate science" in building planning. Critical infrastructure such as hospitals and evacuation centers is required to build three feet above base flood elevation levels (equivalent to a 500-year floodplain).
For more information see:
The Washington Post, The Hill, Executive Order
United Nations Agrees 2014 Is World's Hottest Year on Record
On February 2, the United Nation's weather agency, the World Meteorological Organization (WMO), released new data confirming both that 2014 was the hottest year since record keeping began, and that 14 of the 15 hottest years recorded since 1850 have occurred since 2001. Notably, 2014's record temperatures transpired in the absence of a fully developed El Nino, a reaction of above average sea-surface temperatures and atmospheric pressure systems over the Pacific Ocean which has an overall warming effect on the climate. "We expect global warming to continue, giving that rising levels of greenhouse gases in the atmosphere and the increasing heat content of the oceans are committing us to a warmer future," stated WMO Secretary General, Michel Jarraud.
For more information see:
EcoWatch, World Meteorological Organization

NASA Launches Satellite to Help Measure Climate Change Impacts
On January 31, the National Aeronautics and Space Administration (NASA) launched a satellite into low-earth orbit from Vandenberg Air Force Base in California, to measure the Earth's soil moisture more accurately. The new Soil Moisture Active Passive satellite (SMAP), one of five new NASA satellites studying the Earth, is designed to measure and map the moisture levels in topsoil globally. The three year, $916 million mission will better assist scientists in drought and flood prediction, enhance understanding of climate and weather patterns, and improve accounting of how much carbon plants absorb during the annual growing season. "We're looking across all of North America, all over the world, trying to look at these soil moisture patterns and see how they effect(sic) weather regimes, [and] ultimately climate," explained SMAP Program Scientist Jared Entin.
For more information see:
U.S. Scholars Rank Climate Change as Number One Foreign Policy Concern
On February 4, Foreign Policy Magazine published a survey, produced in partnership with the Teaching, Research, and International Policy (TRIP) project at William and Mary, which surveyed prominent international relations professionals about key foreign policy issues for the United States. The survey found 40.96 percent of the International Relations professionals believe that global climate change is the number one foreign policy issue for the United States today, and 45.9 percent believe it will continue to be the most important issue over the next ten years. Global climate change beat other important issues such as armed conflict in the Middle-East, failing or failed states, and China's growing military power, by at least a 14 percent margin.
For more information see:
New Poll Finds Majority of Americans Support Government Action on Climate Change
On January 29, The New York Times, Stanford University, and environmental research group Resources for the Future released a nation-wide poll showing that a majority of Americans, including over half of Republicans, support government action to mitigate climate change. The poll found that 66 percent of respondents and 48 percent of Republican respondents reported they are more likely to vote for a candidate running on a campaign to fight climate change. Jon A. Krosnick, an author of the survey and professor at Stanford University, said the Republican support for a candidate who wants to fight climate change was, "the most powerful finding" of the poll. Eighty-one percent of respondents said they thought climate change was happening "at least in part" due to human activities.
For more information see:
NRDC Releases State Fact Sheets on Health Impacts of Clean Power Plan
On February 4, the Natural Resources Defense Council (NRDC) released fact sheets for seven states on the health risks associated with effects of climate change. The fact sheets express NRDC's strong support for the Environmental Protection Agency's (EPA) proposed Clean Power Plan to reduce carbon emissions from existing power plants, especially in light of their findings of many negative health impacts due to climate change. The fact sheets for Illinois, Iowa, Michigan, Missouri, Ohio, Pennsylvania, and Virginia cover a variety of public health concerns from climate impacts such as extreme heat, worsening air quality, extreme storms and flooding, increased exposure to diseases, and disproportionate risk to young, elderly and low-income populations.
For more information see:
New Report Details Colorado's Vulnerabilities to Climate Change
On February 5, the Western Water Association (WAA) and Colorado State University released a new report, "The Colorado Climate Change Vulnerability Study," outlining global warming-related challenges the state will encounter in seven sectors: water, agriculture, transportation, ecosystems, energy, outdoor recreation and tourism, and public health. Commissioned by the Colorado Energy Office in accordance with the Colorado Legislature's HB13-1293 (a 2013 law requiring the state to study local climate change impacts), the report also analyzes current ways Coloradans are adapting and potential approaches for managing effects of climate change in the future. "Vulnerability is not just a question of how climate change will affect resources in the state, it's also a question of how well Colorado is prepared to deal with changes," said Eric Gordon, co-lead editor of the report and researcher with WAA.
For more information see:
Colorado Public Radio, Report, Press Release
New Study Shows Ocean Temperatures Rising
On February 2, Nature Climate Change published a study on rising ocean temperatures, which found that the deepest layers of Earth's oceans hold the vast majority of heat gains from human-induced climate change. Lead scientist of the study, Dean Roemmich of the Scripps Institution of Oceanography, stated, "The rate of ocean heat gain during the past eight years is not unusual. What is new is that the rate and patterns of ocean heat gain are revealed over a period as short as eight years . . . that the warming signal is shown to extend to 2,000 meters and deeper, and that it is occurring predominantly in the Southern Hemisphere ocean." Scientists used the global Argo network, a system of floats that collect data such as salinity and temperature across all the Earth's oceans, to show that from 2006 to 2013, ocean depths between 500 and 2,000 meters warmed by 0.002 degrees Celsius.
For more information see:
The New York Times, Scripps Institution of Oceanography, The Carbon Brief, Nature
Headlines
=====================
1. White House Budget Request Proposes Moving NOAA out of Commerce Department
2. Climate Models Have Not Overestimated Global Warming
3. Op-Ed by EPA Administrator and Rev. Yearwood Jr. on Environmental Justice
4. League of Conservation Voters Releases 2015 Senate Environmental Scorecard
5. China Plans National Carbon Market in 2016
Events
=====================
1. EDTA and EESI Briefing - Tuesday, February 10, 2015 on Capitol Hill
The Electric Drive Transportation Association (EDTA) and the Environmental and Energy Study Institute (EESI) invite you to a briefing discussing the road ahead for electric drive vehicles: what can we expect in the market over the coming years and what role will federal and regional leaders play in speeding access to next generation transportation options? Policymakers and industry leaders will provide their expert insights, and a moderated Q&A will follow.
10:00 AM – 11:30 AM
Capitol Visitor Center Auditorium
Please email Michael Wilbur at MWilbur@electricdrive.org to RSVP.
Authors: Rachael Shook, Samuel Beirne, and Caitlin Madera
Editor: Laura Small