Climate Change News - February 11, 2019
February 11, 2019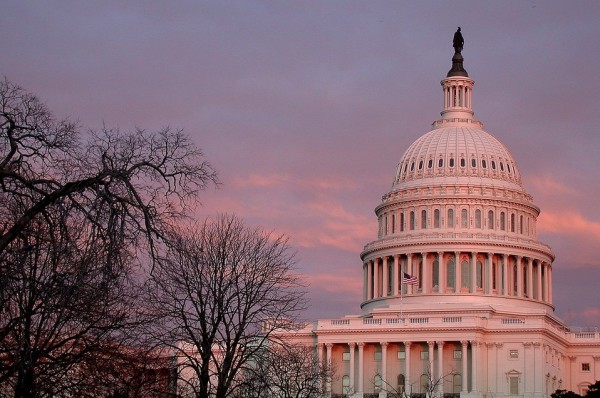 A series of House committee hearings have sparked a dialogue on climate change issues on the Hill. Image courtesy of BLM.
House Committees Showcase Climate Change Issues
Following the President's State of the Union address on February 5 when he avoided discussing the climate, two Congressional committees met the next day on that very topic. Rep. Raúl Grijalva (D-AZ), chairman of the House Committee on Natural Resources, remarked, "Today, we turn the page on this committee from climate change denial to climate action." The committee heard testimony from Gov. Charlie Baker (R) of Massachusetts and Gov. Roy Cooper (D) of North Carolina. Baker said that his state does not see climate change as a partisan issue, but rather a scientific one where they must consider the facts. Massachusetts experienced four nor'easter storms last year which caused major flooding. Similarly, Cooper added that North Carolina has had two "500-year" flooding events within two years. At the Subcommittee on Environment and Climate Change hearing, witnesses spoke of the impact that climate change would have on America's GDP by the end of the century, as well as the potential for loss of life due to worsening natural disasters.
For more information see:
Introduction of Green New Deal Sparks Discussions on Capitol Hill
On February 7, Rep. Alexandria Ocasio-Cortez (D-NY) and Sen. Ed Markey (D-MA) introduced a nonbinding resolution outlining the wide-ranging and long-anticipated "Green New Deal." Since the resolution's passage would not lead to the creation of actual programs, its introduction is meant to provide a roadmap for future legislative action. Although some of the core ideas outlined in the resolution date back to the early-2000s, Ocasio-Cortez's camp has sought to advance a legislative framework that focuses on zeroing out U.S. carbon emissions by 2030, while simultaneously growing the nation's economy. The resolution calls for reforms in transportation, agriculture, health care, and infrastructure over a ten-year period. The proposal has its share of supporters in the climate science community, but its aggressive timelines have also drawn critiques. Jesse Jenkins, a postdoctoral fellow at Harvard University, said, "Where we need to be targeting really is a net-zero carbon economy by about 2050, which itself is an enormous challenge and will require reductions in carbon emissions much faster than have been achieved historically." Additional concerns persist about how the proposal's progressive economic programs, such as universal health care and a job guarantee, may play in a divided Congress. House Leader Nancy Pelosi (D-CA) described the proposal as "one of several" suggestions party leaders expect to consider this session.
For more information see:
Navy Braces for Sea Level Rise in Washington, DC, Proposes 14-Foot Flood Wall
The U.S. Navy is considering the construction of a 14-foot flood wall around a historic facility in Washington, DC to guard against future sea level rise. The Washington Navy Yard along the Anacostia River was established in 1799 and has served several purposes, including shipbuilding and ordinance manufacturing. The facility currently houses the high-ranking offices for naval operations, engineering, and law enforcement. The Navy Yard is expected to suffer from chronic flooding by 2060 and was identified as one of several military installations threatened by climate change. The 1.5 mile proposed flood wall could cost up to $20 million and would primarily protect three dozen buildings on part of the base. The project has been under consideration since 2016, but was recently reported on through a public-records request. The Navy has been forward-thinking on its preparations for climate change and published a "handbook" in 2017 to "identify and assess adaptation action alternatives to manage potential impacts to current and planned infrastructure."
For more information see:
California's Car-Dependency Creating Speed Bumps for Emission Reduction Efforts
Currently, transportation is tied with power generation, at 28 percent, as the leading source of carbon dioxide emissions in the United States. In California, the transportation sector makes up 40 percent of emissions, making it a critical component if the state is going to try to achieve its goal of reducing its overall emissions by 40 percent by 2030. Last year, California committed to putting five million electric vehicles on the road by 2030 and has also increased funding for public transportation by 60 percent over the past decade. Despite the installation of these policy goals, lowering carbon emissions from transportation (specifically tailpipe emissions), will ultimately require Californians to drive less. However, convincing more people to drive less is especially challenging for cities that feature such car-oriented layouts. As cities across the country continue to grow and expand outwards, the issue of transportation emissions may only be further exacerbated. Hasan Ikhrata, executive director of the San Diego Association of Governments, said, "If we keep thinking we are going to overcome a 1950s system overnight, that's wrong."
For more information see:
Democrats in Texas Forced to Balance Climate and Oil Industry Politics
Discussions about climate change have taken off on Capitol Hill behind a series of climate-focused committee hearings and the introduction of the "Green New Deal" framework by Rep. Alexandria Ocasio-Cortez (D-NY) and Sen. Ed Markey (D-MA). While the party as a whole has long championed climate policies, Texas Democrats have often had to take a more moderate stance, not wanting to draw negative attention from an oil and gas industry that remains a central part of the state's economy. Luke Metzger, director of the advocacy group Environment Texas, is among those who calls decarbonizing the American economy "absolutely necessary," but that coming up with a plan that appeals to Texans could prove challenging. Metzger explained, "Texas is different than California and New York. The pressures are different." Despite adding congressional seats during the 2018 midterm election, Democrats are still wary of losing the independent voters that allowed those gains to happen.
For more information see:
Billion Dollar Disasters on the Rise in the United States
According to NOAA, there were a total of 14 disasters in the United States in 2018 that cost more than a billion dollars and caused the deaths of at least 247 people. Clocking in at a total of $91 billion dollars, 2018 still trails the $306 billion in losses caused by disasters in 2017. A large portion ($73 billion) of the 2018 cost is attributed to three main disasters: Hurricane Florence, Hurricane Michael, and a series of wildfires in California. Researchers suspect that the number of billion-dollar disasters will rise as climate change becomes more severe. Between 1980 and 2013, the number of billion-dollar disasters averaged nearly half a dozen, but the average is now well over 12 per year. The Rhodium Group estimates that by 2030, the cost of nor'easters and hurricanes could become $3 billion to $7.3 billion more expensive each year if no action is taken.
For more information see:
Climate Change Threatening Continued Existence of Himalayan Ice Caps
A new report, developed by more than 200 scientists over a five-year period, concluded that even if global warming is limited to a 1.5 degree Celsius increase from pre-industrial levels by 2100, the glaciers covering the Himalayan mountain range will lose one-third of their volume. Furthermore, if global warming exceeds that 1.5 C threshold and emissions are not reduced, the glaciers could lose two-thirds of their current volume. The glaciers serve as a key water source for 250 million residents of the Hindu Kush-Himalaya region. An additional 1.65 billion people across India, Pakistan, China, and elsewhere depend on river systems fed by the glacial melt-waters. The increased melting may also cause mass-flooding, and if warming continues, the risk of drought could emerge. The affected region stretches from Afghanistan to Myanmar. Many mountain residents are already facing economic hardships, with one-third living on less than $1.90 a day. Hamish Pritchard, a glaciologist at the British Antarctic Survey, observed, "Take the ice away and those people are exposed to serious water stress and the consequences of that are local, regional and potentially global, in terms of conflict and migration."
For more information see:
Reports: 2018 was the Fourth-Hottest Year on Record
Since pre-industrial America, there has been a correlation between greenhouse gas emissions and rising global temperatures. NASA and the National Oceanographic Atmospheric Administration (NOAA) both concluded that 2018 was the world's fourth-hottest year in nearly 140 years of records. While the two reports remain fairly consistent between temperatures and methodologies, they disagree about whether 2017 is the second or third hottest year. Despite the discrepancy, climate scientists agree that the warming is having catastrophic effects on weather and the intensity and frequency of disasters. 2017 was the most expensive year, in terms of disaster cost, but 2018 still had $91 billion in total disaster costs. For instance, Professor Nicholas Golledge of New Zealand's Victoria University noted that the melting of glaciers could lead to warmer waters in the Gulf of Mexico and potentially more hurricanes. According to NOAA, 2018 marked the first time on record that the average cost of wildfires have exceeded the average cost of hurricane damages in the United States.
For more information see:
Headlines
Officials Struggle to Paint Clear Picture of How Much U.S. Government Spends on Climate Change
Brexit May Force Ireland to Pause Its National Carbon Emission Reduction Plan
Researchers Find Public Interest in Climate Action Follows Political Tides
Verizon Sees Strong Opening for Billion-Dollar Green Bond Market for Sustainable Investments
Study: Global Warming Could Double Number of Lakes that Freeze Intermittently

Writers: Cameron Bechtold and Nicolette Santos
Editor: Brian La Shier