Climate Change News - December 3, 2018
December 3, 2018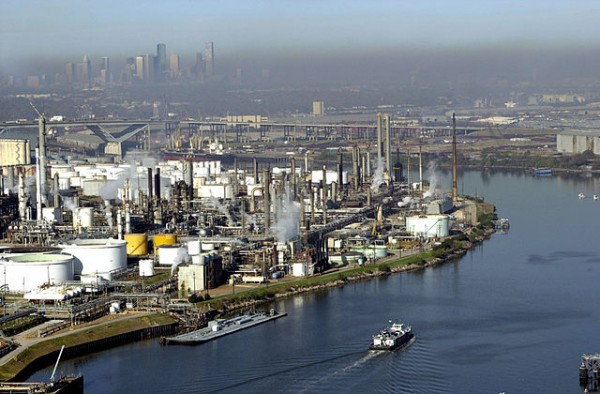 As the Texas petroleum industry rebuilds and expands its infrastructure after Hurricane Harvey, observers question whether the Gulf Coast is adequately taking climate mitigation and resilience concerns into account. Image courtesy of U.S. Coast Guard via wikipedia.org.
Trump Administration Tries to Hide Key Federal Climate Report on Black Friday
White House officials are downplaying the conclusions laid out by the administration's own National Climate Assessment (NCA), which was released on November 23. The fourth edition of the report involved collaboration among 13 federal agencies and more than 300 authors over a two year period. The NCA's findings directly contradict many assertions made by the administration, including that California's recent wildfires were caused primarily by "poor forest management." The report states that "the area burned by wildfire from 1984 to 2015 was twice what would have burned had climate change not occurred." The White House claims that the report's findings are largely based on the most extreme scenarios, but NCA author Dr. Katharine Hayhoe replied, "I wrote the climate scenarios chapter myself so I can confirm it considers ALL scenarios, from those where we go carbon negative before end of century to those where carbon emissions continue to rise." Some of the report's authors noted that it was suddenly released weeks earlier, on the Friday after the Thanksgiving holiday, to try and minimize press coverage.
For more information see:
Report: Nearly a Quarter of U.S. Greenhouse Gas Emissions Come from Public Lands
On November 23, the Trump Administration discreetly published a new report from the U.S. Geological Survey (USGS) that found about one-quarter of all U.S. carbon emissions come from fossil fuel extraction operations on public lands. The report measured national carbon emissions between 2005 and 2014 and calculated that 23.7 percent of those emissions were generated on public lands by the mining, drilling, refining, and transporting of fossil fuels. Coal-fired power plants on public lands were responsible for 60 percent of those emissions. Out of the 28 states (plus offshore regions in the Gulf of Mexico and the Pacific) where these activities took place, 57.7 percent came from Wyoming alone, with the Gulf ranking second at 19 percent. Overall, public lands also contributed 7.3 percent of the country's methane emissions and 1.5 percent of its nitrous oxide. The administration has sought to roll back federal methane emission regulations while promoting the development of natural resources on federally held lands, particularly coal mining.
For more information see:
Legislators Reach Impasse on National Flood Insurance Program Reform
The National Flood Insurance Program (NFIP), which provides subsidized insurance for homes in flood-prone areas, was due to expire at midnight on November 30. Congress passed a one-week extension for the program, but lawmakers are deadlocked over potential reforms. NFIP is heavily in debt and has been hit hard by an overwhelming string of floods and storms in recent years. One of the main sticking points is a Republican-supported effort to cut out subsidies that suppress the financial risk of living in a known flood plain. The proposal lines up with a recent federal climate report that suggested coastal communities could partly adapt to sea level rise by restricting new development in high-risk flood zones or abandoning those areas completely. Sen. Mike Lee (R-UT) argued there is a disconnect between Democrats' climate action and the subsidization of buildings in flood plains. Sen. Sheldon Whitehouse (D-RI) called the coverage cuts unfair, stating, "We subsidize crop insurance. We certainly subsidize the oil companies...The concept of protection [for homeowners] doesn't rankle me."
For more information see:
California Ramps Up Investment in Wildfire Prevention Measures
California's Camp Fire began on November 8 and went on to become the deadliest and most destructive fire in the state's history. Even before the disaster, state legislators were working to improve California's wildfire defenses. Assemblyman Jim Wood served on the committee that developed Senate Bill 901, which allocated a billion dollars for wildfire prevention and safety over a multi-year period. The program funds will come from the state's cap-and-trade program, which conducts quarterly emission allowance auctions. Wood said, "These fires emit huge amounts of greenhouse gases. All the other efforts we do to diminish greenhouse gases through regulations for cars, trucks, and businesses get wiped out by these fires. So why are we not spending even modest amounts of money on this?" Development of the bill leading up to its August 2018 passage was contentious and ultimately included a concession allowing California utilities to pass on some of their wildfire-liability costs to ratepayers. In an April report, the California Legislative Analyst Office estimated that $280 million per year would be necessary to meet future wildfire prevention needs.
For more information see:
DC Council Grants Initial Approval to Clean Energy Bill
The District of Columbia's governing council granted unanimous initial approval to an ambitious climate change bill. The "Clean Energy DC Act" would require all energy sold in Washington to come from renewable sources within 15 years. The timeline for the city's proposed clean energy transition would rank among the most aggressive in the country. The proposal consists of a package of individual measures that would collectively cut the city's emissions in half by 2032 and reduce all of its carbon emissions by 2050. Some activists had requested the bill feature a carbon tax, while utilities and business interests argued against a tax. An earlier draft included a provision that would require the utility Pepco to enter into long-term purchasing agreements for renewable energy, but it was removed in committee. The current iteration of the bill would expand DC's renewable portfolio standard, strengthen energy standards for new and existing buildings, finance green energy projects through a Green Bank supported by a "sustainable energy trust fund fee," and tie vehicle excise taxes to efficiency standards to reduce transit emissions. A final vote is expected in December.
For more information see:
Brazil Drops Out as Host of 2019 United Nations Climate Summit
The Brazilian government has abandoned its commitment to host the annual United Nations Conference of the Parties, which had been slated for either November or December 2019. The sudden move follows the election of Jair Bolsonaro as the country's new president. Bolsonaro has been a vocal skeptic of climate change and the Paris Agreement, in addition to being against environmental conservation and indigenous rights. The government informed UNFCCC Executive Secretary Patricia Espinosa of the cancellation on November 26, citing "fiscal and budgetary constraints" and the ongoing government transition. The UN summit is hosted on a rotating regional basis, with COP25 allocated to either a Latin American or Caribbean nation for 2019. The regional group awarded Brazil's bid for the summit in October. A potential backup option is to hold the event at the UN's climate headquarters in Bonn, Germany. Bonn last hosted a full COP in 2017, when Fiji took on political leadership of the event and Germany handled logistical support.
For more information see:
Defense Department Renewable Energy Pursuits Slow Under Trump Administration
According to former Pentagon officials, the Trump administration has slowed the installation of renewable energy-based micogrids on military facilities, in addition to stripping out renewables from future plans. Out of more than 70 bases that partnered with electric utilities on solar energy projects, only a couple dozen bases have actually incorporated the technology into microgrid configurations. The microgrid systems use multiple kinds of energy resources to supply power in the event of a power outage and were meant to replace costly and aging backup diesel generators. Microgrids feature large-scale battery storage tied to a mix of solar, biomass, wind, geothermal, or other sources. Former assistant Navy secretary Dennis McGinn said the slowdown has left him "concerned" and "frustrated," adding that private-sector technologies are charging ahead even as the Defense Department delays its investment in the latest energy systems. The 55,000 new solar panels at Camp Lejeune are among the assets that have yet to be integrated into emergency microgrid systems, rendering them useless during power outages caused by Hurricane Florence.
For more information see:
Gulf's Booming Petroleum Industry Raises Climate Resilience and Emission Concerns
Proposals to construct new crude-oil export and processing facilities along Texas's Gulf Coast following the devastation of Hurricane Harvey has sparked a debate over how to balance economic and climate concerns in the region. Texas is home to some of the most productive oilfields in the United States and currently has more than 80 oil refineries, terminals, and other projects in various stages of development all along the coast. The lifting of decades-old federal restrictions on crude oil exports by Congress in 2015 have contributed to the building boom. Most of the projects are centered around Houston and Corpus Christi. While the petroleum industry has generated new jobs for those cities, the effects of climate change were also felt. Hurricane Harvey brought record rainfall to Houston, damaged hundreds of thousands of homes, and caused numerous industrial accidents at petroleum and chemical sites. Many of the region's new facilities are located in Harvey's impact zone. Eric Schaeffer, executive director of the Environmental Integrity Project, said, "There is some irony…in having all these greenhouse-gas emitters being the most vulnerable to climate change, but there are a lot of people living around them, and it's not such a good deal for them."
For more information see:
Report: Climate Change at Center of Emerging Global Health Crisis
According to a new assessment published in the medical journal The Lancet, the slow pace of reducing greenhouse gas emissions to address climate change is endangering public health. The report was produced by a coalition of doctors, researchers, and policy experts from across international organizations, including the World Health Organization. Heat waves and infectious diseases were cited as two of the gravest near-term threats, especially for vulnerable populations like the elderly and outdoor laborers. Early warning signs named in the report included the spread of vector-borne diseases, work hours lost to extreme heat, and a decline in food security. In India, productivity lost to potentially deadly heat was equivalent to an entire year's worth of work for seven percent of the country's working population. According to the authors, these trends present "an unacceptably high level of risk for the current and future health of populations across the world." The report also warned of disruptions to "core public health infrastructure."
For more information see:
Headlines
Legislators Introduce Bipartisan Carbon Tax Bill in U.S. House
World Meteorological Organization: Global Greenhouse Gas Emissions Reach Record Levels
Draft Statement from G20 Conference Sidesteps Strong Support of International Climate Action
Report: Indigenous Peoples Face Unique and Disproportionate Risks from Climate Change
Report: More Than 40 Percent of World's Coal Plants Operate at a Loss
Editor: Brian La Shier