Climate Change News - April 24, 2017
April 24, 2017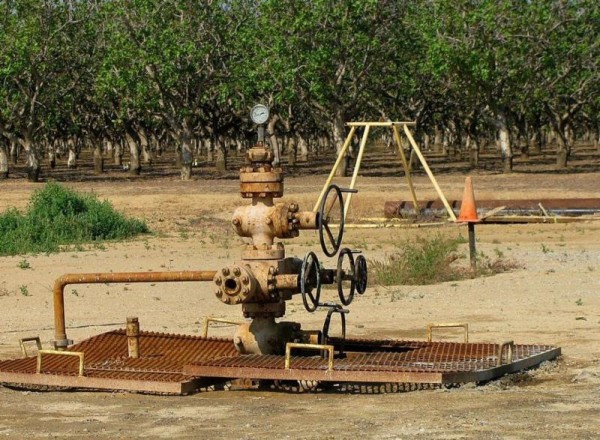 The Trump administration has placed a 90-day stay on an EPA rule meant to prevent rogue methane emissions from new oil and gas wells, lifting the previously obligatory compliance for industry. Photo courtesy of Antandrus via wikimedia.org.
EPA to Pause and "Reconsider" Methane Regulation for New Oil and Gas Wells
In an April 19 letter, EPA Administrator Scott Pruitt informed oil and gas industry representatives that the agency will formally reconsider a regulation meant to reduce methane emissions from new oil and gas wells. A 90-day stay will be placed on the rule, freeing industry from compliance during that period. The Obama administration regulation was finalized in May 2016 and would have reduced methane emissions at the affected facilities by a CO2-equivalent of 11 million metric tons if fully implemented. As attorney general of Oklahoma, Scott Pruitt sued the EPA over the methane standard. The oil and gas industry also argued against the regulation, claiming it would be redundant, citing a financial incentive to capture and sell the rogue methane emissions. Michelle Robinson with the Union of Concerned Scientists said, "Methane is an incredibly potent greenhouse gas, and the scale of methane emissions from oil and gas production is enormous. There are proven, low-cost ways to capture methane ... and the last administration put in place standards to make sure we do just that. It makes no sense for Administrator Pruitt to put those rules at risk."
For more information see:
Trump Administration's Waffling on Paris Treaty Causes Signatories to Deploy Transparency Measures
The international community is beginning to apply pressure to the Trump administration over its indecisiveness toward the climate commitments. The Obama administration had submitted a report on the country's progress toward its 2020 emission reduction targets in fulfillment of the Paris Climate Agreement, but those policy mechanisms have since come under fire or been halted by the Trump administration. In response, China, Brazil, Japan, the United Kingdom, and the European Union have formally submitted questions to the United Nations requesting the United States provide information on how it will now meet its short-term emission reduction goals. The questions were filed using an oversight system meant to hold the treaty participants accountable and promote transparency. The United States is supposed to respond to the inquiries by the end of April, or it risks sparking a confrontation at the next climate negotiation meeting in Bonn, Germany in May. The White House was scheduled to convene high-level advisors on April 18 to address whether the United States should remain involved in the Paris Treaty, but the meeting was abruptly canceled.
For more information see:
Heated Political Climate in California's Assembly May Put Cap and Trade Extension on Ice
After California narrowly passed a $52 billion road repair bill last week, political officials and observers expect an attempt to extend the state's cap and trade system will face even tougher resistance. Despite Democrats holding a supermajority in both chambers, the state's requirement of a two-thirds vote on budgets and tax increases led to the passage of the transit bill by the narrowest possible margin. Governor Jerry Brown (D) has called on the legislature to move forward with a reauthorization of the cap and trade program to "remove any cloud of perceived legal uncertainty about the continuation of cap and trade beyond 2020." The governor and other proponents worry that a 2010 ballot initiative requiring regulatory fees to receive a two-thirds vote could be applied to the program. Other supporters have expressed concern that concessions given to pass recent environmental laws, including a softening of future anti-pollution regulations for the trucking industry, are "constantly at the expense of environmental justice." Politically, cap and trade advocates disagree on the optimal time to push for passage, with some asserting that waiting until the 2018 election season makes it harder and others are wary of waging back-to-back supermajority campaigns.
For more information see:
Persistent Flooding Haunts Coastal Residents, while Flood Insurance Premiums Skyrocket
The residents of Norfolk, Virginia are wrestling with how to protect their homes, businesses, and infrastructure from rapidly encroaching seas. The region is experiencing the fastest rate of relative sea level rise on the Atlantic coast, making it much more common for storms and tides to flood neighborhoods that would have previously gone undamaged. As major flooding becomes more frequent, the cost of covering a home under the National Flood Insurance Program (NFIP) has drastically increased. Private companies have historically stayed out of the flood insurance business, leaving the task to an overwhelmed federal government. City officials have pursued forward-looking policies, such as requiring new construction to be elevated. However, Norfolk's aged and established infrastructure makes adaptation difficult. A Dutch engineering firm estimated $1 billion in upgrades would be necessary to implement a full-scale adaptation plan, with half of that going toward existing infrastructure. City planning director George Homewood said, "We absolutely cannot protect 200 miles of coastline. We have to pick those areas we should armor, and the places where we're going to let the water be."
For more information see:
As Seas and Real Estate Prices Rise, Boston Home Buyers Wonder if They'll be Underwater One Way or the Other
A report commissioned by the government of Boston outlines how climate change will impact the area, including many of its residential properties. While two-thirds of Americans say they worry a fair to great amount about climate change, the resurgence of the real estate market has motivated some Boston area home buyers to purchase properties in high-risk flood zones. In the rush to secure a home, some buyers are willing to downplay risks as "too far away for me to worry about," explains Nela Richardson, chief economist at Redfin. Local observers say that this risky behavior is also caused by a combination of other factors including poor guidance by realtors, a lack of knowledge about climate risks, and overconfidence in the local government's adaptation measures. This short-term decision-making, asserts real estate broker Jim McGue, has lasting consequences for home-owners because "once FEMA's in your pocket [for flood insurance] they're not coming out." To mitigate these risks, experts recommend that prospective homeowners consult FEMA flood maps to identify whether the property is in a low- or high-risk flood zone.
For more information see:
Warmer Weather Is Allowing Zika-Carrying Mosquitoes to Expand Their Range Across the United States
Global warming is expected to bring an increase in mosquito-borne diseases to the United States, with the initial impact already reflected in the recent Zika virus scare. At least one resident in every state (except Alaska) has contracted Zika, a total of 5,200 cases. While most of the infected individuals were exposed to the disease while traveling outside the country, over 220 people caught the virus from mosquitoes in the United States. The Aedes aegypti species of mosquito that carries Zika is present in over 25 states, and scientists worry that the warming weather and a lack of preparedness in cities may lay the groundwork for a future epidemic. In 10 American cities, the mosquito season has already been extended by more than a month due to warmer temperatures. According to Nikos Vasilakis, a Zika researcher at the University of Texas Medical Branch, "Climate change is certainly expanding the geographic range of mosquito species, and inevitably the diseases follow them."
For more information see:
For Canadian Towns, Climate Change Is Especially Personal as the Ground Melts Beneath Their Feet
Communities across Canada are seeing up close the severe effects of climate change, as the permafrost that blankets much of the country is thawing at unprecedented rates. As the climate warms, the frozen packs of water, soil, and organic materials that many towns are built on are giving way to craters and sinkholes. Communities are struggling to keep up with the rapid pace of change. As the ground implodes, large stores of the greenhouse gas methane, 25 times more potent than carbon dioxide, leak into the atmosphere. This process has set in motion a feedback cycle that causes more permafrost to melt as the climate warms. Scientists say that this cycle exacerbates climate change and makes it more difficult to predict. Other problems have been unleashed by the thawing permafrost as well. Last year in Siberia, the unusually high summer temperatures exposed a previously frozen reindeer carcass containing anthrax, which went on to infect nine people. Scientists are calling for more research to understand and prepare for these emerging threats.
For more information see:
Climate Change Reroutes a Major River in a Geological Instant
For the first time in recorded history, human-caused climate change has rerouted an entire river. The Slims River, which ran through Canada's Yukon territory and spanned almost half a mile at its widest points, relied on the Kaskawulsh glacier to replenish its water supply. Scientists found that by 2016 the massive glacier had retreated to such an extent that its meltwater had begun to stream into a different river. This abrupt change triggered a chain reaction through the region's water bodies that ultimately channeled its vast flow of freshwater into the Pacific Ocean instead of the Bering Sea. On a geological time scale, these events happened instantaneously, demonstrating the degree to which anthropogenic climate change can accelerate natural processes. While most glacial retreats do not typically yield such seismic shifts in such a compressed time period, the Kaskawulsh event will have a significant impact on the local ecosystems going forward.
For more information see:
Washington Post, Inside Climate News
As Climate Change Exacerbates Wildfires, Governments Must Change the Way They Fight Them
A new study from the Proceedings of the National Academy of Sciences builds on research that shows climate change is making wildfires more common, more severe, and harder to fight. The report recommends that, given the rising costs and decreasing effectiveness of fighting fires using current methods, authorities must adopt new strategies. A central theme of this approach is the willingness to recognize which landscapes and ecosystems are beyond repair and to redirect those resources to areas that are able to be saved. Climate models project that "many ecosystems and species are not going to persist where they are right now," explains the study's co-author Max Moritz. He added, "We need the foresight to help guide these ecosystems in a healthy direction now so they can adjust in pace with our changing climate. That means embracing some changes while we have a window to do so." The researchers also offer solutions to discourage development in fire-prone areas, including shifting some of the financial burden of fire damage from federal to local governments.
For more information see:
Harvard Team to Conduct Small-Scale Solar Radiation Management Experiments
A team of scientists at Harvard University are moving forward with a small-scale geoengineering experiment to better understand the benefits and risks of such measures. For the experiment, a high-altitude balloon equipped with sensors and a payload of highly reflective particulate matter will be released in the Arizona desert. Once the balloon ascends to seven miles above the earth's surface, it will release the particulates, allowing the sensors to detect how they behave in the stratosphere. The hope is that the particulates will reflect incoming sunlight back into space, causing less energy to become trapped by greenhouse gases in the atmosphere and reducing potential global warming. The experiment is the first of its kind to provide "real world data" and will be the first in a series of tests to determine the possible impacts if the use of this technology were to be scaled up. While the team "stressed that the project is not endorsing doing large-scale solar radiation management," the hope is that it will prompt new discussions on where geoengineering may fit in to the broader challenge of addressing climate change.
For more information see:
Headlines
Island Nation of Mauritius to Pursue Energy Independence with Microgrids and Wave Energy
American Institute of Architects Urges the Government to Pursue Policies that Promote Energy Conservation and Lower the Carbon Footprint of Buildings
Report: Climate-Driven Food, Water, and Land Shortages May Fuel Future Increase in Terrorism
Wal-Mart Aims to Reduce Carbon Emissions from its Supply Chain by 18 Percent by 2025
NOAA: 2017 Saw Second-Warmest Month of March Ever Recorded
New Study Chronicles Vast Meltwater Drainage Networks Across Antarctica
Events and Briefings
Briefing Recap: How Foreign Climate Aid Benefits the United States
On April 11, Environmental and Energy Study Institute (EESI) and the Henry M. Jackson Foundation held a briefing discussing benefits to the United States from deploying foreign aid to vulnerable regions to help them become more resilient to climate change impacts. The briefing also explored the inner workings of the Green Climate Fund (GCF), a multi-lateral effort to mobilize $100 billion in public and private financing for adaptation and mitigation projects in developing nations. The featured speakers included Dr. James Bond, former Senior Advisor to the Executive Director at the Green Climate Fund; Anton Hufnagl, Environmental and Urban Affairs Officer at the Embassy of Germany; and Brad Johnson, President of Resource Mobilization Advisors.
Dr. Bond made the case for climate finance, while describing the challenges and solutions at work in this sector today. During his presentation, he shared that the developing world will need $430-450 billion in annual financing to meet its climate adaptation and mitigation goals. Currently, just 8-12 percent of that total is being financed. Dr. Bond also called for the increased engagement of the private sector as a funder and investor. Part of the GCF's role is to change the behaviors of private investors by lessening the risk of projects located in developing and vulnerable countries. He concluded by making the case that the United States staying involved in climate finance is simply a good business decision.
Mr. Hufnagl covered Germany's domestic and international climate efforts and where they fit into broader climate aid trends. A core policy for Germany is a national decarbonization plan titled the "Energiewende," which has led them to become the first major industrialized nation to achieve renewable energy development on such a scale. However, he emphasized that despite these successes, no country can solve climate change on its own, and international collaboration is essential. In 2009, developed countries pledged to provide $100 billion in annual climate aid to developing states by 2020. In 2016, a road map for achieving this goal was agreed upon during the United Nations climate conference in Marrakech, Morocco. Germany announced it will double its climate aid from 2014 levels, to a total of $4-5 billion by 2020.
Mr. Johnson provided insight on how the private sector views the GCF and on ways to continue to improve the fund. He noted the importance of the GCF's impacts on U.S. markets, as well as its effectiveness in diminishing investment risks. The GCF can help introduce more long-term, local-level financing. All things being equal, international customers for clean energy technologies tend to prefer U.S. technologies—from reliable American companies with extensive customer support—over other providers, and by facilitating financing, the GCF could help U.S. industry expand its markets.
For a full video of the briefing and to download supporting materials, visit this web page.
Writers: Ben Topiel and Brian La Shier
Editor: Brian La Shier