Summary
APTA has produced a new web tool that clearly displays the costly impact a shut-down of the federal transit program would have by Congressional district.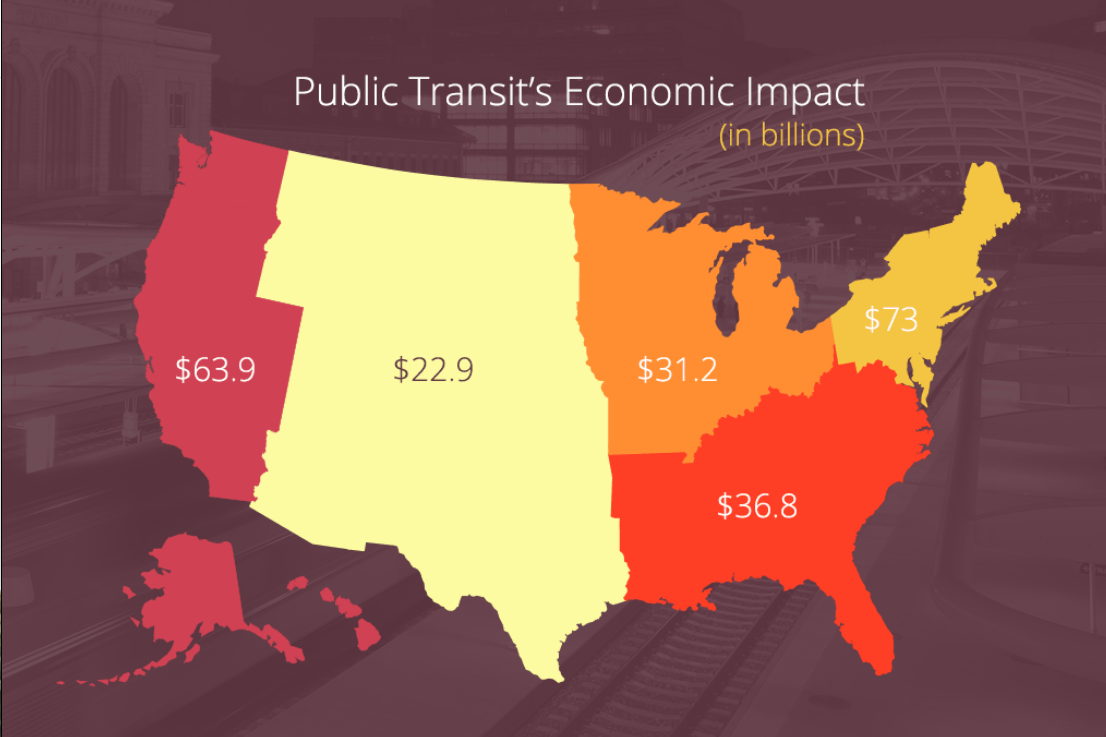 The Environmental and Energy Study Institute (EESI) and the American Public Transportation Association (APTA) held a briefing about the looming expiration of the Transportation Bill. How does uncertainty over federal transportation funding put jobs and local economies at risk? What can be done to ensure stable, long-term federal investment in public transit, highways, and bridges? How can new information from APTA, which was released at the briefing, help us understand how the federal funding at risk impacts specific regions and the nation as a whole?
BRIEFING HIGHLIGHTS:
Paul Balmer, Legislative Assistant, Rep. Earl Blumenauer (D-OR), emphasized the need to push for transportation action in Congress as the Federal Surface Transportation Bill expires in seven weeks [on May 31, 2015].
Surface transportation funding will expire at the peak of construction season, and though communities and businesses need long-term funding to plan major infrastructure projects, Congress is likely to pass the 24th short-term extension since the last six-year transportation bill, the Transportation Equity Act for the 21st Century, expired in 2003. [The subsequent Safe, Accountable, Flexible, Efficient Transportation Equity Act: A Legacy for Users and Moving Ahead for Progress in the 21st Century Act only covered four and two years, respectively].
Balmer argued that we shouldn't have to talk about the Transportation Bill every year. A long-term, fully funded Transportation Bill is critical to transit system operators and supply chains, local and state governments, and the nation's economy.
Congressman Blumenauer is standing up for transportation investments in Congress, with bills that would raise the gas tax for the first time in 21 years, by 15 cents over 3 years, and then index it to inflation. The gas tax would be replaced in ten years with a user fee based on vehicle miles travelled.
Another revenue solution would be to tax corporate earnings that are currently sitting overseas (they would benefit from a lower tax rate in exchange for repatriation). Congressman Delaney's bill, which has widespread bipartisan support, includes this solution. Congressmen Pascrell and Renacci have proposed indexing the gas tax and establishing a Congressional task force to decide on a long-term, efficient, equitable funding source.
Pressure is building for Congress to act decisively, and the national movement on Stand Up for Transportation Day is part of that.
Michael Melaniphy, President and CEO, American Public Transportation Association (APTA), discussed the economic impacts that would occur if the Surface Transportation Bill is not renewed.
On April 9, 2015, as part of Stand Up For Transportation Day, more than 140 events sponsored by over 300 organizations are being held in cities large and small in almost every state in the nation. Thousands are calling on Congress to pass a long-term, well-funded surface transportation bill.
Failure to act would cost the U.S. economy $227 billion, and lead to a 43 percent reduction in communities' overall capital funding investment.
Two bills propose removing mass transit funding from the Highway Trust Fund. Projects which act as catalysts for economic development in their regions would be at risk (see here which ones in your district NOTE: APTA link).
73 percent of the transportation funds provided by local, state, and federal government flow to the private sector, creating jobs nationwide—often in rural areas.
Public transit use has grown faster than the U.S. population: last year, Americans made 10.8 billion trips through public transit, the highest number in 58 years (back during the Eisenhower Administration).
Though many assume public transportation is primarily an urban concern, rural communities would also be adversely affected – the 17 most rural states receive more than 40 percent of their transit funding from the federal government. Cutting transit would mean less access to jobs, healthcare, and schools, and would result in a $13.8 billion cut to rural economies over the next six years.
Further delay in addressing the severe backlog ($88 billion) of transit system repairs would jeopardize the positive economic impact of operating safe, reliable transit systems.
With 52 days left until the transportation bill expires, the time for action is now. This country needs good public transportation investment.
Emmett Jordan, Mayor of Greenbelt MD (and representing the National League of Cities), explained how local governments are very affected by the national government's transportation policy and are dependent on federal investments.
Local governments need to partner with neighboring local governments, their state and the federal government to maintain the transportation infrastructure that their residents depend on. While they don't have much control over federal funding, they are still held accountable by their citizens.
Local governments are limited by uncertain and constrained federal investment.
Residents are actively seeking more transportation options, such as bike lanes and public transit, and pushing local governments to transition to "complete streets" which accommodate more than just cars. The lack of certainty due to continual short-term funding extensions is crippling local governments' ability to meet these needs.
Drew Preston, Manager, Congressional and Public Affairs, U.S. Chamber of Commerce, highlighted the importance of transportation investments to businesses.
Preston stated that "there is no economy without transportation," and "there would be nothing around us without transportation."
Transportation infrastructure is very often "out of sight, out of mind." For example, few people realize how many goods are transported over waterways. Transportation is so integrated into our daily lives that we don't think about what we would do if it wasn't there.
The prices of all the goods and services are impacted by the level of efficient transportation available. The freight transportation network moves $46 billion of goods, 52 million tons per day.
International tourism in the United States, which makes intensive use of the transportation network, generated $181 billion in 2013.
When evaluating transportation investments from a cost/benefit perspective, the long-term cost of inaction far outweighs the repair and investment cost. Delaying investment multiplies transportation costs.
Falling transportation investment as a percentage of GDP (over 20 years) puts the nation's businesses at a disadvantage as the rest of the world "races ahead of us."
Everything Americans buy is more costly because of higher transportation costs. Businesses lose $27 billion annually due to shipping delays.

Trucking highway bottlenecks cost $7.8 billion annually, with delays adding up to 240 million hours.
The cost of delaying every UPS driver 5 minutes is $100 million annually.
Slowing General Mills logistics network by 1 mile per hour costs $2 million per year.
Nike spends $4 million every week managing extra inventory due to delays.
Americans spend 5.5 billion hours in traffic every year, wasting 3 billion gallons of gas. This is projected to rise to 8.4 billion hours and 4.5 billion gallons of gas by 2020.
The average motorist spends $375 to fix his or her car due to potholes and other road-quality issues – compared to an $88/year cost for a gas tax increase of 15 cents.

Devolution of transportation investments is unconstitutional (see Article I) and bad for business. The nation operates in the global economy as one country. Businesses need to efficiently move goods across the country. Dealing with the transportation system as 50 state systems would be cost prohibitive.
Businesses plan years in advance, and so need long-term certainty in transportation investments.
The Transportation Bill, Moving Ahead for Progress in the 21st Century Act (MAP-21), was signed into law in July 2012, and included many innovative bipartisan policy enhancements. Current federal fuel taxes are not adequate to sustain the Highway Trust Fund and Mass Transit Account. These user fees have not changed in 22 years and so have not kept up with inflation. Today, funding sources supporting the Highway Trust Fund no longer suffice to maintain the nation's infrastructure, let alone improve it. Moreover, use of the Highway Trust Fund for surface transportation investments has only been authorized through May 31, 2015.
Transit agencies and state DOT's need funding to be in place so they can move forward with contract work during the upcoming construction season. They will not be able to do so unless they are certain that federal funding assistance will be available over the full life of those projects. Such delays have a considerable impact on the local and national economy.
The briefing was held in conjunction with Stand Up For Transportation Day. On April 9, over 140 communities across the nation—large and small, rural, suburban and urban—held events to trumpet the critical need for stable, long-term federal investment in public transit, highways and bridges.
Speaker Slides