You Can Help Us Advance Innovative Environmental and Energy Solutions
December 12, 2011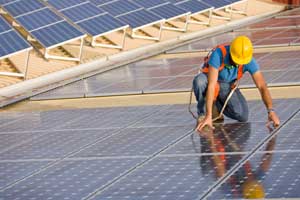 When Congressional offices call for information on complex environmental and energy issues, EESI will be there, offering thoughtful, nonpartisan assistance, helping staffers connect with additional experts, and showcasing the benefits of clean energy—when you make a gift to EESI today. Though EESI was founded by a bipartisan Congressional caucus, it receives no Congressional funding. Therefore it is your contributions that make innovative environmental and energy solutions possible!
From the transportation reauthorization bill to appliance and building standards—and a wide range of other topics—our nation will find greater opportunities for policymaking when EESI can be there to educate policymakers, engage stakeholders, and build coalitions.
One reviewer, "Ginty," an advocate for renewable energy, explained EESI's impact this way on GreatNonprofits (the Yelp for nonprofits):
"I know we have all accomplished more and been more effective because we were armed with information from EESI, and because EESI was also educating decision makers. Renewable energy has come a long way since the 1980s, and so has EESI. May EESI continue its work for many more."
So please show your commitment to sustainable energy by making a tax-deductible gift to EESI in the way that's right for you! You can:
Give securely online —you can even support sustainable energy year-round through convenient monthly giving!
Send a check or credit card information in the enclosed envelope if you prefer to give by mail.
If your employer has a workplace giving program, you can donate through easy paycheck-based deductions. Federal employees and members of the military can give to EESI by designating CFC #10627. Others can also often give through the workplace—ask your Human Resources Department if you can give to EESI through your paycheck; we are a member of the EarthShare workplace giving federation.
See if your workplace matches employee contributions—through an employer match, the value of your gift could be doubled!
Thank you for putting your commitment to sustainable energy to work in so many ways—especially through your support of EESI!