Farm Bill Program Helps Rural Communities Invest in Energy Savings Programs
May 10, 2018
On-bill Financing for Energy Efficiency
EESI is very actively involved in one particular rural energy efficiency initiative: on-bill financing, in which a utility (or other partner organization) pays for home energy upgrades, only to be repaid through a monthly charge on the recipient household's utility bill. Because the approach involves no money down (and can be designed to be cash-flow positive), it can work for low-income families that are unable to take advantage of rebates or other efficiency incentives.
The On-Bill Financing Project is one of EESI's largest initiatives. EESI assisted utilities that implemented an on-bill financing project in South Carolina ( "Help My House"), another one in Holland, Michigan, and we are working on several other such projects. EESI's work includes providing free assistance to co-ops looking to launch their own on-bill financing program. This includes administering needs assessments, guiding program design, identifying a source for funding, and more. Interested in seeing the success of on-bill financing? Click here for a video of a woman who benefitted from the on-bill financing program we helped set up in South Carolina or here for a video about the program we helped set up in Holland, Michigan!
Rural electric cooperatives (co-ops) are developing innovative energy efficiency programs for their members, programs that save homeowners money while also reducing harmful emissions and creating needed jobs in rural communities. Many of these programs rely on the U.S. Department of Agriculture's Rural Energy Savings Program (RESP), created by the 2014 Farm Bill and launched in 2016. RESP provides rural electric cooperatives and other rural utilities with zero-percent loans to launch or expand energy efficiency financing programs for their members. This Farm Bill program is available to the more than 900 rural electric cooperatives that are found in every state across the United States.
While only eight RESP loans have been obligated so far, the program, when fully deployed, will improve the efficiency of tens of thousands of homes and small businesses served by co-ops, helping members cut their energy costs and be more comfortable. But the program faces challenges, including that it is part of the Farm Bill, which must be reauthorized by September 30, 2018.
An article by EESI Policy Associate John-Michael Cross, and published in the Cooperative Business Journal, details the Rural Energy Savings Program and its history, the effort underway to renew the program in the 2018 Farm Bill, and how RESP-funded, on-bill financing programs benefit electric co-ops and their members. The article includes perspectives from co-ops that have applied for RESP funding, federal policymakers who back the program, and co-op members who have benefited from the types of efficiency financing programs that RESP aims to support. View the article online here or by clicking on the image below: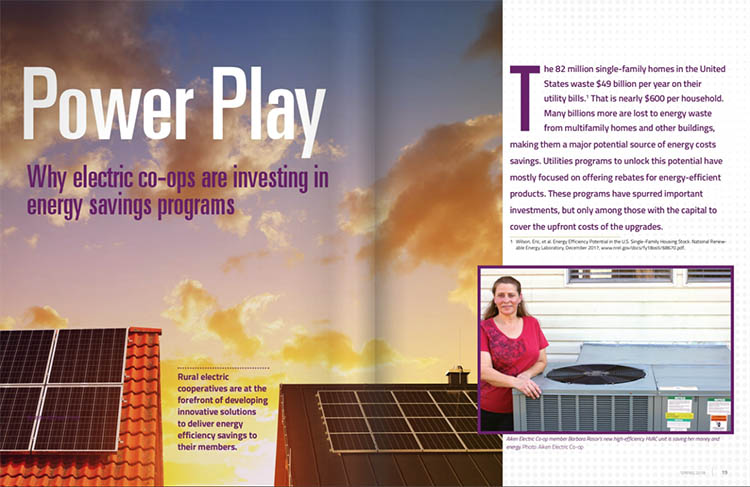 This article is a product of the Partnership for Advancing an Inclusive Rural Energy Economy, a partnership between the National Cooperative Business Association CLUSA International and EESI.
Authors: John-Michael Cross, Millie Bhatia