Urban Agriculture: Creating Healthy, Sustainable Communities in D.C.
March 12, 2014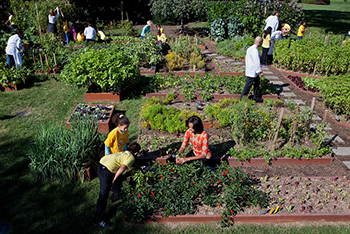 When one thinks of agriculture and creating more sustainable food systems, Washington D.C does not necessarily come to mind. However, the urban agriculture movement has taken root here and is now blossoming into a network of urban farms across metropolitan D.C., helping to combat climate change and create a more sustainable city.
From farm, to plate, to landfill, the production and transportation of food results in the release of harmful greenhouse gas (GHG) emissions into the atmosphere. GHGs include carbon dioxide (CO2) and are the drivers of climate change.
In 2012, food-related GHG emissions accounted for 21 percent of total U.S. emissions. This does not even include emissions related to food preparation at home, such as driving to the store, refrigeration, cooking, and other food-related activities that result in greenhouse gas emissions. Small-scale, urban agriculture can reduce transportation- and production-related emissions. Additionally, small-scale agriculture diversifies the U.S. food supply. As a recent drought in California, one of the United States' top food-producing regions has demonstrated, a diversified food supply may become increasingly important as we adjust to the uncertainties presented by climate change.
Approximately 80 percent of Americans live in cities and the potential positive impacts of urban farming are huge. Not only does urban agriculture reduce food-related GHG emissions, it also provides nutritious, low-cost fruits, vegetables, and herbs in many urban areas that have little access to affordable, nutritious produce. These local projects can have tremendous benefits for low-income communities that often pay anywhere from 30 to 60 percent of their income on food. Researchers from the CFSC Urban Agriculture Committee have found that every $1 investment in a community garden nets $6 worth of produce, a phenomenal return on investment. Here are just a few examples of successful agricultural projects within the metro D.C. area that are reducing GHG emissions, providing accessible produce, building communities, and improving health.