The Silicon Prairie: Wind Energy in Iowa Fueling Investment
April 9, 2014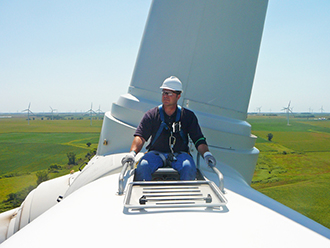 What do Google, Facebook and Microsoft Corp. all have in common?
They've all invested in building large data centers in Iowa, in order to harness the state's vast wind energy resources, which currently provide over 25 percent of its electricity needs. Google has spent $1.5 billion in Council Bluffs, Iowa; Facebook is putting down $300 million in Altoona, which is expected to increase to $1 billion; and Microsoft has invested almost $900 million in West Des Moines. West Des Moines is expecting another project with a taxable value of $255 million and the creation of 84 jobs, from a company that has not yet been revealed.
"The magnitude of those investments is unprecedented," commented John Boyd Jr., a consultant at Boyd Co., which helps companies locate data centers. "The only state that mirrors that investment is Washington state." Dell, Yahoo, Microsoft and other companies have invested in Washington to take advantage of its renewable energy resource, hydroelectric power.
Former Iowa Governor Chet Culver commented in 2009 that the idea behind Iowa's investments in renewable energy – over 25 projects – was to spark further investment in the state. "Our dream is to create the silicon prairie of the Midwest here in Iowa," Culver remarked. "[Renewable energy] allows Iowa to get on the national and international map."
Iowa has the highest share of any state for wind generation in its electricity mix, at 27.4 percent in 2013—with South Dakota close behind at 26 percent. Only Texas has more installed installed more Megawatt hours of wind energy than Iowa, although wind is not as large a percentage of its electricity mix. The Energy Information Administration (EIA) released findings in 2013 showing land-based wind energy is the second most affordable form of new electricity generation, with only natural gas coming in at a cheaper price.