The History of Passive House: A Global Movement with North American Roots
June 23, 2017
A recent Washington Post article highlights the progressive work of Flywheel Development, a real estate development company headed by John Miller and Jessica Pitts. The company recently built four 1,800 square-foot townhomes in Prince George County, Maryland, that use only about one-fifth of the energy of an average home in the United States. The homes were built to meet Germany's Passive House Institute requirements, a rigorous building standard that demands a high level of energy efficiency.
According to the U.S. Energy Information Administration, the residential and commercial building sectors account for about 40 percent of total United States energy consumption. The building sector is also responsible for over 40 percent of the nation's carbon emissions, largely because of its dependence on electricity generated from coal-burning power plants. Improving the energy efficiency of buildings is therefore a necessary part of climate protection.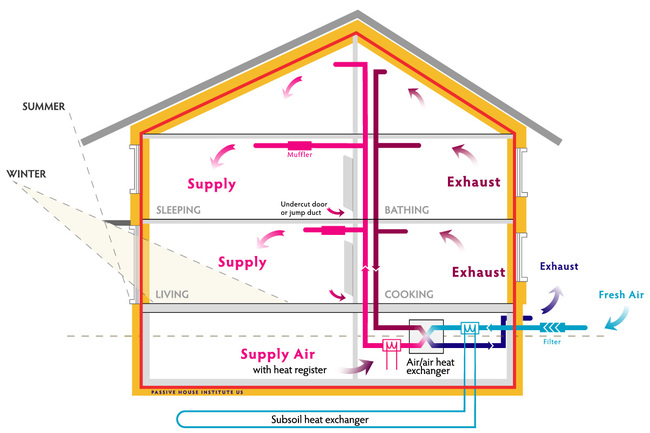 The basics of passive building design. Photo courtesy of phius.org.
Passive building achieves energy efficiency primarily through an airtight envelope (the physical structures like walls, roofs, and windows that separate the exterior and interior of a building). In order to maintain consistent and comfortable indoor temperatures throughout the year, passive buildings use high-performance windows, extra insulation, and consider window orientation in their design. Passive buildings also use ventilation systems with heat and moisture recovery for increased air quality and efficiency. Passive homes use up to 85 percent less energy for heating and cooling than the average home.
The innovative concepts behind the passive house movement originated in the United States and Canada following the oil embargo of 1973. The embargo tripled oil prices and sent the United States into an energy crisis. This crisis led a group of engineers and architects from the University of Illinois Small Homes Council to design the Lo-Cal house in 1976. Using the principle of a highly insulated envelope, the Lo-Cal house consumed 60 percent less energy than even the most efficient buildings of the time. The Lo-Cal house significantly influenced the design of Canada's Saskatchewan Energy Conservation House, which was able to further reduce energy losses and peak loads. In 1982, American physicist William Shurcliff published his book "The Saunders-Shrewsbury House," in which he first labels the concepts of superinsulation and passive solar as "passive house."
By the late 1980s, a full passive house movement had launched in North America. But the United States shifted its focus away from energy conservation, and Germany took the reins. German physicist Wolfgang Feist refined the passive house design to improve efficiency, and developed a passive house with an annual heating demand of 15 kilowatt-hours per square meter of living space. This became a defining metric after Feist founded the Passivhaus Institute (PHI) and created the Passivhaus performance standard, commonly considered the most rigorous standard in energy efficiency today.
Katrin Klingenberg discovered PHI while studying architecture in Berlin and re-introduced the modified passive house principles to the United States. In 2003, Klingenberg completed the first home in the United States built to PHI standards and she later became the co-founder of Passive House Institute US (PHIUS). As the passive house movement gained new momentum, Klingenberg and others at PHIUS found that the single performance metric of PHI did not work for North America's extreme variations in climate. In 2015, PHIUS released the PHIUS+ standard, the only passive building standard to consider cost-effective and climate-specific performance criteria.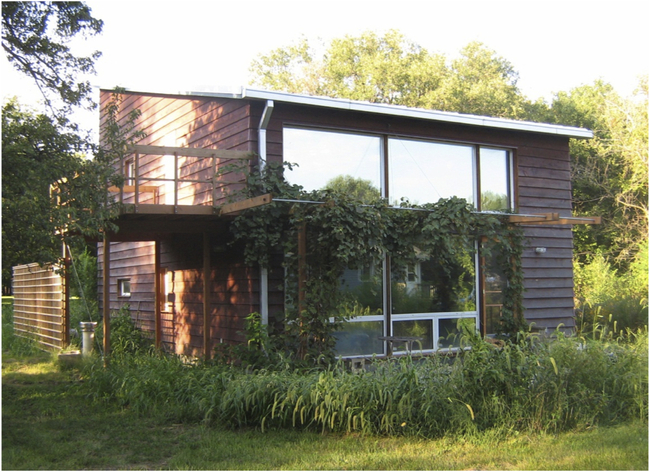 Katrin Klingenberg's passive residence in Urbana, Illinois. Photo courtesy of phius.org.
Developers across the country are now building passive homes. PHIUS has certified projects from Oregon to Kansas to Virginia. O'Neill Development and architect David Peabody built the first passive house in the Washington, D.C. area. Habitat for Humanity has also built PHIUS certified passive homes, as "the passive house model embodies Habitat for Humanity's vision that all people deserve safe, comfortable, affordable and sustainable homes."
Passive house principles present a promising path to achieving zero energy buildings. The U.S. Department of Energy has partnered with PHIUS to promote the PHIUS+ Certification program in combination with their Zero Energy Ready Home program in hopes of making zero energy a mainstream market force. PHIUS certified projects have increased exponentially since its founding, with over 240 projects in 2016.
Author: Sara Tanigawa