Sustainable Power Builds a Sustainable Future
December 20, 2011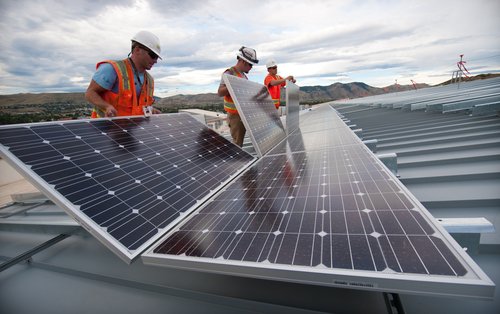 The solar PV system that Jack Stites has installed at his construction company in Tennessee runs the length of the parking lot. Jack, president of J & S Construction, likes that clients and prospective clients can see the solar panels.
Jack is a great ambassador for clean energy, but it takes supportive policies to make these investments possible. State and federal incentives are helping Jack pay off his solar system in about two years.
Jack uses the solar array to market to clients, showing them how building smart can save money for residents and business owners. People like Jack help us spread the message of sustainable energy and better buildings across America!
But Congress needs to understand how vital clean energy is to our future.
Your gift of $50, $100, or more makes a difference as the country makes big decisions next year.

Please give to EESI today so we can show Congress the benefits of sustainable energy.
Your donation is tax-deductible and a great investment for clean energy this holiday season.
In the coming year, Congress will be making critical decisions about energy. Please make a tax-deductible gift to EESI today -- so we can help Congress see why our country needs to embrace sustainable energy.
You know that small federal investments in clean energy can help residents and businesses across the country. Your support is critical . Thanks for all you have done for sustainable energy!