RFS Roundup: EPA Announces Renewable Fuel Volumes for 2019 – Increase Obscures Impact of Waivers
June 29, 2018
On June 26, EPA released proposed volumes for renewable fuels (cellulosic, advanced, and conventional biofuels) for 2019, and biodiesel volumes for 2020. While overall, the numbers are 3 percent higher across fuel categories as compared to 2018, the proposed volumes obscure the fact that the EPA has provided nearly two dozen waivers to small oil refiners. The EPA proposal reveals that the agency has granted exemptions to small oil refineries totaling 2.25 billion gallons. According to the biofuels industry and their supporters on Capitol Hill, these waivers constitute demand destruction.
Renewable Fuel Volume Requirements for 2014 – 2019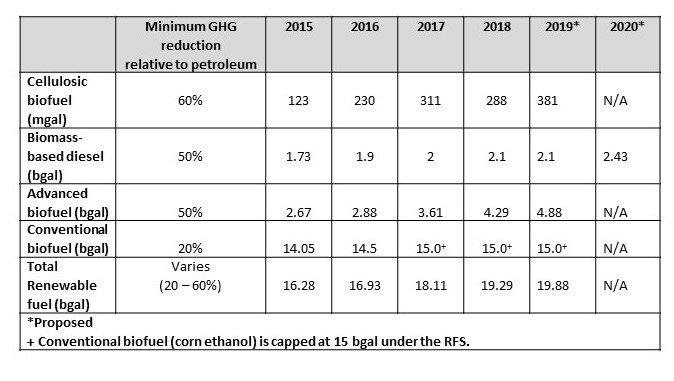 Over the past several months, the EPA has exempted nearly two dozen refiners from complying with the Renewable Fuel Standard (RFS) for 2016 and 2017. Under a previously little-used authority, EPA had already taken steps to grant small refinery exemptions to approximately two dozen petroleum refiners, relieving them of their duty to either blend biofuels or buy compliance credits under the RFS. EPA reports that 2.25 billion gallons of biofuels has been exempted, more than 10 percent of the total volume of renewable fuel that would have been in the transportation supply for 2019!
Under the RFS, EPA is required to reallocate the waived gallons to larger refiners, to balance the total volume of fuels. Last week, it was widely reported that the EPA was planning on doing just that, but amidst uproar from the oil industry, pulled back on that proposal. Instead, Tuesday's proposal contains scant mention of the waived gallons. New reporting also suggests that EPA ignored the Department of Energy's warnings about their flagrant use of waivers to appease oil refiners.
For more information see: