President Obama Requests Mandatory Spending Levels for Farm Bill Energy Title
February 12, 2016
On February 9, President Obama released his FY 2017 budget request. While Congressional leadership derided the President's budget as 'dead-on-arrival,' the budget gives insight into federal programs and priorities. For FY 2017, Obama has requested mandatory funding as outlined by the 2014 Farm Bill for much of the Energy Title – signifying the importance of these programs to transitioning rural communities, farms and ranches towards low-carbon, sustainable and more economical forms of energy.
Now in its third year of funding, the Farm Bill continues to fund energy efficiency and renewable energy programs established under its energy title. While President Obama's FY 2017 budget request for energy title programs is $9 million less than FY 2015 funding levels, the request is similar to the mandatory funding levels outlined by the Farm Bill. The Farm Bill contains robust mandatory funding for its energy title programs over its five-year authorization, however Changes In Mandatory Spending (CHIMPS) enacted through the appropriations process have reduced the mandatory funding levels outlined by the Farm Bill since 2014 (see table notes).
These CHIMPS particularly target the energy and conservation titles – two areas that are critical to helping farms, ranches and rural communities address climate change, steep energy costs, and adopt voluntary conservation measures to improve soil, water and wildlife habitat.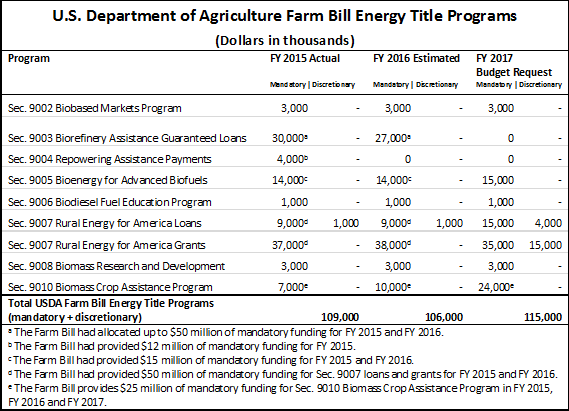 For an overview of energy, energy efficiency and climate change provisions in the 2017 budget, including DOE's Bioenergy Technology Office, check out EESI's latest issue brief, Obama FY2017 Budget Proposal: Sustainable Energy, Buildings, Transportation and Climate.