Highlights of the Farm Bill's Energy Title
February 7, 2014
On February 4, the Senate voted 68-32 to agree to the conference report on the Agriculture Act of 2014 (H.R. 2642) , clearing the 5-year, $956 billion Farm Bill for signature by the President today. The compromise bill provides $881 million for Title IX (Energy Title) in mandatory funding over its five years to the key bioenergy provisions, as outlined below.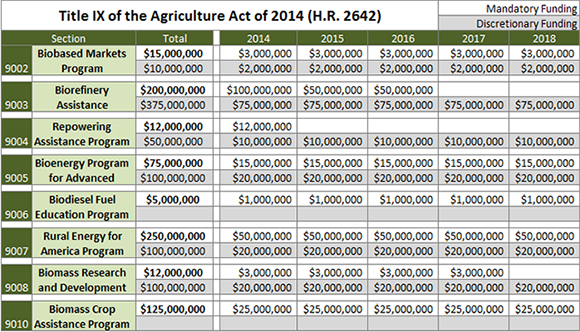 Highlights of the energy provisions include:

Sec. 9003 Biorefinery Assistance : The 2014 Farm Bill adds $200 million to 9003's budget authority, and the final bill notes that up to 15 percent of FY14 and FY15 funds can be used to promote biobased manufacturing. The same tier of development, construction, and retrofit projects will be eligible, but feedstocks including majority renewable chemicals and other biobased products, rather than majority biofuels, will be eligible for loan guarantees. This expansion, while a small portion of 9003's budget authority, opens the door to a wider range of applicant technologies.
However, the current structure of the program - including the significant application submission costs and requirements on lenders - may limit the pool of lenders interested in partnering with biochemical companies to those with prior program experience.

Sec. 9007 Rural Energy for America (REAP) : With significant carryover funding from FY2013, a $3.5 million increase in the FY14 omnibus appropriations bill, and a $250 million mandatory funding expansion in the five-year Farm Bill, REAP is expected to issue a Notice of Funding Availability shortly for FY14 applications. Though feasibility studies were removed as eligible project costs, renewable energy and energy efficiency projects can still receive up to $500,000 in grants and/or up to $5 million in loan guarantees. Of note, however, is the removal of blender pumps as eligible projects under the definition of renewable energy systems, which typically have gone to flex-fuel pumps in previous awards.

Sec. 9008 Biomass Research and Development Initiative (BRDI) : BRDI, typically one of the more competitive programs funding research, development and demonstration-scale projects for feedstock, biofuel and bioproduct development, received reduced funding of just $12 million in mandatory funding. BRDI, jointly administered by USDA's National Institute of Food and Agriculture (NIFA) and the Department of Energy, received up to $35 million in FY2012 alone to support projects. This reduction reflects USDA's priority on transitioning the demonstration-scale projects developed under the wide range of DOE and USDA programs to commercial-scale, through the Biorefinery Assistance program, the USDA's Farm to Fleet initiative, the DOE's Integrated Biorefinery program, and the joint DoD-DOE-USDA funded Navy biofuels program.

Sec. 9011 Biomass Crop Assistance (BCAP) : Of note to agricultural producers of biomass feedstocks is the expansion of eligible crops to forest products, such as "pulp, paper, paperboard, pellets, lumber, and other wood products, and any recycled products derived from forest materials." With $125 million in mandatory funding for the program over the next five years, how this expansion will affect current feedstock producers participating in BCAP remains unclear.