Green Classrooms Built in Sri Lanka Thanks to Sharmen, Former EESI Intern
Part of our "Where Are They Now" series on former EESI interns
September 19, 2016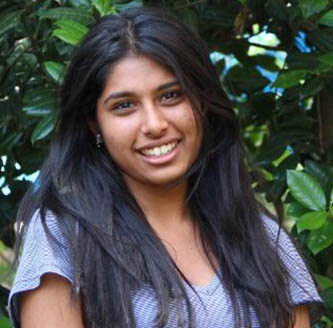 Sharmen Hettipola (pictured) was a communications intern at EESI during the summer of 2015. She has just completed a project to sustainably retrofit a school in Sri Lanka, thanks to a $10,000 grant from Projects for Peace (see her previous article about winning the prize).
This is the fourth installment of Where Are They Now, a series of articles dedicated to the success and achievements of former EESI interns. As an organization dedicated to furthering win-win sustainable solutions, EESI recognizes that educating and preparing today's future environmental leaders is essential to protecting our Earth.
I returned from Sri Lanka a few weeks ago after completing my project and I wanted to send EESI an update! As you know, I received a grant from Projects for Peace (a program that awards undergraduate students $10,000 to design and implement projects that promote peace), which gave me the opportunity to spend a month in Sri Lanka building two classrooms for an impoverished rural school near my grandmother's village. A few of the classrooms at the Mailapitiya School were severely deteriorated and made learning even more difficult for the school's poverty-stricken children.
The two, big new classrooms that my uncle, an architect, designed include environmentally friendly features to capitalize on the relationship between green designs and better student productivity. These features include the use of open-grill windows to take advantage of prevailing breezes and natural light, a transparent sheet in the roof that lets the sun shine inside (so no need for lightbulbs!), eco-friendly clay bricks, lead-free local materials, and recycled materials for the foundation of the building. Our green design is less costly to maintain and more durable than the previous one, letting the school save money for other needs. That's really critical when there are so few resources to go around!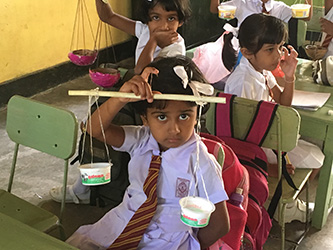 Students show off their homemade balances.
(photo courtesy of Sharmen Hettipola)
I was really impressed by how committed these students are to learning, despite the fact that so many things are holding them back from receiving a proper education. Some of the students owned only one pencil, which could hardly be called a pencil because it had been sharpened down to about an inch. Others walked around bare-foot because they didn't own a pair of shoes. To compensate, the students and faculty really excelled at squeezing the most out of everything! For example, they played cricket with sticks instead of buying new bats, and used yogurt cups and coconut shells to create balances in math class. I was amazed by the amount of recycled materials being used.
Fortunately, the school teachers are first-rate, and do as much as they can to create a good learning environment. Some of them spend their weekends offering free tuition classes, while others spend their own money for classroom and student supplies, and many offered to cook or buy a meal for a student who hadn't been fed that day. Likewise, my uncle, the contractor, and the laborers all demonstrated their commitment to the students by working through weekends to make sure the new building went up as quickly as possible.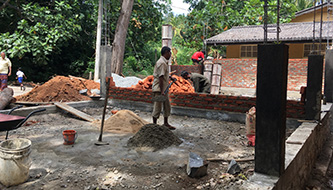 The laborers worked overtime to build the new classrooms as quickly as possible.
(photo courtesy of Sharmen Hettipola)
My parents and I took on a side project of providing the students with a few school supplies before we left, but there's still a lot of work to be done. I would hate to see these dedicated students, so eager to learn, lose their motivation, so I'm hoping to continue to work with this school in the coming years. These students have big dreams, most revolving around pulling their families out of poverty, and I hope to see them all succeed!
I want to thank the Projects for Peace organization for allowing me to partake in such a wonderful, eye-opening experience. I am so thankful for the opportunity because it reaffirmed my passion for environmental development and education. I encourage undergrads with a desire to make a small change somewhere to apply for the grant!
And thank you EESI for the immense amount of support! My uncle and I are incredibly appreciative for the green design ideas you gave us and that we were successfully able to implement at the school. I learned so much from you all during my internship and this project definitely would not have been successful without my interactions with EESI!
Author: Sharmen Hettipola