George Washington University, a Sustainability Leader in the Heart of the Nation's Capital
March 20, 2017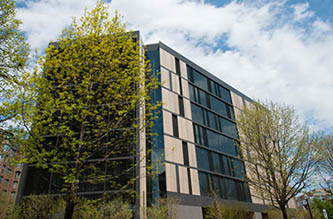 George Washington University's new Milken School of Public Health building has achieved a Platinum LEED certification. (Photo courtesy of William Atkins/The George Washington University).
Located just a few blocks from the White House, it's no surprise that George Washington University (GW) consistently ranks as the most politically active college in the United States. Students who are driven by a passion for social justice and political activism are drawn to the Foggy Bottom campus, embedded deep within the heart of America's democracy. These students know that in order for George Washington to fulfill its mission of cultivating the next generation of policymakers, its urban campus must become a healthy part of its urban ecosystem. They also understand more than ever that, in our interconnected, environmentally vulnerable world, leadership is inseparable from sustainability. In 2010, at the initiative of students, professors, and administrators, GW launched its Climate Action Plan (CAP), which outlined a path to carbon neutrality by 2040. The CAP also sets an intermediate 2025 goal of reducing university-wide emissions from its buildings, transportation, and direct energy use by 40 percent.
Many innovative projects have emerged as the GW community works toward these goals. George Washington University's main campus now has 11 LEED Gold Certified buildings, and the new Milken School of Public Health building—completed in 2014—has achieved a Platinum certification. The seven-story Milken building is the first university project in Washington, D.C., to earn LEED's highest rating. The building's most striking feature is its floor-to-ceiling windows that allow sunlight to radiate through the heart of the building. The green roof and a state of the art HVAC system using chilled beams, air displacement technologies, and smart thermostats, also allows the building to consume a fraction of the electricity used by a conventional building of the same size.
In 2014, George Washington University launched the Capital Partners Solar Project Partnership with American University to purchase solar power for both university campuses and the George Washington University Hospital. With the partnership, GW now gets 50 percent of its electricity from solar energy. At the time of the launch, the project was the largest solar PV power purchase in the United States for a non-utility.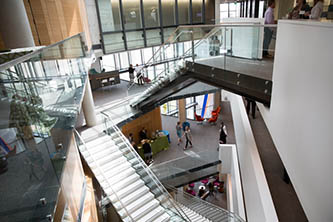 Inside the Milken School of Public Health building. (Photo courtesy of William Atkins/The George Washington University).
In addition to the campus's energy consumption, George Washington University's sustainability efforts have focused on green infrastructure. Since the first green roof project, proposed by students and completed in 2008, GW has built 5 more green roofs and has steadily added to a burgeoning network of permeable surfaces, green storm water systems, and sustainable landscaping practices. These projects have made the Foggy Bottom campus a more vibrant and healthy place for the GW community to live and work. The university has also strived to improve the way people get to and around campus. In 2012, GW installed an electric vehicle charging station in the Academic Center Parking Garage at no cost thanks to a grant from the Department of Energy. Recognizing the need to further reduce transportation emissions, the NuRide carpooling program was developed to connect fellow GW commuters and provide them financial rewards and discounts for their role in reducing greenhouse gas emissions. For faculty and staff who bike, discounted Capital Bikeshare memberships are available at $25 per year.
George Washington University hopes its Climate Action Plan and Sustainable GW initiatives will have an impact that extends far beyond its Foggy Bottom campus, by inspiring other educational institutions throughout the country.
Author: Ben Topiel, George Washington University alumni