For First Time Ever, Majority of Forest Service Budget Spent on Wildfire Suppression
August 14, 2015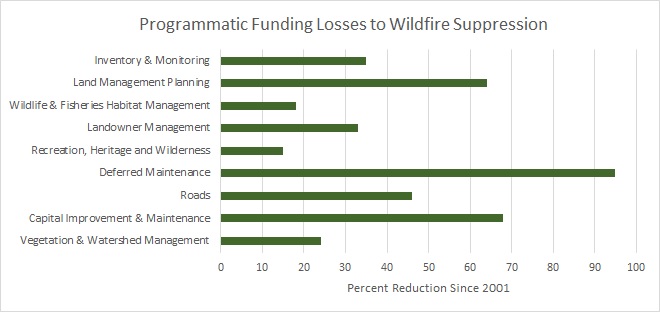 On August 4, the U.S. Forest Service reported that it had reached an unfortunate milestone. The agency tasked with managing federal forests and grasslands has become a de-facto firefighting agency. For the first time in its 100-plus year history, the Forest Service has spent a majority of its congressionally appropriated budget on fighting wildfires. Fire suppression has ballooned from 16 percent of the agency's annual budget 20 years ago, to more than 50 percent in 2015. According to the agency, if wildfire management and funding are not addressed in a systematic manner, wildfire suppression costs are expected to rise to 67 percent of the agency's total budget by 2025. How did the agency get into this vicious cycle of rising wildfire costs and decreased spending on forestry management practices?
Several factors have led to this huge increase in wildfire-fighting costs: increasing drought, disease, pests, as well as increasing numbers of communities at the urban-wildlife intersection. The total wildfire area has tripled since 1980 and the number of fires has doubled in the same time period. Climate change is also exacerbating wildfire risk -- the U.S. National Climate Assessment predicts that for every 1.8 degrees Fahrenheit of surface temperature rise, the Western wildfire area may quadruple.
Deep drought, low snowpack, and climate change in Western states have led to more of these mega-fires, which burn at least 100,000 acres of land. What was once a rare occurrence is becoming increasingly routine, with nearly every Western state in 2015 experiencing its worst wildfires ever recorded. Already, 5 million acres have burned in Alaska, and earlier this month, the state of California deployed the National Guard to combat 24 fires in the state. On one day alone, 9,000 firefighters were fighting blazes in California, and two firefighters have lost their lives to fires this year.
Fires are part of the Western ecosystem, but megafires are wholly remaking the forest ecosystem, and in some cases, destroying forests so thoroughly that they don't return but instead revert to grass and shrublands. More frequent fires will result in smaller trees, sparser landscapes and shifting wildlife. According to an analysis of U.S. Forest Service data by the non-profit Climate Central, wildfires burn on average twice as much land as compared to 40 years ago. On average, there are now 10 megafires a year in the United States.
What's needed to break the destructive cycle of megafires? The U.S. Forest Service says that it needs funds to do what it does best – manage forests. Forest management activities include thinning, harvesting timber, and controlled burning. Working with local communities to create fire-adapted communities is also part of the solution. But the agency is caught in a downward spiral of decreased budgets and staffing for management activities outside of wildfire suppression, which ultimately results in an increased risk of megafires.
The administration and a growing bipartisan group of lawmakers want to end the practice of 'fire borrowing' in which funds are reprogrammed from other programs mid-year. Instead, they propose to close wildfire fighting deficits by creating a separate emergency management fund for the very worst wildfires, to be administered by FEMA. This separate disaster cap would cover wildfire costs when fire-fighting costs exceed set maximums. According to Secretary of Agriculture Tom Vilsack, the creation of a disaster cap is really the only way to deal with the current funding situation, commenting, "Unless you treat those massive fires as the emergencies that they are and fund them as such, you're never going to get ahead of this." This funding mechanism is contained in the bipartisan Wildfire Disaster Funding Act (WDFA) bill, and the President has asked for it in his last two budgetary requests.
In the past, some lawmakers have expressed the concern that creating a separate disaster cap is akin to writing the agency a "blank check" and doesn't address underlying management issues at the Forest Service. Supporters of the budget cap adjustment retort that allowing the worst wildfires to be managed by FEMA will allow the Forest Service to properly manage forests and thereby decrease the risk of wildfires.
Despite having 124 co-sponsors in the House (H.R. 167), and 18 in the Senate (S. 235) WDFA has languished in committee, given Congressional leadership's aversion to any hint of increasing federal budgets. Previously, Senator Lisa Murkowski (R-AK), chair of the Appropriations Subcommittee on Interior, Environment and Related Agencies, had expressed suspicion of creating a separate disaster cap, but things may be moving in a new direction. In the Interior Appropriations bill, a limited disaster cap is provided to the Forest Service, but this language will have no effect on spending for the foreseeable future.
Prior to the beginning of the August recess, 11 Senators entered statements into the Congressional Record on the necessity of working together to find a solution to the wildfire funding issue. Senator Cantwell's (D-WA) remarks alluded to some potential progress on establishing a disaster cap, stating, "We all agree a budget cap adjustment of some sort is the solution needed to end the practice of fire borrowing."
In their report on the situation, the Forest Service remarks that they have "continually worked to do more with less … but the agency is at a tipping point." Indeed, if Congress does not address the situation, they will have to do less with less, as wildfires continue to eat away at the agency's non-wildfire suppression capacity.
For more information see:
How Megafires Are Remaking American Forests, National Geographic
As California fires rage, the Forest Service sounds the alarm about sharply rising wildfire costs, The Washington Post
The Rising Cost of Wildfire Operations: Effects on the Forest Service's Non-Fire Work, U.S. Forest Service