Florida's Dying Reefs Could Devastate Keys' Economy
July 13, 2017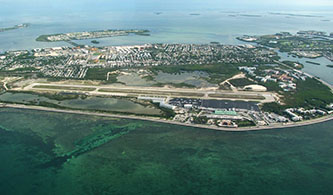 Key West from above (photo by S. Kaiser)
The world's third-largest barrier reef along the Florida Keys, once a flourishing and prosperous ecosystem, is now struggling and on the verge of collapse, with less than a tenth of the reef system being covered in living coral. Climate change is largely responsible for this loss, and its impacts are threatening Florida's $2.7 billion coastal economy, which is highly tied to the coral reefs and dependent on their health.
Warmer waters—resulting from global warming—trigger coral bleaching, which is when changes in temperature cause coral to expel its algae, its primary food source (providing up to 90 percent of its energy). The algae gives coral its nutrients and color, so without it, the coral turns completely white and becomes very vulnerable to diseases. Coral bleaching does not kill the reef, but the diseases do. Overly frequent bleaching, or prolonged bouts of bleaching, can devastate coral communities, leading to massive die-offs.
Tourism is responsible for more than half of the jobs in the Florida Keys. Three and a half million people visit them every year, including many divers and fishermen who rely on the reef's bounty. Without environmental stewardship to protect the reefs, they may well travel elsewhere. On top of tourism being badly impacted, the dead reefs are inhospitable to most marine life, putting a strain on the fishing industry, which is also critical to the region. In 2015, the National Oceanic and Atmospheric Administration reported that Monroe County, which includes Key West, brought in 17.3 million pounds of seafood worth $71.2 million, making it the 10th most valuable fishery in the United States.
The proposed defunding of Environmental Protection Agency programs that protect the reef is a major fear of Monroe County's board of commissioners, which states that "a healthy marine environment is essential and the most important contributor to the economy of the Florida Keys." Scientists are replanting coral in the Florida Keys but are unsure if the ecosystem will be able to stand up to climate change, making global climate action critical for the survival of the Florida Reef Tract.
Author: Erin Brown