Falling in Love with Rail Travel: a Cross-Country Trip from Salt Lake City to D.C.
June 27, 2016
Christianna Johnson, an EESI intern, recounts her train trip from Salt Lake City, UT, to Washington D.C. Traveling by train is steeped in romanticism, but remains the exception rather than the rule in the United States.
I recently made the three-day journey from Salt Lake City, Utah, to Washington, D.C., via the California Zephyr, a train that connects Chicago to San Francisco. I chose to take the train for a few reasons. First, taking my car was out of the question; I decided it was simply not worth the time, money, and hassle of driving cross-country and then dealing with parking and traffic in D.C. Second, I had never taken a train trip before and I thought it would provide a once-in-a-lifetime experience. Finally, I was about to become the summer development intern for EESI, so taking the more environmentally friendly mode of transportation seemed particularly appropriate. Indeed, taking the train not only generates less greenhouse gas emissions than taking a car or plane, it also provides an entirely unique opportunity to see and meet people from across the country. While I had the privilege to choose my form of transportation, many Americans do not have many options available to them. This is especially true in more rural areas. America's passenger rail system serves a public need, providing long-distance mobility access to marginalized groups—those who do not own or cannot use cars as well as those who cannot or choose not to fly.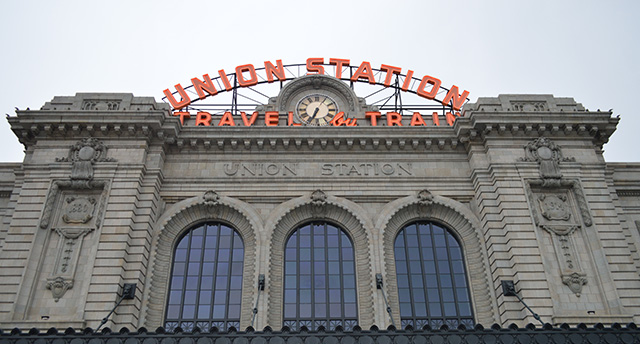 Union Station in Denver Colorado
(Photo by Christianna Johnson)
If you've never taken the train from Salt Lake City to Washington, D.C., you are probably asking yourself, "What was it like?" I can answer with a resounding, "Much better than I expected!" My first night on the train was spent in a sleeper car and I was pleasantly surprised by how well I slept. When we arrived at Union Station in Denver, Colorado, I stepped off to stretch my legs and marvel at the architecture of the beautiful, 100-year-old building. When I got back on the train, I moved to a coach seat that I occupied for the remainder of the trip. I was again pleasantly surprised, finding that train seats are significantly better (more comfortable and larger) than airplane seats. The views slowly changed, but they were all remarkable, from the Rocky Mountains of the West, to the farmland of the Corn Belt, to the skyscrapers of Chicago, and finally to the monuments of our nation's capital.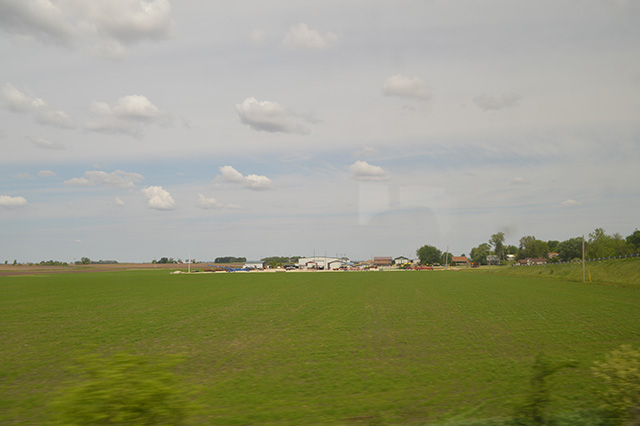 Crossing the Great Plains
(Photo by Christianna Johnson)
During the course of my trip, I met people from diverse backgrounds. I met a helicopter pilot from New Zealand, a vacationing couple from Georgia, retirees from New York, and Amish families from Nebraska. Most of the people I talked to only rode for a few cities; often, they were taken aback by how far I was riding. In fact, no one I talked to was taking the train all the way from San Francisco to Washington, DC—or even from Salt Lake City to DC, as I was—though there are train enthusiasts who relish cross-country trips, embarking on Amtrak routes like the Empire Builder, Crescent, Coast Starlight, and more. It was apparent that some people, such as the Amish riders, were taking the train out of necessity, while others, like the Georgia couple, were taking the train for leisure. While I did not need to take the train, I am exceedingly glad that I did. I thoroughly enjoyed my cross-country train trip, and I will definitely be using Amtrak much more during my summer on the East Coast, with planned trips to Boston, Philadelphia, and New York City.
Today, more than 40 years after it was founded, Amtrak connects 46 states and the District of Columbia (missing from the network are Alaska, Hawaii, South Dakota, and Wyoming). Every year, more than 30 million passengers ride the train and 2014 was Amtrak's highest ridership year yet (2015 saw just a slight decrease). The most heavily trafficked corridor, with over 2,200 trains and 750,000 passengers every day, is by far the Northeast, which serves as a vital passenger route linking Boston, New York City, Philadelphia, Baltimore, and Washington D.C. The Northeast Corridor offers frequent, reliable intercity and commuter rail service for people traveling for work or pleasure, with trips that begin and end near city centers—enabling passengers to use transit to complete their local travel.
Many have called for more significant investment in the Northeast Corridor's aging and congested network in order to sustain economic growth and accommodate population growth. As a millennial and a recent urban planning graduate, I wholeheartedly agree with this appeal for more substantial investment in rail, as opposed to increasing investment in roadway and airport capacity. The U.S. Department of Transportation's Federal Railroad Administration (FRA) is currently undertaking a planning effort to define, evaluate, and prioritize future rail investments in the 457-mile long Northeast Corridor. The FRA has laid out three possible scenarios, all of which would increase regional ridership, but at different levels. As EESI's transportation expert Paul Haven recently commented, "Well planned rail service is the most efficient and environmentally friendly mode of travel. Expanding rail capacity moves more people from city center to city center, supporting efficient community development. It is not hyperbole to suggest that the future health of the nation's economy and environment hinges on the direction taken as a result of this planning effort."
Author: Christianna Johnson